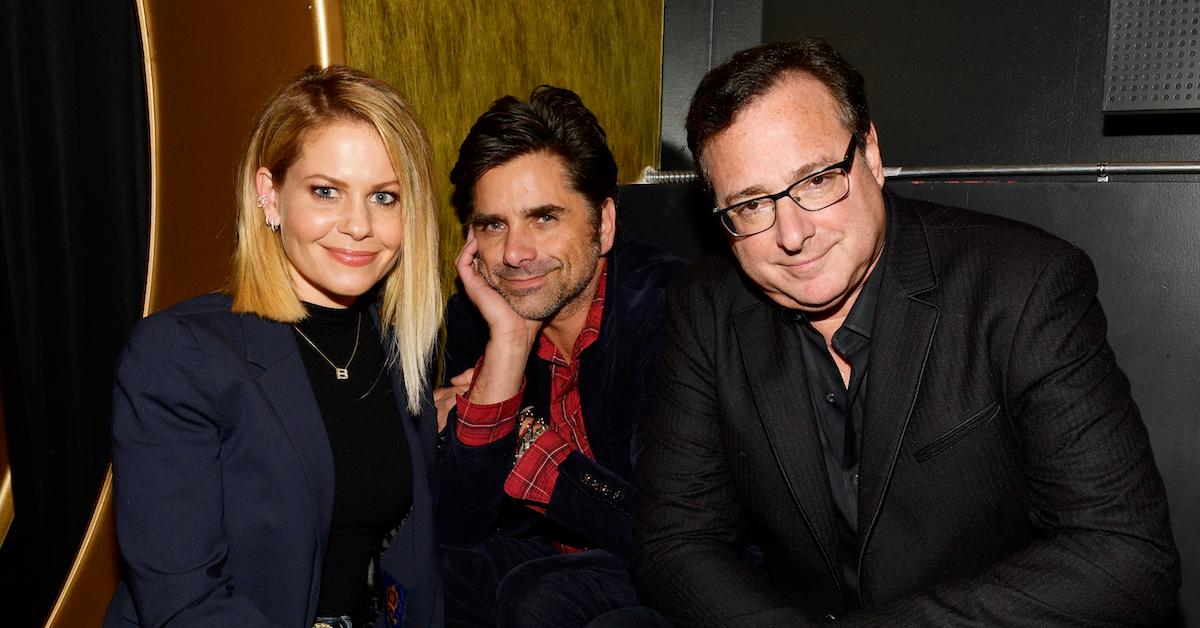 Bob Saget's 'Full House' Co-Stars Share Heartfelt Tributes to the Late Comedian
The unfortunate and heartbreaking news of Bob Saget's passing on Jan. 9, 2022, is still fresh on the minds of many of his fans. A lot of people came to know and love Bob during his time filming Full House in the late '80s and early '90s. He played the unforgettably beloved character of Danny Tanner.
Article continues below advertisement
Danny was the patriarch of his family struggling to raise three little girls on his own after becoming a widower. A lot of people consider Bob to be "America's dad" based on the wholesome and endearing persona he portrayed for so many years. Here's what some of his former Full House co-stars have said about his passing.
John Stamos feels broken by Bob's passing.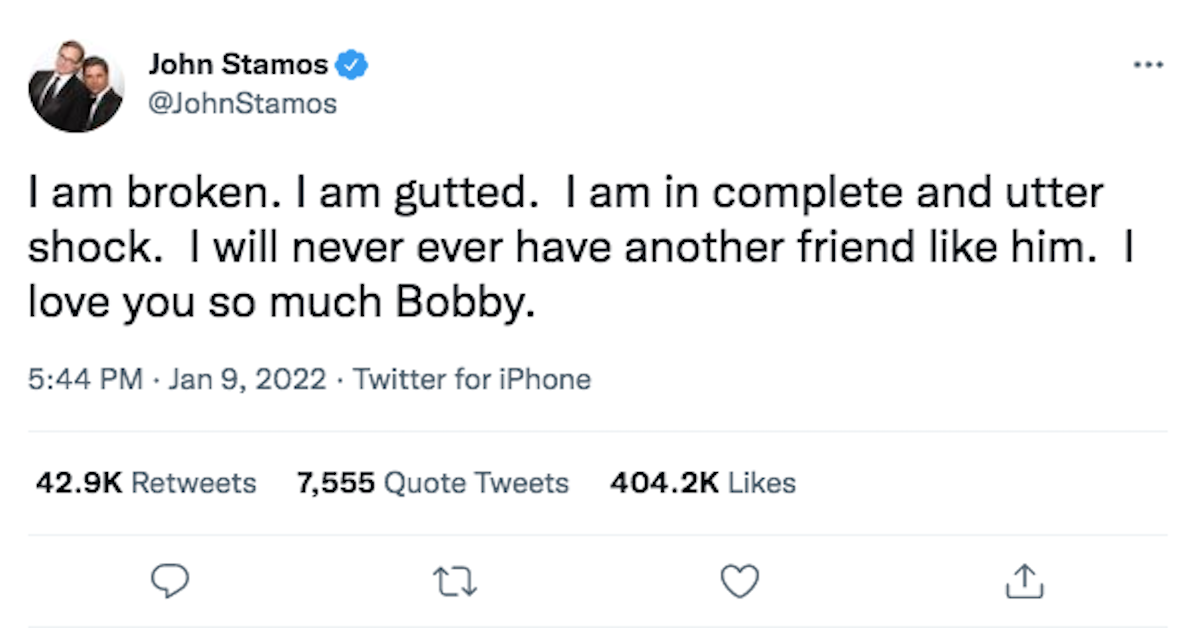 John Stamos, who played Uncle Jesse on the series, has taken to Twitter and Instagram to post heartfelt tributes about his friendship with Bob. On Twitter, he wrote, "I am broken. I am gutted. I am in complete and utter shock. I will never ever have another friend like him. I love you so much, Bobby." On Instagram, John reposted a solo picture of Bob, a throwback photo of Bob surrounded by the majority of Full House actors, and a red carpet shot of just himself and Bob spending time together at an event from a few years ago.
Article continues below advertisement
Candace Cameron Bure feels 35 years knowing Bob wasn't enough.
Candace Cameron Bure played none other than Bob's oldest daughter, DJ, on Full House. She posted a series of pictures of herself hugging Bob on Instagram with a caption saying, "I love you so much. I don't want to say goodbye. 35 years wasn't long enough." In all the photos shared by Candace, it's obvious she felt a true fatherly connection with Bob before his death.
Article continues below advertisement
Jodie Sweetin says words can't express how she's feeling.
Jodie Sweetin played Bob's second-born daughter, Stephanie, on Full House, and it seems losing her TV father has been extremely emotional for her based on her social media tribute. She posted a couple of throwback pictures on Instagram and added the caption, "There aren't enough words to express what I'm feeling today. Nor are they big enough to capture even a slice of who he was." She went on to describe songs that remind her of him, the comedy history Bob had, and the many inside jokes she shared with him.
Article continues below advertisement
Mary-Kate and Ashley Olsen said Bob was loving, compassionate, ad generous.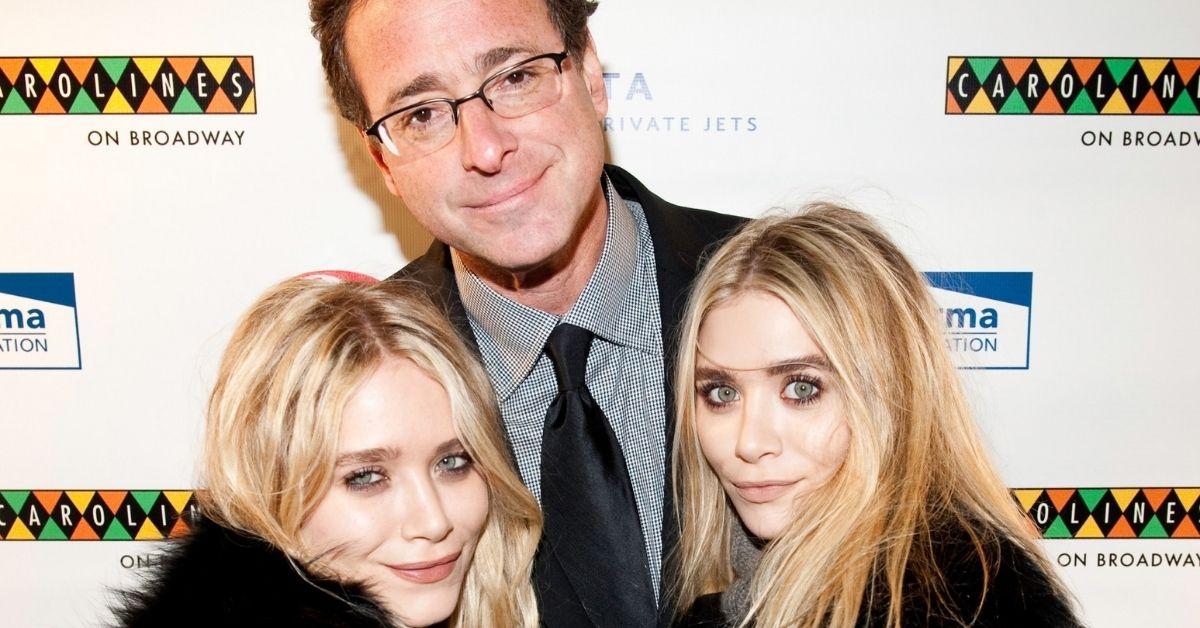 Mary-Kate and Ashley Olsen shared the role of Bob's youngest daughter, Michelle, on Full House. According to Page Six, they said, "Bob was the most loving, compassionate, and generous man. We are deeply saddened that he is no longer with us but know that he will continue to be by our side to guide us as gracefully as he always has." Although the twins shared screen time, they each got a pretty equal amount of time getting to know Bob during their time filming the show.
Article continues below advertisement
Dave Coulier says he'll never let go.
Dave Coulier played Bob's best friend and confidante, Joey, on Full House for all eight seasons of the show. He posted on Instagram and Twitter with tributes about Bob's passing. One of his posts says, "My heart is broken. I love you, Bob. Your forever brother, Dave." His caption on Instagram says, "I'll never let go, my brother. Love you." They were obviously so much more than simple co-stars since Dave considered Bob to be his brother.
Article continues below advertisement
Andrea Barber says Bob had the biggest heart in Hollywood.
Andrea Barber is the actress who played the lovable (yet sometimes annoying) role of DJ's friend Kimmy Gibbler on Full House. She posted a couple of photos of herself with Bob adding a caption, "This one hurts. He had the biggest heart of anyone in Hollywood. He gave the biggest hugs. I am gutted that I will never be able to hug him again." Andrea continued on describing some of her texts and interactions with him before his passing.
Article continues below advertisement
The cast shared a touching joint statement as well.
Dave shared a joint statement on behalf of the cast as well, which read in part: "Bob, we love you dearly. We ask in Bob's honor, hug the people you love. No one gave better hugs than Bob."