Claudia Conway Takes to Social Media to Criticize Her Mom and Others for Handling of COVID-19 Breakout
The 15-year-old daughter of Kellyanne and George Conway has been extremely honest and open about what she's hearing when it comes to the COVID-19 outbreak in the White House.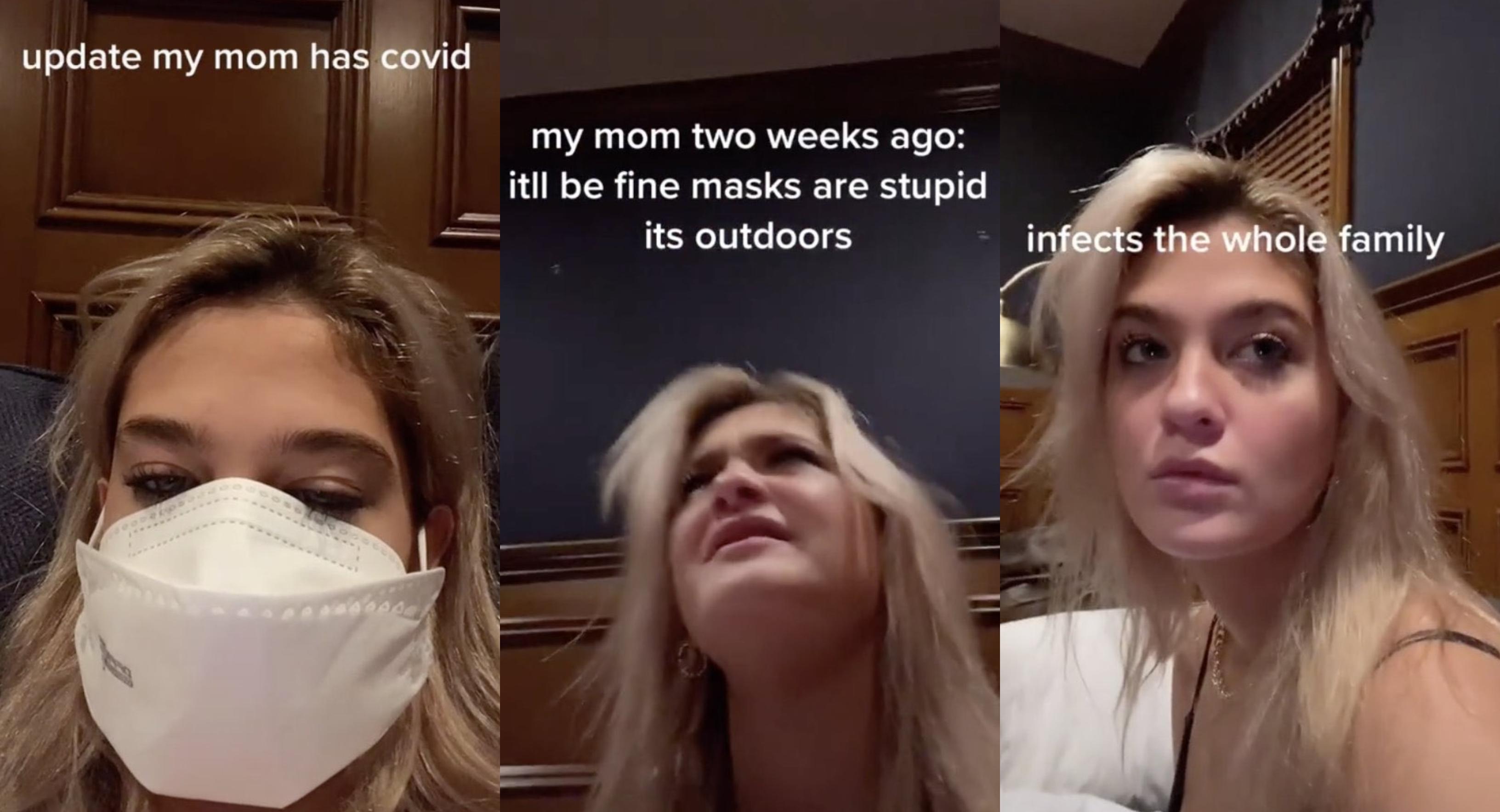 Claudia Conway, the 15-year-old daughter of Kellyanne and George Conway, has had a publicly fraught relationship with her parents for some time. In August she tweeted that she is "pushing for emancipation" after suffering years of "childhood trauma and abuse." She has vocally disagreed with her mom on political matters time and time again as well.
Article continues below advertisement
Now, the teen is using her TikTok and Instagram accounts to expose what's really going on behind the scenes with Kellyanne's recent COVID-19 diagnosis as well as the president's. Much to the dismay of her mother in particular, Claudia seems intent on telling the truth in a time when the information the White House has been releasing has been incomplete or even contradictory.
Article continues below advertisement
Claudia posted a series of videos in which she can be heard arguing with Kellyanne. In them, Kellyanne seems angry that her daughter is releasing information to the public that either isn't true or that she doesn't want to get out. "You lied about your f--king mother, about COVID!" she can be heard screaming in the background.
Kellyanne Conway announced that she tested positive for COVID-19 on October 2. On October 4, Claudia posted a video in which she said she tested positive as well. Before that, she posted a video that said, "My mom coughing all around the house after Trump tested positive for COVID."
Article continues below advertisement
"I'm furious," Claudia wrote in another video. "Wear your masks. Don't listen to our idiot f--king president piece of s--t. Protect yourselves and those around you."
Article continues below advertisement
In comments on another post, Claudia seemed to have the inside scoop about President Donald's Trump's condition, around which there has been endless speculation in the last few days. "Guys lmao he's not going 'better," she commented in response to his tweet about leaving the hospital. "He is so ridiculous. Apparently he is doing badly lol and they are doing what they can to stabilize him."
Article continues below advertisement
It's gotten to the point where some people trust this 15-year-old over what the actual president is telling them. Writer Nylah Burton tweeted, "Give Claudia Conway the Pulitzer."
Still others, like journalist Eugene Scott, are baffled that she's been allowed to continue to post considering the position she seems to be putting her parents in. "My mom would have taken away my phone, my brother's phone, and canceled the entire neighborhood's internet access by now if I was Claudia Conway," he wrote.
Article continues below advertisement
In the above video, though, Kellyanne seems to be attempting to control the situation and course-correct the messaging. She seemed to be coaching Claudia through what she wanted her to post next. It did not seem like she knew that Claudia was recording at that moment. "You're taping me again?" she says at the end of one video.
Article continues below advertisement
Eventually, Kellyanne herself took to Twitter to explain the situation in her own words. Along with a strangely cropped photo of Claudia looking down, Kellyanne wrote, "Claudia and I are faring well in quarantine. Everyone else is negative. I had three tests on Friday: one negative (saliva), one pos (rapid), and one pos (PCR, most accurate). As soon as dr confirmed, I told my family and then went public."
About half an hour later, she posted another: "My daughter, Claudia, is beautiful and brilliant. She has access to top doctors and health care and lives comfortably. Like all of you, she speculates on social media. Yet she's 15. You are adults. We have COVID, but it's clear who's really sick."
Article continues below advertisement
Around this time, Claudia went live on her social media and spoke in coded gibberish to say that she was on live because she was scared of her mom.
Article continues below advertisement
In the video, she also seemed to say, "I cannot get arrested again. That would happen." Others noticed that Claudia seemed to take out her earring in response to a comment asking her to do that if she feels unsafe, but then said that she was OK. "Don't do anything. It's OK. I'm good," she said in response to comments.
Even though many are invested in what Claudia has to say and see her as a sort of hero for the truth, it's important to remember that she is 15 years old and she is dealing with intense instability in her life right now.
Article continues below advertisement
One Twitter user summed it up pretty well: "Claudia Conway is 15 and dealing with a difficult home dynamic. She is also apparently COVID positive and symptomatic, *and her mom exposed her.* Please stop putting so much pressure on her to save us all. It's on us to fight for people like her."
Article continues below advertisement
Meanwhile Kellyanne has called out people for going at her daughter for the comments.