Alicia Is M.I.A. on 'Fear the Walking Dead' — For Now, Anyway (SPOILERS)
Does Alicia die in 'Fear the Walking Dead'? See what the AMC zombie series' co-showrunners say about the fate of Alycia Debnam-Carey's character.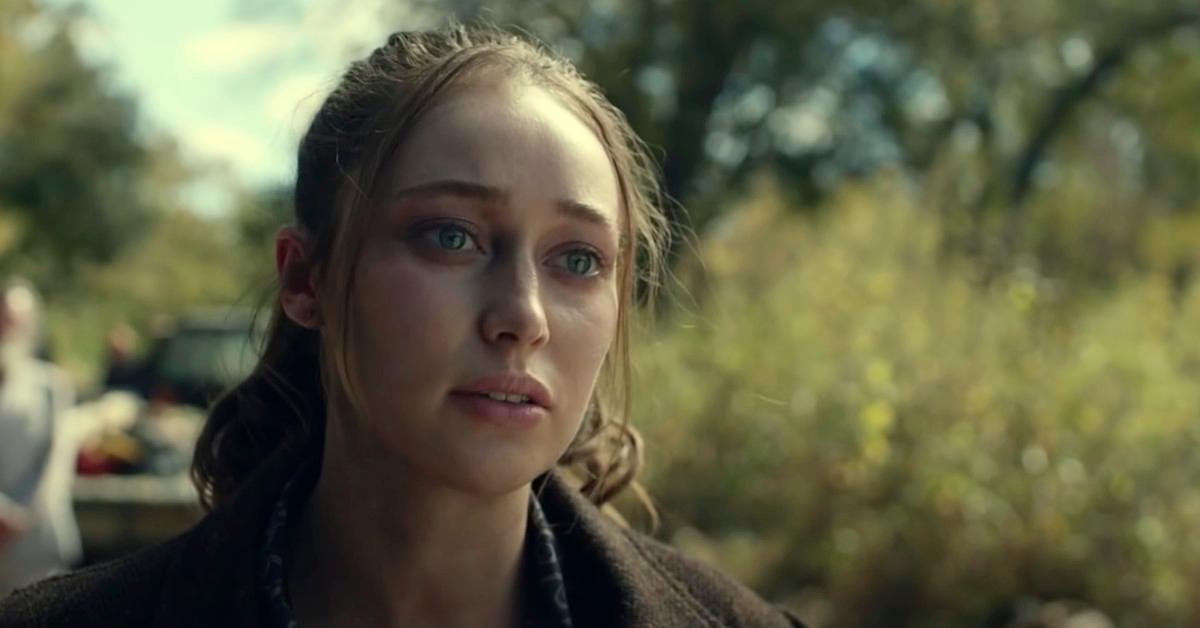 No one in the Walking Dead universe is safe, but does Alicia die in Fear the Walking Dead? After all, we haven't seen Alycia Debnam-Carey or her FTWD character on the AMC series since midway through Season 6, and she's been M.I.A. in Season 7 so far, too.
Season 7 spoilers ahead!
Article continues below advertisement
The good news is that there's no word on Alycia, the actress, leaving the show. Plus, Alicia, the character, is mentioned in the synopsis of an upcoming Season 7 episode.
The bad news, however, is that episode is still more than a month away…
We last saw Alicia trapped in a bunker and at "perhaps the beginning of her transformation."
In Season 6's "Mother," doomsday cult leader Teddy (John Glover) locks Alicia in an underground bunker, believing her to be the one person who can rebuild society after he brings about a nuclear apocalypse.
Article continues below advertisement
"I think the question is just how is Alicia going to move forward?" co-showrunner Ian Goldberg told Entertainment Weekly after that installment. "Given the fact that she has been essentially imprisoned in this place and placed with people she doesn't want to be with, apart from the people she cares about. It's going to be a difficult road for her. But I think it's safe to say that she's not going to be doing exactly what Teddy hoped."
Added co-showrunner Andrew Chambliss, "She's at this point where she knows she's got to become her own person in some ways. Being locked behind that door is perhaps the beginning of her transformation."
Article continues below advertisement
Season 7 will explore Alicia's "history in that bunker," the showrunners say.
In the Season 7 premiere, Oct. 17's "The Beacon," Strand (Colman Domingo) meets a fellow survivor named Will (Gus Harper), who knows Alicia and was staying with her until he was kicked out. Will and Strand eventually find the bunker, but Alicia isn't there. Instead, they find a note from her, a note with the word "Padre."
Article continues below advertisement
"There's definitely some history in that bunker, some history he had with Alicia," Andrew told EW. "He doesn't seem like he's particularly willing to share it in this episode, but that doesn't mean the audience won't learn it. And it's definitely something that we will be exploring this season."
As for "Padre," meanwhile, Ian said that he and Andrew couldn't say much about that, "other than it plays a very important role in the narrative this season. Stay tuned for more. It's definitely going to continue to be a mystery that we unpack as the season goes on."
Alicia will "search for a new home for her people" later this season.
In a synopsis for this season's eighth episode, slated to air on Sunday, Dec. 5, IMDb reveals an upcoming plot line involving Alicia and Morgan.
"Alicia enlists Morgan's help to search for a new home for her people, but Morgan soon learns the search is more complicated than he imagined," the synopsis reads.
Fear the Walking Dead Season 7 airs Sundays at 9 p.m. ET on AMC, with episodes airing a week early on AMC+.