An Election Night Drinking Game That Also Leaves Room for Self Care
If you plan to watch the election results, you might want to play a drinking game while you're at it. Here's a game for the 2020 election night.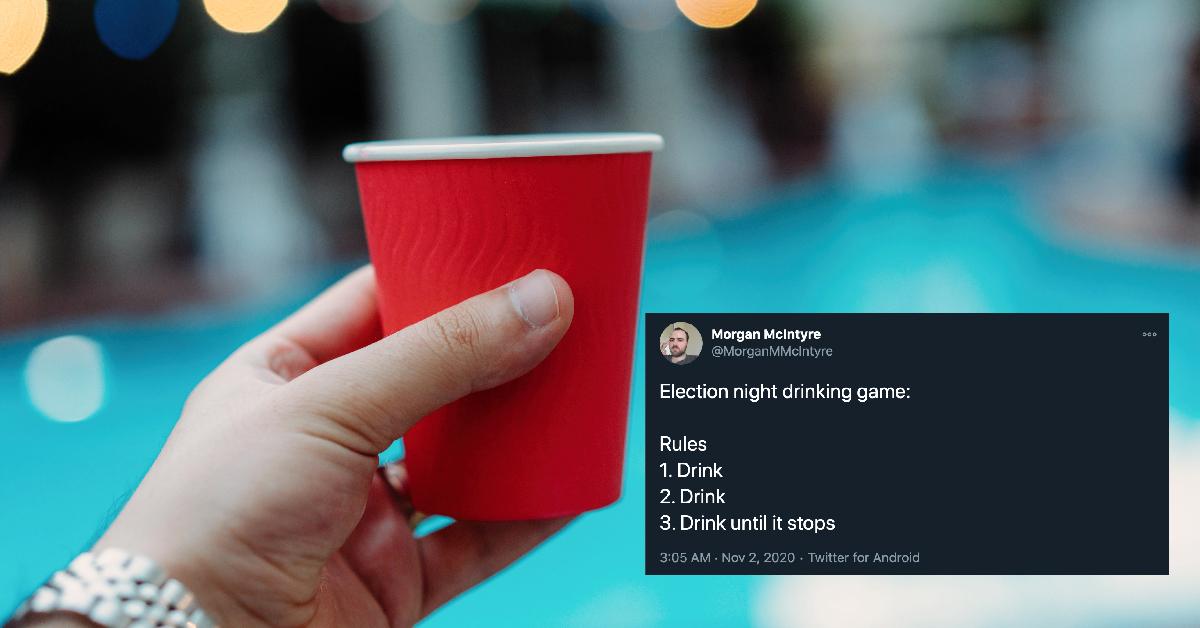 After waiting four slow and agonizing years, the 2020 election is finally here. If you've been following the polls (or even if you haven't been), you're probably aware that no matter the turnout, the race is predicted to be a tight one.
The year 2020 has arguably been a tough one for everyone, and for some of us, one way we've made it just a little more bearable is through drinking games. Whether or not you played one during the presidential or vice-presidential debates, you'll probably at least want a drink as the results come in tonight.
Article continues below advertisement
If you're looking for a game that will keep you buzzed, but allows you the flexibility of mixing your election coverage with some self-care options, look no further.
As always, if you plan to drink, please drink responsibly, and only do so if you're 21 or older.

Article continues below advertisement
There are already a few ideas for drinking games on the internet.
There's no shortage of potential games for this election night, and depending on how hard you want to go (or whether or not you've already called out of work on Wednesday), you should tailor your drinking game to it. There are options for a bingo board, where you drink every time you fill in a space on the board (and take a shot if you get bingo).
Article continues below advertisement
Others are also tailored to however you plan to follow coverage. There are some state-specific drinking games, where you drink based on what color the state turns, and others where you predict the outcome of each state and take a drink for every state you get wrong.
All of these are a little extreme and don't offer much room if you plan to not follow the coverage closely.
For those of us who want to sprinkle some self-care in with our election coverage, we have another game for you.
Article continues below advertisement
For our drinking game, we recommend trying to balance coverage with whatever distractions will help you stay sane while the results come in — but remember, every time you get distracted, you have to take a sip.
You should also drink whenever someone mentioned Kanye West's run for president (as he qualified to appear on the ballot in certain states), someone brushes off the COVID-19 pandemic, or a commentator offers an overdramatic reveal of the "results."
If you plan to keep your coverage to Twitter, you should chug with every tweet President Donald Trump sends out, Joe Biden's team makes a meme, anyone you follow is surprised when the results don't come in by midnight, or Barack Obama is mentioned.
Article continues below advertisement
Some presidential cocktails for your drinking game.
Every drinking game is a little more fun when you put the effort in to make yourself a fancy drink. Why not make them presidential themed? Here are some simple recipes you can probably make with what you already have.
Red, White, and Blue cocktail:
Layer grenadine, crème de cacao (or another white liquor of your choice), and blue curaçao until it resembles the American flag. This one is best if you're feeling a little patriotic.
Trump/Biden Moscow Mule:
If you're having a socially-distanced election night party, then rep whichever candidate you voted for with a personalized Moscow Mule. To start, mixed a shot of vodka with lemon juice (just a little bit!) and either blue curaçao or grenadine, depending on who you voted for. Top it off with some ginger beer, and garnish with a lemon wedge.