Kaitlin Is Determined to Throw the Party of the Year on 'Florida Girls' Finale (EXCLUSIVE)
Kaitlin is determined to throw the ultimate party in this exclusive 'Florida Girls' Season 1 finale clip — but will there be a Season 2 of the series?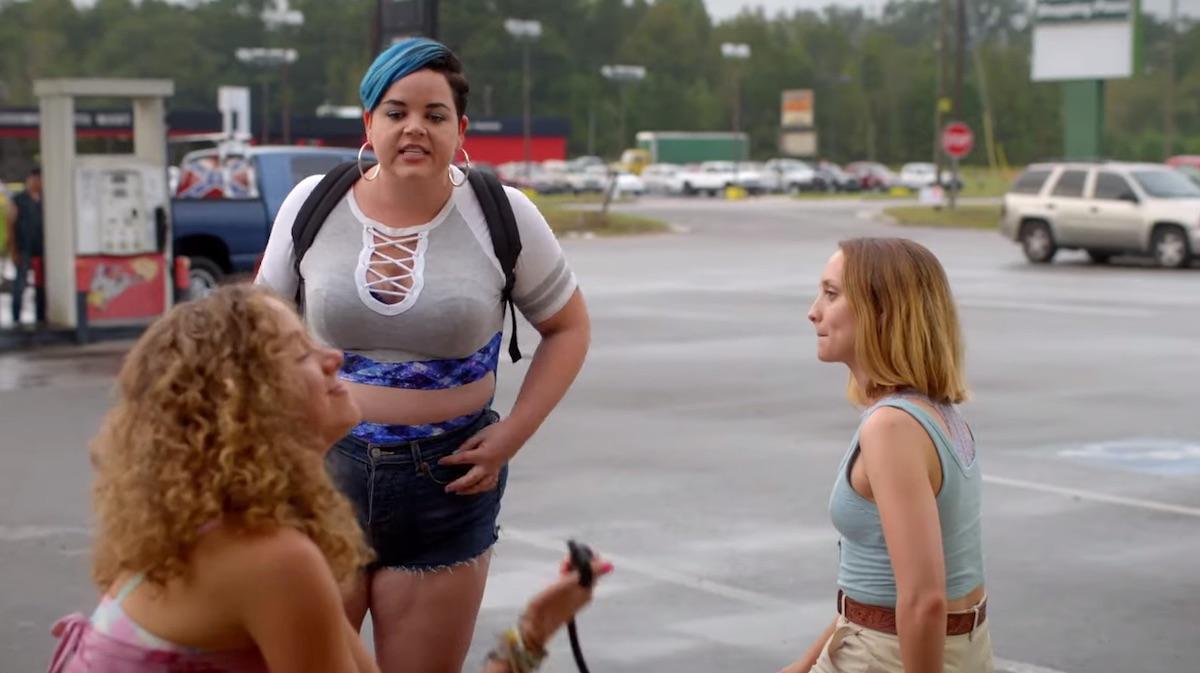 On the Season 1 finale of Florida Girls, Kaitlin (Melanie Field) is determined to throw the island party of the year with a little help from her friends. The only problem: getting the kegs to said island.
Article continues below advertisement
"We have to figure out how to get these kegs to the island in the next hour and 38 minutes," Kailtin says in an exclusive clip obtained by Distractify. However, Shelby (Laura Chinn) is distracted doing keg stands and Jayla (Laci Mosley) seems to be having an existential crisis.
"Man, I remember when I used to care about stuff, trying to be just like the girls on Instagram... had to have the new acrylics, new coochie-cutters..." Jayla shares. "I thought I had it all figured out, but look at me now. I'm laying on this filthy a-- sidewalk and I've never been happier because nothing matters."
Article continues below advertisement
Luckily, Jayla jumps into action when she sees a chance to get a boat — and get her girls (and the kegs) to the island. "Get in b---hes," Jayla screams after stealing a truck (with a boat hitched to the back) from the gas station.
Article continues below advertisement
Will there be a Season 2 of Florida Girls?
The "Island Party" is the season finale of the Pop TV comedy series, which premiered last month. The show, which was created by Shelby actress Laura Chinn was inspired by her life in the Sunshine State.
"I think if there wasn't a part of me that saw it as a possibility, I never would have done it," Laura told CBS News of the show. "But I think my 13-year-old self would be s---ting herself."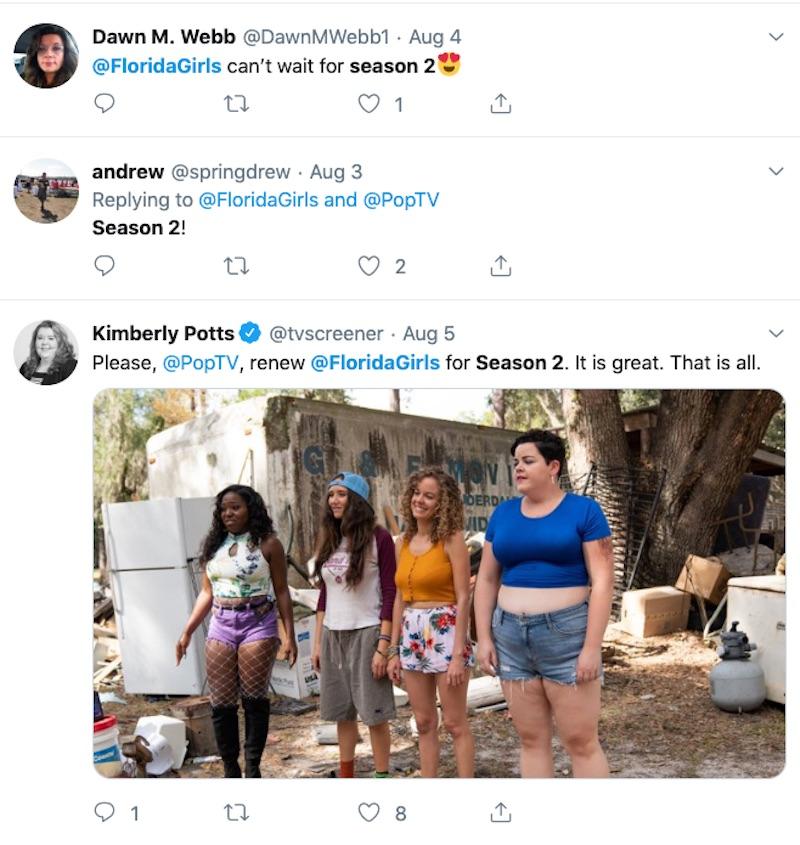 Article continues below advertisement
After 10 episodes, can fans expect to see more episodes in the future? The network has yet to officially renew Florida Girls, but viewers are making it known they support the female-driven comedy.
"Please, @PopTV, renew @FloridaGirls for Season 2. It is great. That is all," one fan tweeted. Another agreed, adding, "@FloridaGirls is literally my favorite show!!! I really hope there is a Season 2. If you haven't watched Florida girls, watch it now!"
Article continues below advertisement
A third chimed in, "Love me some #FloridaGirls! Can't believe the season is over already. @PopTV When is Season 2 coming?"
Florida Girls reviews also seem to predict a Season 2... 
Critics have also been loving Florida Girls, which means we should be seeing more of Kaitlin, Shelby, Jayla, and Erica on our television screens.
"There's a lot in these early episodes that makes me believe that once Florida Girls gets past low-budget Floridasploitation, it could be a funny place to spend a seasonal timeshare," Daniel Feinberg wrote for the Hollywood Reporter.
Article continues below advertisement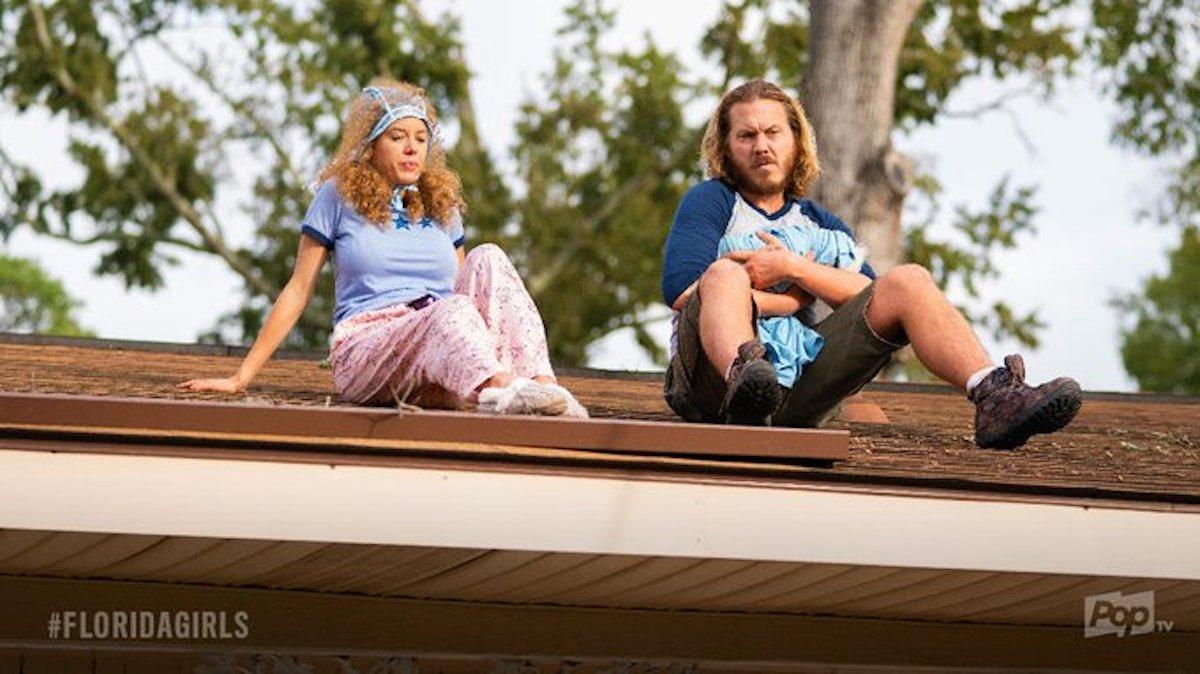 The New York Times called it "a soft poke in the ribs." "As comedies of economic decline and arrested development go, it's refreshingly optimistic," the review continued. And according to Time, Florida Girls "is the most fun you'll have in front of the TV this summer."
Watch Florida Girls Wednesdays at 10 and 10:30 p.m. on Pop TV.