See Where All the 'Great British Baking Show' Winners Are Today
Here's where all your favorite 'Great British Baking Show' winners are after leaving their season victorious! Details on the bakers.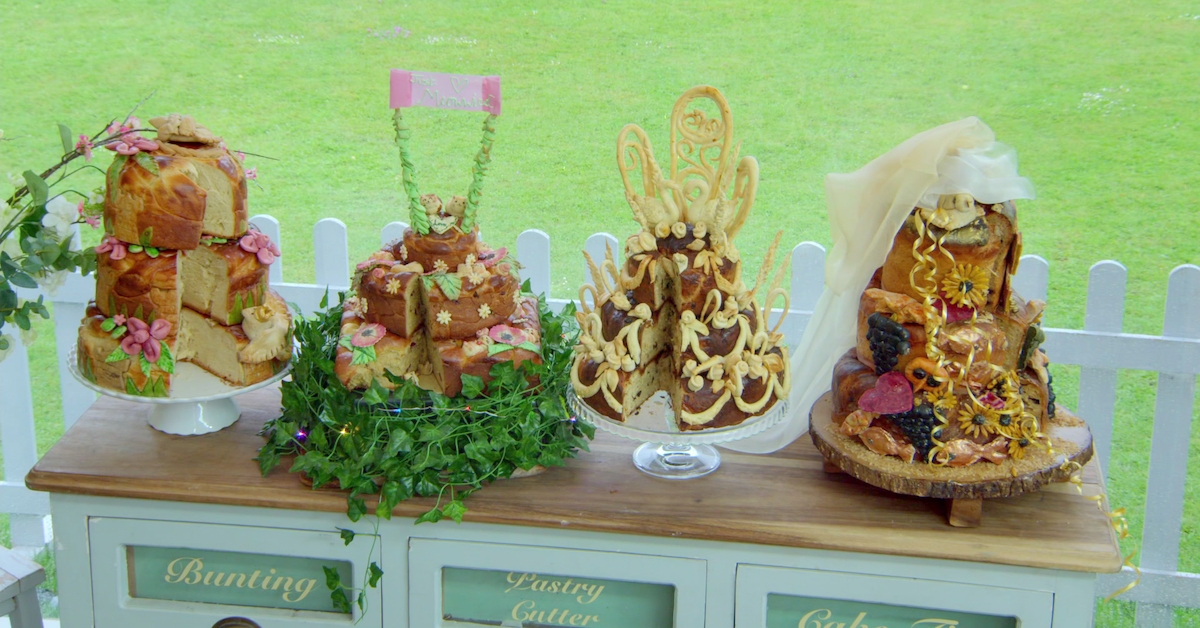 For the past decade, audiences around the world have come to marvel at the technical mastery it takes to produce crème pâtissière, strudel, custards, trifles, and cakes as showcased on The Great British Baking Show. The reality competition show became an unexpected runaway success when it premiered in 2010, and has since cemented itself as a fan-favorite, even after its controversial move from BBC to Channel 4 in 2017.
Article continues below advertisement
See all of the 'Great British Baking Show' winners today.
But with 10 seasons completed, the show has produced so many winners that it's hard to keep track of everyone's baking escapades after they won the coveted title of best baker in Great Britain.
Keep scrolling for a comprehensive list of what the winners have been up to after their escapades in the white tent on The Great British Baking Show.
Season 1: Edd Kimber
The first season of GBBO had over 3 million viewers that watched Edd Kimber be crowned the competition show's first ever Star Baker. Since his win on the show, the former debt collector has published four books titled Say It With Cakes, The Boy Who Bakes, Patisserie Made Simple, and most recently, One Tin Bakes.
Edd also hosts a podcast, Stir The Pot, and regularly posts recipes to his website The Boy Who Bakes. Since the lockdown, Edd's also started offering food photography and styling services.
Season 2: Joanne Wheatley
Like her predecessor Edd, Joanne used her win on GBBO to publish a couple of cookbooks called A Passion for Baking and Home Baking, and she also runs her own website called Jo's Blue Aga, where she publishes recipes and updates about her life.
In 2018, Joanne also started to run a cooking school out of her home in Essex, which was such a success that the classes sold out six months in advance.
Article continues below advertisement
Season 3: John Whaite
After winning Season 3's title of Star Baker, John went on to pursue his passion for baking more seriously, and earned his patisserie diploma from Le Cordon Bleu. Since graduating, he's opened John Whaite's Kitchen, where he teaches classes on Italian cooking, advanced pastry, and American Pies, to name a just few courses.
He also runs his own chocolate shop called The Hungry Dog Artisan Chocolates, and has published three books: John Whaite Bakes, John Whaite Bakes At Home, and Perfect Plates in 5 Ingredients.
Article continues below advertisement
Season 4: Frances Quinn
All of GBBO's winners have gone on to do big things, but none as big as Frances … literally! In 2017, Frances baked the world's largest Jaffa cake with an impressive 4-foot diameter, making her a Guinness World Record Holder.
Since winning her GBBO title, Frances has also baked for famous people like the illustrator Quentin Blake and has appeared on the pages of Vogue magazine. Fans can also catch up with Frances via her website, where she blogs about her favorite recipes.
Recently, Frances was in a spot of trouble with the law when she was caught shoplifting from British supermarket Waitrose, but the matter was quickly dealt with by way of a community resolution (meaning that no formal police record was issued).
Article continues below advertisement
Season 5: Nancy Birtwhistle
Since winning GBBO, adorable grandmother-of-eight Nancy runs a successful baking blog, contributes to publications like The Telegraph, and has appeared on a number of British cookery shows. Although she didn't plan on writing a cookbook, Nancy's fans kept asking her for one and she finally released a delightfully named cookbook, Sizzle & Drizzle: Tips for a Modern Day Home-Maker, in which she provides helpful hints and tips to make life easier around the kitchen.
Article continues below advertisement
Season 6: Nadiya Hussain
Oh Nadiya, the baker who stole all of our hearts and even made Mary Berry cry!
Nadiya's arguably had the biggest success story to leave the baking tent and has been extremely busy since winning Star Baker on Season 6 of GBBO.
Since her time on the show, Nadiya has gone on to bake a cake for the Queen herself! She's also made regular TV appearances on shows like Junior Bake Off and the Big Family Cooking Showdown, has written eight(!) books, and also writes for BBC Good Food, The Guardian, and The Telegraph.
Nadiya has also gone on to host her own cooking shows: Nadiya's British Food Adventure on BBC Two and Nadiya's Time to Eat on Netflix.
Article continues below advertisement
Season 7: Candice Brown
After winning the coveted cake stand on Season 7, Candice Brown gave up her former career as a physical education teacher to pursue baking full-time.
She started writing a weekly column for The Sunday Times and released a cookbook called Comfort: Delicious Bakes and Family Treats. Candice now runs a stylish pub, The Green Man in Bedfordshire, where she serves beer and bakes up delicious treats like sticky toffee pudding, banoffee roulade, and Pimms jam Victoria sponge.
She also lives above the pub with husband Liam and their three dogs Dennis, Albus, and Sybil.
Article continues below advertisement
Season 8: Sophie Faldo
Sophie's win was a bit tarnished since judge Prue Leith accidentally tweeted that Sophie had won hours before the Season 8 finale aired.
Since being on the show, Sophie revealed that she struggled with being in the limelight, which was why she chose to avoid media appearances. She now runs a custom baking service and dessert catering company that specializes in handcrafted, luxury bespoke cakes for special occasions.
She also shares her latest creations on Instagram and on her website.
Article continues below advertisement
Season 9: Rahul Mandal
Fans of GBBO fell in love with this scientist from Yorkshire who first entered the tent thinking he wasn't good enough to be competing.
Since winning both the hearts of fans and the title of Star Baker on Season 9, Rahul chose to go back to his full-time job as an engineering researcher at the University of Sheffield's Nuclear Advanced Manufacturing Research Centre, and recently led a campaign to get more women into engineering.
Despite not pursuing a full-time baking career, Rahul still shares his love of baking with the world through his Instagram.
Article continues below advertisement
Season 10: David Atherton
David was the underdog for his season, but managed to beat out four-time Star Baker Steph when she floundered in the finale. Since winning the competition, David has gotten engaged to his boyfriend, Nik Sariyski, and released his first cookbook called My First Cookbook, which focuses on fun and imaginative recipes to get children involved and inspired in the kitchen.
An avid fitness enthusiast, David also writes a column for The Guardian about food and fitness.
Article continues below advertisement
We'll have to wait and see who is crowned Star Baker in Season 11 of The Great British Baking Show, which is streaming now on Netflix, with new episodes every Friday.