Get Your Baby Yoda Fix in the New Animated Short by Studio Ghibli
The Studio Ghibli short can only be watched online, and depicts an interaction between Grogu and the Dust Bunnies from 'Spirited Away.'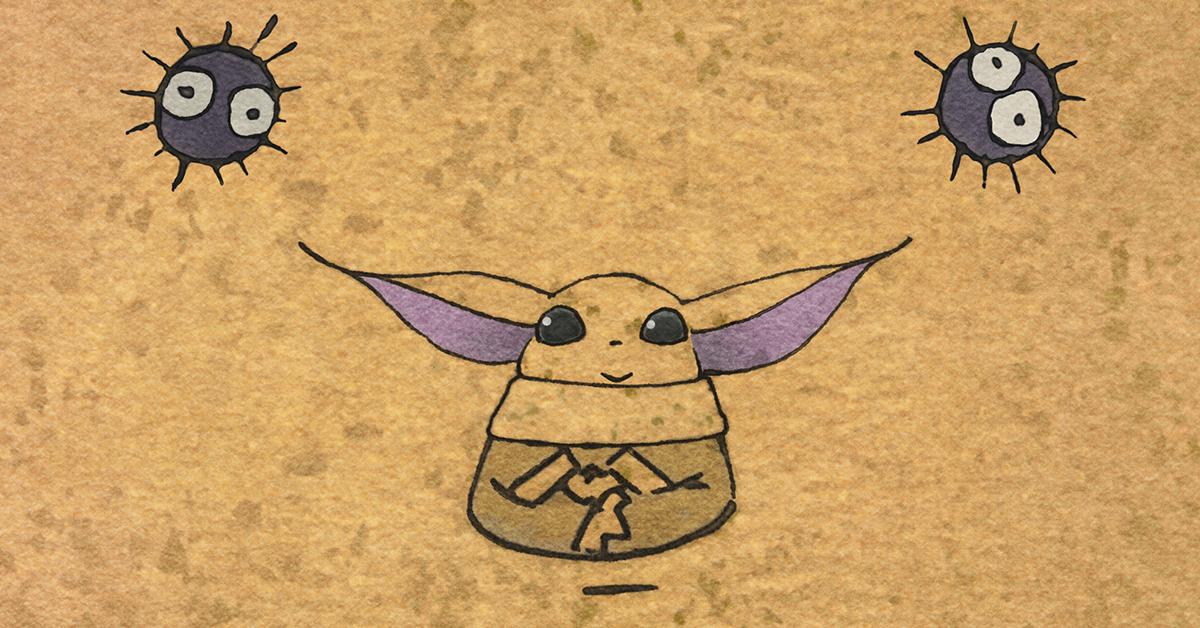 It's always big news when Studio Ghibli releases new work. This time, it's a special occasion. The master animators behind classics like Howl's Moving Castle, Princess Mononoke, and Spirited Away created a short film about none other than Grogu from Star Wars.
The three-minute short was released on Nov. 12, 2022, in association with Lucasfilm and shows an interaction between Grogu and the sentient dust bunnies from Spirited Away. The short is entitled Zen - Grogu and Dust Bunnies.
Article continues below advertisement
The title is fitting. Most of the short is just Grogu suspended in the air, meditating in a hand-drawn Ghibli style. He was already cute, but now he's basically a chibi, which is just unfair.
The music that plays in the background, written by Ludwig Goransson is soft, with a sense of intrigue that fits the innocent curiosity and power of Grogu. It plays throughout as the only sound in the film, in which Grogu's meditation is broken by the dust bunnies, whose curiosity translated to them crowding around the little green alien.
Article continues below advertisement
Here's how to watch 'Zen - Grogu and Dust Bunnies.'
You can only find the full short on Disney+, unless you want to wait a little while and try to catch it on YouTube, where Lucasfilm sometimes posts short licensed content from the studios they work with.
In true Ghibli fashion, the short, while three minutes long, seems to be trying to convey a message about the nature of "zen" through the context of Grogu's innocence and his own enthusiastic curiosity and rambunctiousness which is similar to that of the dust bunnies.
The story isn't much of a story, but more of a simple interaction. We get that peaceful feeling with the meow music and the image of our cute friend floating in meditation. Only for him to be woken by dust bunnies, who then follow him as he walks for a few frames. Grogu is not upset with the mischievous motes of dust, nor does he do anything but walk along as they follow him. Each seems to be equally interested in the other, where Grogu is a spiritual being in the force, the dust bunnies are actual spirits.
Article continues below advertisement
The short ends as Grogu faces the camera and the bunnies behind him begin to float and form a circle. The circle, done in calligraphy, is called an Enso. It represents both the absence and the presence of all things (as the circle could be empty or it could contain). In the context of the short, it may have to do with who Grogu is as a person, that he's not upset at the world for disrupting his concentration but finds harmony and balance with the new situation, making friends with the Dust Bunnies.