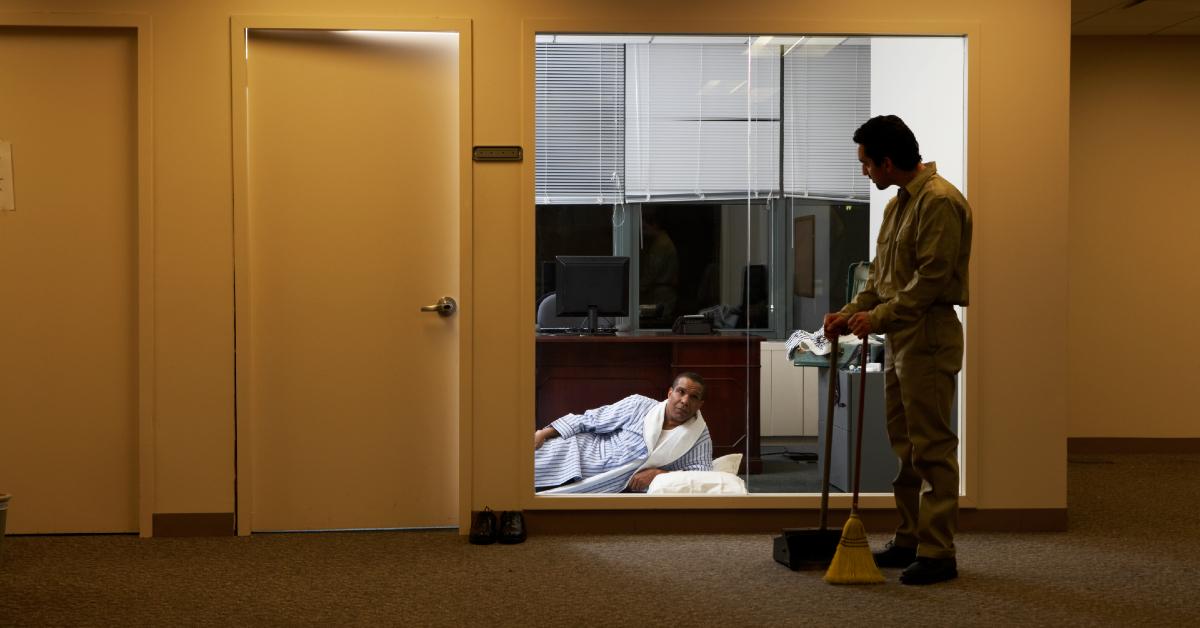 TikToker Outs Former High School Janitor for Asking How Old She Is Now "Creepy" Messages
A TikTok posted by user @bekahgregg12 is going viral after she shared messages from someone who works as a janitor at the former high school she attended. Judging from the messages he sent her, it appears that the man was attempting to initiate a relationship with the woman, but his particular line of questioning is what's getting under the skin of so many social media users who saw their interaction.
Article continues below advertisement
Rebekah's video starts off with her opening her laptop, a text overlay on the video reads: "*Sees a Facebook message come in from my high school janitor*"
The video then transitions to Rebekah looking at the messages from her janitor. The TikToker covers the individual's name in an attempt to help them maintain their anonymity.
The conversation begins with the janitor "waving" at Rebekah. They then write, "Hi," followed by "May I ask you something." Rebekah asks, "yes, what's up?" they then ask, "How old are you now." She doesn't respond, and he sends a few more messages: "Can I be your friend now...Good morning...Hi."
Article continues below advertisement
The video then ends with Rebekah looking away from her laptop screen as she closes it shut. Her post prompted a litany of different responses from other TikTokers. Multiple folks instructed Rebekah to make the school she used to attend aware of the message, stating that if he thought to message her now then he probably found her attractive while she was in school.
Article continues below advertisement

Others said that the verbiage of "May I ask you something" would've prompted an immediate block on their part, while some relayed that they had issues with their own high school janitors when they were still students.
Article continues below advertisement

"Time to email the school system"
"Uhhhh I hope he still don't work at schools"
"Literally my old teacher to me right now !!!!"
"I have so many experiences like this except two seperate professors while I was still in college. One got fired."
Article continues below advertisement

Others said that similar things happened to them and people they knew, but with teachers.
"Dude. This happened to my husband, but it was his fourth grade teacher. He would message him late at night on FB telling him to go to bed. He got Arrested for possession of electronic materials concerning minors"
Article continues below advertisement

However there were other TikTokers who said that Rebekah was blowing the situation out of proportion.
"How wonderful it is when a problem is so trivial that it can be completely silenced by … pressing the 'off button'."
"If he was a hot janitor you'd be into it"
Article continues below advertisement


Article continues below advertisement
In the fall of 2021, TikTokers unearthed a clip taken at a school where a substitute teacher was filmed coming up from behind a female student and hugging her as her and other classmates were filming a video for the popular social media platform.
Article continues below advertisement
Many folks who saw the clip pointed out the teacher's reaction after seeing that he was on camera. He points to the smartphone before the video cuts out.
Also, on September 1, 2022, NBC New York reported that a Yonkers teacher was arrested for the sexual assault of a 17 year old student. The outlet writes: "James Korwatch was arrested Wednesday and charged with criminal sex act and stalking, Yonkers police said. The 49-year-old is a carpentry teacher at Saunders Trades and Technical School, which is where he initiated a relationship with a 17-year-old student in 2021, according to police."