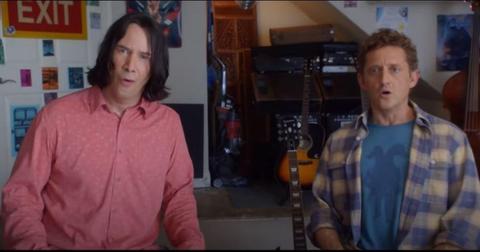 Here's How to Watch 'Bill and Ted Face the Music'
By Devan McGuinness

Updated
We're going to have an excellent adventure now that the rumored story becomes reality. There's going to be another installment of Bill and Ted, complete with the same lovable characters and the actors reprising their roles, and it's coming very soon. That's right, Keanu Reeves and Alex Winter are coming back and here's how to watch Bill and Ted Face the Music.
How can you watch 'Bill and Ted Face the Music'?
Bill and Ted Face the Music will premiere simultaneously on streaming services and in select movie theaters that are open starting Friday, Aug. 28. This means that anyone who wants to find out what happens 30 years down the road when their favorite time-traveling slackers get back together will have several options, whether that be heading safely to their local movie theater, or watching it in the comfort of their own home.
Given the pandemic and the fact many theaters are still not open for interested people to watch the movie, the distributor, Orion Pictures, is doing things a little differently this time, which is why you're able to watch it the day it releases, at home on demand.
Amazon: To watch Bill and Ted Face the Music on Amazon, it will cost $25 for an HD rental.
Fandango: To watch Bill and Ted Face the Music on Fandango, it will cost $20 for a rental. It's also offering 50 percent off a rental for any of their other 100 movies.
AppleTV: To rent Bill and Ted Face the Music on AppleTV, it will cost $25.
Google Play: To rent Bill and Ted Face the Music on Google Play, it will cost $25.
Vudu: To rent Bill and Ted Face the Music on Vudu, it will cost $25.
What is 'Bill and Ted Face the Music' about?
We could all use some good news and we're getting some in the form of a movie sequel that we've been asking to be made for a long time. It's finally coming true.
It's been nearly 30 years since the second movie in this series was released. The new movie is picking up where the last movie left off and showing us exactly what happened when Bill and Ted attempted to become the world-saving rockstars they were supposed to be. Spoiler alert: It didn't work out the way that they thought it would.
Now middle-aged dads, the Wyld Stallyns find themselves not selling out concerts the way that they always thought they were supposed to. Even worse, they never created the world-uniting song that they were told they were going to. Desperate to get it right, the two make some questionable choices and end up changing the future — but not for the better.
Want to rewatch 'Bill and Ted 1' and '2' first? Here's how!
If it's important to catch up on the first two movies of Bill and Ted before watching the third one, there are ways to catch them right from home as well. Both Bill and Ted's Excellent Adventure and Bill and Ted's Bogus Journey are available to purchase on iTunes, or rent on Amazon Prime Video or Google Play.
Be excellent to each other, friends. And party on, dudes.