Macaulay Culkin Is 40, and We're Officially Old
Macaulay Culkin tweeted that he turned 40 specifically to make everyone feel old. Spoiler alert: It worked.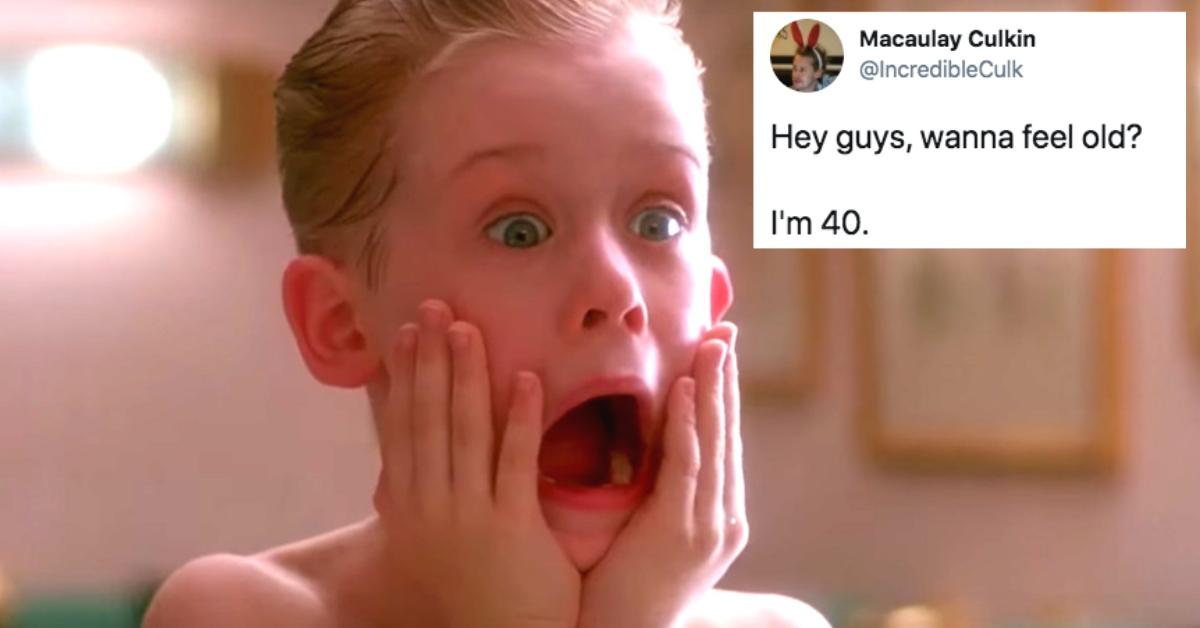 Perhaps the world's biggest child star from the '90s, Macaulay Culkin, just blew everyone's minds when he tweeted that he just turned 40 years old. He's 40! He's like, a full-grown adult now. Whether you're younger than him, around the same age, or older, you are no doubt aware of the star. He appeared in films like Home Alone, Uncle Buck, and My Girl (I'm so sorry for reminding you about this heartbreaking movie).
Article continues below advertisement
And now, he's 40. And when he turned 40 on August 26, he tweeted about it for the sole purpose of making us feel old. Spoiler alert: It worked.
"Hey guys, wanna feel old?" he asked the Twitterverse. Side question: When is the answer to that ever, "Yes!"? "Yes please! Make me feel old! I want a stark reminder of my own mortality. Just really been craving one lately." No. That's not a thing. No one ever wants to feel old.
Article continues below advertisement
And then he just says it. He's 40. Four-zero. In many of our minds, he's still Kevin McAllister, that poor kid who got left behind by his family and had to fight off bumbling burglars for the length of an entire movie. But Home Alone is just a movie. And in real life, Kevin is now 40 years old.
Macaulay claims that making people feel old is his "gift to the world." Yeah, man. Thanks a lot. Obviously, these tweets pretty much broke the internet. That first one has 2.4 million likes and nearly 450,000 retweets. People were, to say the least, shook by the information that Macauley Culkin is now 40. The reactions were plentiful.
Article continues below advertisement
Some were so offended by this fact that they joked about reporting Macaulay's account for sharing this disturbing information. Truly, nothing has worked to make people feel old as much as his tweet. He knew exactly what he was doing.
Others tried to make jokes about the situation. This suggestion, to reboot Home Alone but set it in a nursing home so Macaulay could still star in it, is at once pretty funny and kind of mean. Like, he's 40. It's going to be a whole 'nother level of feeling ancient when he turns 80.
Article continues below advertisement
But there was really only one reaction that could sum up everyone's feelings.
Yep. That face just about says it all. It's shock, it's horror, and it's futility all wrapped up in one. That's why Macaulay Culkin was such a good actor as a kid; he could say it all without actually saying a thing.
Macaulay Culkin had sufficiently upset the internet by this point, but he thought he'd use his new streak of power to make a request. Now that he's 40 years old, (40! still can't believe it), he's thinking of picking up a new hobby.
Article continues below advertisement
I call it a new hobby; he calls it a midlife crisis. Whatever it is, he's thinking about taking up surfing, and he wanted to see if anyone on the internet could photoshop his head onto that of a surfer. I'm sure he did this knowing full well that photoshopping other people's heads on things is a favorite pastime of millions of people on the internet. And the results did not disappoint.
Not going to lie, even amidst various Macaulay Culkin oeuvre-based horrors, he still looks cool-as-a-cucumber standing on that surfboard. If I were Macaulay, I would take this as a sign to definitely start taking some surfing lessons.
Article continues below advertisement
This one is my personal favorites. If Macaulay Culkin ever learns to surf and then becomes a dad, he can then teach his kid, who will probably look like a miniature version of him, to surf too. I love this adorable hypothetical!
Oh, you want to see what it would look like for a 40-year-old man to surf? Look no further than this strange shot of Mark Zuckerberg (who's actually only 36) wearing way too much sunscreen and looking like a ghost. Macaulay has been flawlessly photoshopped in here, and the effect is extremely disturbing. Let's take a look at another one. I have to get this image out of my head immediately.
Article continues below advertisement
There he is looking super cool with the bunny ears and everything (ostensibly a nod to the satirical website that Macaulay started called Bunny Ears). I think if Macaulay Culkin decides to take up surfing, he's going to do great.
Thanks Macauley Culkin for everything, for all the movies and yes, even for the way you made us all collectively feel extremely old at the same time. We wouldn't trade it for the world.