Ryan Reynolds and Paul Rudd Are Trash-Talking Each Other in the Name of Charity and Fantasy Football
Ryan Renolds, Chris Pratt, Chris Hemsworth, Chris Evans, Paul Rudd, and Karen Gillan are among the Marvel actors playing fantasy football for a good cause...and trash-talking each other in the process.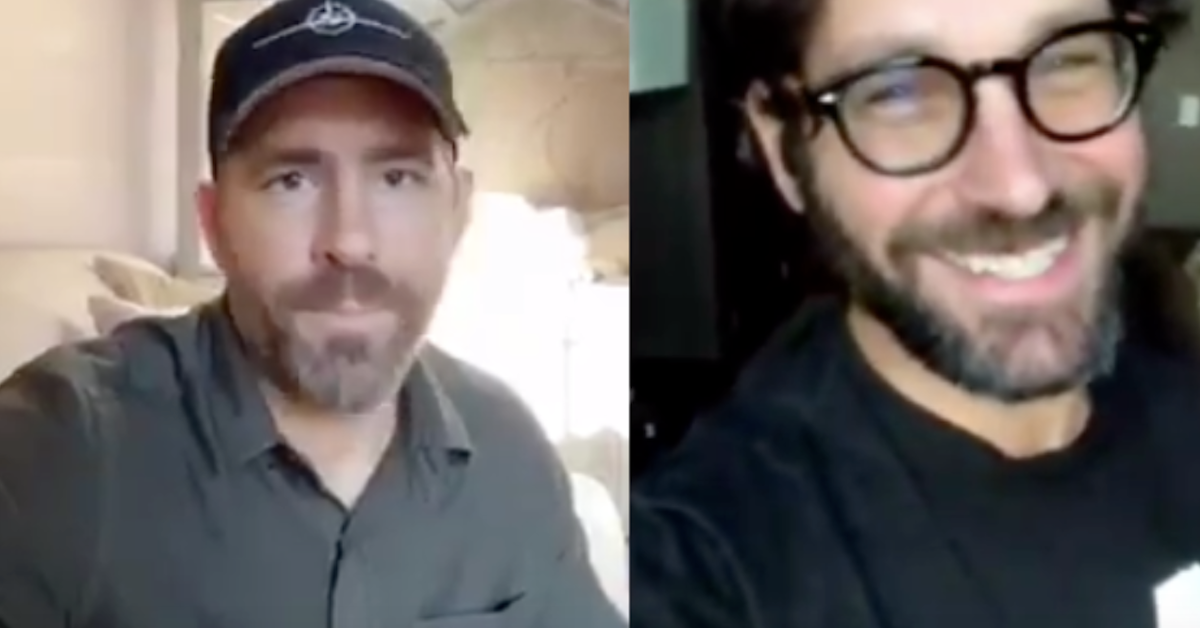 If you've ever wanted to see the Avengers, the Guardians of the Galaxy, and scruffy Paul Rudd turn on each other, today is your lucky day (Civil War doesn't count). Many of the actors who play our favorite Marvel superheroes are participating in a fantasy football league for charity, and things are getting nasty... in the funniest way possible.
Article continues below advertisement
The Russo brothers are the ones behind the AGBO Superhero Fantasy Football League. Each actor is playing to raise money for a different charity, and each week, they go head to head. Part of the deal is that they have to trash-talk their opponent each week. That's where things are getting heated.
Article continues below advertisement
Chris Pratt is currently in first place, so he was a bit miffed when he wasn't listed first among the frontrunners. In a follow up tweet, he took an aggressive screenshot, circling the evidence that he indeed has more points than Chris Hemsworth and Ryan Reynolds at this point in the game play.
Reynolds wasn't going to let him slip by without clapping back.
Article continues below advertisement
If I've learned anything from his social media presence over the years, it's that you don't really want to mess with Ryan Reynolds. He's kind of a genius when it comes to making fun of people, including his own wife.
In the past, Ryan Reynolds hasn't been shy about roasting his celebrity friends in public, so this fantasy football league is just another chance for him to flex that muscle. And this week, his target is Karen Gillan (Nebula in Guardians of the Galaxy).
Article continues below advertisement
The Russo Brothers tweeted out Ryan's video in which he trash-talks Karen, and it's hilarious. Ryan is playing for the Sick Kids Foundation of Canada, a worthy cause for which he ripped Karen a new one.
"According to Joe and Anthony Russo," he says, "I'm supposed to create a trash-talking video in order to be in this league... My opponent this week is Karen Gillan, and she's like, nice, you know... so I sort of feel like I'm going to tread a little bit more lightly..." Then, he dives into a hilarious expletive-filled rant that's almost completely bleeped out because of how dirty and inappropriate it is. Obviously, you should watch it for yourself.
Article continues below advertisement
Luckily, Karen Gillan is a champ among champs, and she clapped back with the most hilarious takedown of Ryan Reynolds I've ever seen. Blake Lively would be proud.
Karen exclaims that "actions speak louder than words" before going to purchase a doll we think is Deadpool and setting it on fire. But it turns out, it's a little hard to remember which hero Ryan Reynolds plays, you know, because he's just not that memorable.
Article continues below advertisement
In another adorable match-up this week, Paul Rudd is pitted against Tom Holland, the baby of the Marvel Cinematic Universe. And Paul Rudd, Ant-Man himself, trash-talked the crap out of this teenager (I looked it up and Tom Holland is 23, but he looks 12, so we're compromising and calling him a teenager)...while also remaining his cute, charming self.
Article continues below advertisement
I, for one, love when attractive, rich people roast each other. It's such a classic pastime. And in the AGBO Superhero Fantasy Football League, it's all for a good cause. You can keep up with the weekly match-ups and see the league standings and make sure you follow all the trash-talking action at the #agbosuperheroleague hashtag. Avengers, assemble your insults!