New Mom Says She Was Shamed by Co-Worker for Not Being "Productive" During Maternity Leave
A new mom received support from 'Mumsnet' users after posting that a co-worker made her feel lazy while she was on maternity leave.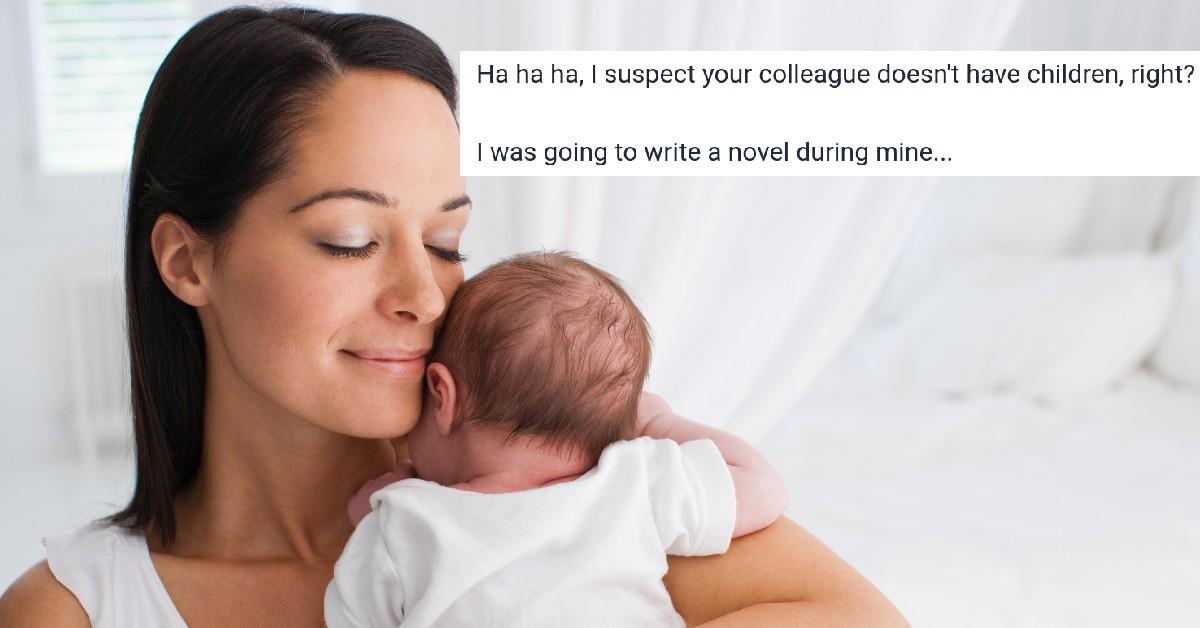 Article continues below advertisement
The center went on to say, "Research shows that paid parental leave policies significantly improve maternal physical and mental health by allowing mothers time to recover from childbirth and adjust to new caregiving responsibilities."
They even cited instances in the United States where the implementation of such programs immediately yielded favorable results.
"California's paid family leave program lowered the risk of poverty among mothers of infants by 10.2 percent and increased household income for those mothers by 4.1 percent, on average. California's program also significantly reduced food insecurity among households following childbirth."
So in short, there are tons of benefits for new moms to dedicate their time wholly to caring for their child and adjusting to motherhood. But this Mumsnet user says that a co-worker tried to make her "feel lazy" for just doing that.
Article continues below advertisement
A woman who posts under the handle on the popular forum @Saltyaire said that she was gearing up to get back to work after a year of maternity leave, which is in compliance with the UK's 52 weeks of time off with 39 of those weeks being paid.
While on a Zoom session with some colleagues, she was asked what she did with her time off and mentioned she mainly used her time taking care of her kids.
Article continues below advertisement

One of her co-workers mentioned that other moms use that time to renovate their homes or start new businesses, but it was good of @saltyaire to just use the time "to relax."
Article continues below advertisement

This got OP feeling upset, as she didn't do any of those things when she had her first child either and wanted to know if she was indeed "lazy" for not maximizing the most of her time and redefining herself while she wasn't at work.
Article continues below advertisement

She also said that she can't understand how other women on social media seem to have a ton of time in the day to get a bunch of stuff done when they're new mothers, and wants to know if she has "been making excuses" as to why she couldn't paint a room in the house, among other things she now thinks she should've been doing.
Article continues below advertisement

Tons of users on the platform rushed to @saltyaire's defense, stating that their own experiences mimicked the Mumsnet poster, that their primary focus was just keeping their children alive. Others said that maternity leave "is for you to do whatever you want with. There isn't a test at the end to see if you have done it right," as it's her "life" ultimately.
Article continues below advertisement

Some speculated that the co-worker in question probably doesn't have any children of their own and doesn't know what it's like to raise a child let alone deal with "re-inventing themselves" right after they've had a baby.
Article continues below advertisement

Others suggested that OP should stay off of social media if it's "upsetting" them so she doesn't feel like she's in competition with strangers on the internet.
Article continues below advertisement

Generally speaking though, there were a lot of moms who said that they found it difficult to get work done outside of caring for their family while on maternity leave.
What do you think? Did you have time for extra projects/passions while you were on maternity leave? Or is the thought of that laughable, as some folks mentioned in the post? Do you think it was crumby of the co-worker to assume that @saltyaire was just relaxing during her time off?