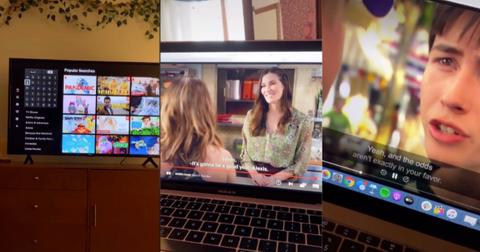 Forget Horoscopes — People Are Using Netflix to Predict Their Future
By Abi Travis

Updated
Plenty of people are obsessed with looking up their horoscopes or even paying real money to see psychics so they can learn about their future. That's certainly their prerogative, but we'll let you in on a little secret: You can predict your future for free on Netflix (well, assuming you have a Netflix account, that is).
It's true. People have been making "Netflix guesses your future" TikTok videos, and we have to say some of them are pretty darn compelling. We can't vouch for Netflix's accuracy when it comes to predicting the future, but we can confirm that using the streaming service to predict your future is a fun way to spend a couple of minutes of your time.
Here's how to make your own "Netflix guesses your future" TikTok video.
Making a "Netflix guesses your future" TikTok video couldn't be easier. First, you'll need to open up your TikTok app and start filming (you probably guessed that step). Next, pull up the Netflix home page and go to the search bar. There seem to be some slight variations on how people predict their future, but from what we can tell, these are the basic steps:
1. Type in the first letter of your first name.
2. Pick a number between one and 12, then click on the title that corresponds to the number you picked.
3. If the title is a show, see how many seasons there are and pick a number in that range (for example, Schitt's Creek has five seasons, so you would pick a number between one and five). If the title is a movie, skip to step five.
4. Check how many episodes are in that season, then pick a number in that range (e.g., Season 5 of Schitt's Creek has 14 episodes, so choose a number between one and 13).
5. Check the runtime, then choose a random minute.
6. Press "play" and hear your fortune. (And don't forget to post the video to TikTok, of course.)
Is Netflix really predicting your future? Eh, probably not, but you have to admit that it's a fun way to pass the time. And if you keep watching the episode after receiving your fortune, Netflix did sort of predict your future if you think about it.
Some of the videos that people have made for TikTok of Netflix guessing their future are clearly just a little bit staged — if you know a quote from a TV show that you wish predicted your future, it's pretty easy to reverse engineer. But in the grand scheme of things, we're just happy to have a new type of video to watch on TikTok, plus a new way to use the Netflix app.
Some people have also tried using Disney Plus to predict their future to equally fascinating and hilarious results. It's probably only a matter of time until people start using Hulu or HBO Max, too. Basically, anywhere there's a large, easily searchable digital library, you can use it to predict your future. Or you can just use it to find something to watch. Either way.