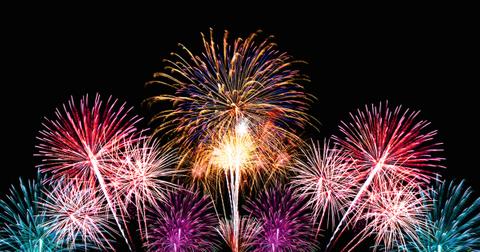 Where to Catch Some Fireworks Near You This New Year's Eve
By Lizzy Rosenberg

Updated
While New Year's Eve happens to be one of my favorite holidays, it's more stressful than fun for some — between making plans and fulfilling personal "expectations," there's a lot that goes into making it magical. But if you're looking to do something low-key this year, fireworks are always an undeniably fun and (and seriously chill) option.
So if you're looking to kick off 2020 in color, here are the best New Year's Eve fireworks in your city.
1. New York City: Prospect Park Fireworks
If you're willing to trek out to Brooklyn this holiday season, Prospect Park Alliance puts on legendary fireworks every New Year's Eve at Prospect Park's iconic Grand Army Plaza. It's totally free, rain or shine, and after some live entertainment, the fireworks go off at the stroke of midnight.
2. Los Angeles: Marina Del Rey Fireworks Glow Party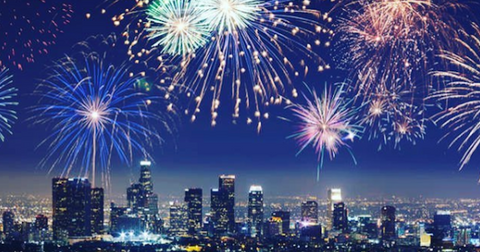 Marina del Rey is putting on a totally free family-friendly glow party, with fireworks at 9 p.m. and a minute before midnight. The fireworks are set off at Burton Chace Park, but any restaurant with a view of the water should have firework visibility.
3. Chicago: Fireworks at Navy Pier
Catch some spectacular lakefront fireworks at Navy Pier to ring in the New Year. Make sure to bundle up, though — it's bound to be a chilly (yet seriously memorable) time.
4. Anchorage: Fireworks on Third Avenue
When the sun sets around 5 p.m., those living in Anchorage should head to Third Avenue for a dance party, food, drinks, and fireworks at 8 p.m. It's totally family-friendly, and hopefully, you'll catch a glimpse of the Northern Lights while you're there.
5. New Orleans: Jackson Square Fireworks
Every year, the Crescent City Countdown Club puts on a NOLA New Year's Eve celebration. At midnight, they drop a fleur-de-lis (a classic NOLA symbol) from the top of JAX Brewery, and then proceed to set off fireworks over the Mississippi.
6. Boston: Fireworks on the Harbor
If you're living in Bean Town, make sure to head to the harbor at midnight for a giant fireworks show. Friends of Christopher Columbus Park is encouraging Boston residents to make a donation, however, to ensure they're possible this year. I strongly suggest doing so if you're planning to celebrate in Mass this year.
7. Seattle: Capitol Hill Fireworks
8. Washington D.C.: Fireworks on the Potomac
Make your way to Gaylord National Resort and Convention Center at Fort Washington. It offers open bar, midnight champagne, food, and entertainment. And the National Harbor offers an idyllic view of the fireworks. The party starts at 9 p.m. on December 31 and goes until 3 a.m. on January 2. Tickets start at $99, but buy them soon, because they sell out fast.
9.
There are so many major fireworks-focused events this New Year's Eve, so get ready to start off 2020 with a literal bang — can't wait!