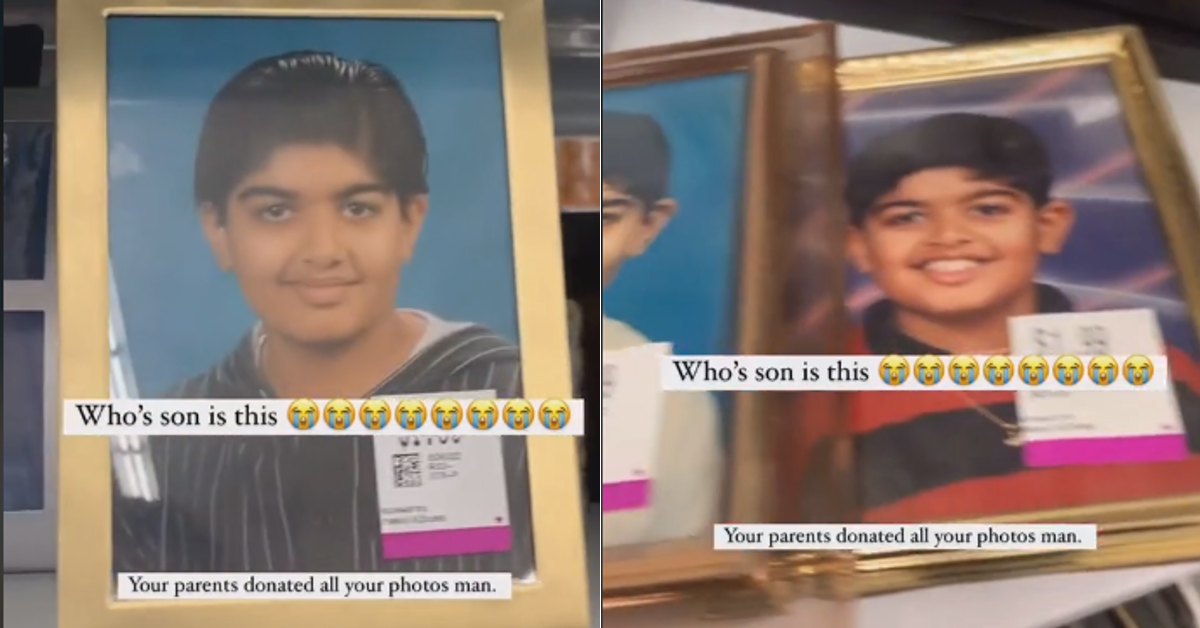 Parents Donate Child's Photos to Thrift Store and TikTok Can't Stop Laughing
Thanks to the leaps and bounds in smartphone camera technology, it's become easier now more than ever to preserve family memories for years to come. I probably only have a handful of photographs of myself as a kid and my two children probably have a photo of every single day of their lives that they could use for a smash cut of their existence to look back on when they're older. At least as long as Google's servers hold up (don't let me down Big G.)
Article continues below advertisement
But for those of us who didn't grow up with parents who were snapping up photos of us every chance that they got on their phones, there were only a few moments a year that was reserved for taking pictures: birthdays, awkward Sears photo shoots, holiday gatherings, and of course, school picture day.
Depending on how punctilious your parents were, they probably took an aggregate of these pictures and tossed them into a photo album protected by plastic sleeves. Maybe they even put them in picture frames and hung them around the house where they'd force guests to gander at your mug as you tried your best "normal" smile while the Lifetouch alcoholic mindlessly snaps photos of you.
This is probably why so many TikTokers are cracking up at this Thrift Store find.
Article continues below advertisement
A TikTok user who posts under the handle @racheltaughtme showed off a series of photos that all depict the same young boy at a local Thrift store with a text overlay that reads: "Your parents donated all your photos man."
Article continues below advertisement

In the video's caption, Rachel wrote: "I'm sure there is a reasonable explanation to all of this."
There were a litany of different responses to the video with people offering up their explanations as to why the photographs were there in the first place. Some TikTokers joined in on the laughs stating how messed up it was that someone's folks would give away their pictures.
Article continues below advertisement

Others postulated some other scenarios that were a bit more depressing: like the fact that maybe the person's parents gave away the photos because their child passed and keeping them in their home was just too much to bear.
Article continues below advertisement

Another TikToker said something similar happened to a friend of theirs after they came out to their parents, who then donated all of their photos to a thrift store because they couldn't accept the fact that they were gay.
Article continues below advertisement

But then there were TikTokers who offered up some pretty pragmatic reasons as to why those photos could be in a thrift store: maybe they were kept in a storage unit or a tenant got evicted and they weren't able to get to their belongings in time.
Article continues below advertisement

And then there were people who conjured up ways to have fun with the finds, like user @thatfatguyoverthere: "I'd buy them, hang em up at home, and have a story about my son who's a space astronaut who's on board the outer space station rocket. Papa so proud."
Article continues below advertisement

Have you ever visited a thrift store and encountered something similar? Did you have the urge to buy the pictures and pretended like they were your kid as some kind of twisted joke?