Doctors Over the World Are Begging You: Stay Home Because We Can't
People everywhere are wondering how they can best help fight doctors battle COVID-19, and medical professionals have the answer: Stay home.
The COVID-19 pandemic continues to surge in the U.S. and abroad. All 50 states have reported cases, and while China has had its first day without any new reported cases, the number of people with the virus continues to soar in the rest of the world. Naturally, people are concerned and scrambling for ways they can help.
Article continues below advertisement
Well, the doctors and nurses and medical support staff on the frontlines have a prescription for those looking for the best way to do the most good: stay home. It's an infuriating directive to the "doers" among us, people who are used to taking a more active role in a crisis. Not all heroes wear scrubs. If you can, you must stay home, doctors urge in a viral campaign with the hashtags #StayHomeForUs or simply #StayHome.
Article continues below advertisement
Healthcare workers all over the map are taking to social media to beg those of us who can to do just that. Stay. Home. As care facilities approach their capacities — and in some cases meet or exceed them — the only way they will defeat this pandemic is to slow the number of new cases. "I stay at work for you. You stay home for us," say many of the signs overworked providers have shared on various platforms.
Article continues below advertisement
"We also have family, but we can't stay home," says another sign. Be responsible, stay home because I can't."
And it seems like such a simple request, but many Americans are not taking adequate precautions to prevent contracting or spreading coronavirus. In Florida, which has over 300 confirmed cases, people continue to flock to beaches.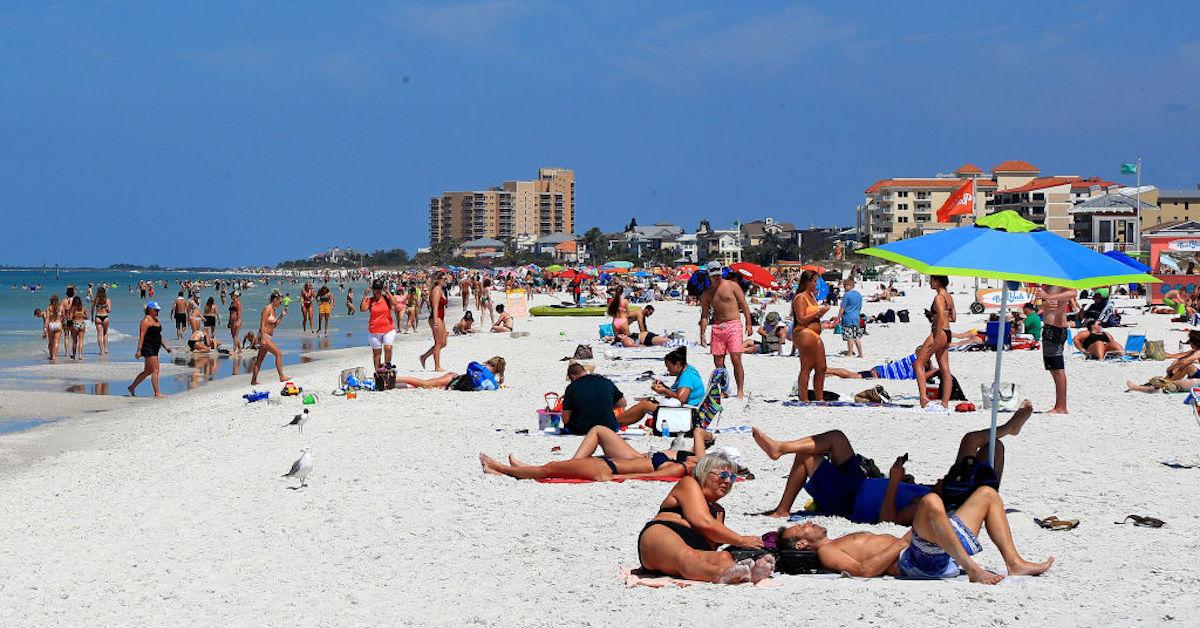 Article continues below advertisement
But the problem isn't just with people wanting to have spring break as if nothing is going on. Nurses and doctors are also grappling with family and loved ones of hospitalized people not wanting to stay home. And they get it — it's awful to stay away when someone you care about is ailing. But it's truly the best way to help.
Article continues below advertisement
Ashley Barton, a nurse who is tasked with screening people trying to gain admittance to the emergency department, said in a viral Facebook post that she gets yelled at every day by people coming to the hospital to visit loved ones or in some cases to get tested. And every day she turns away people who don't meet the strict admittance requirements during their lockdown. While she understands people's frustration, she reminds them all these urgings to stay home are meant to keep everyone within the hospital's walls as safe as possible.
Article continues below advertisement
Remember, there are still a ton of other patients in the hospital battling other infectious diseases or cancer, or getting treatments for autoimmune diseases. These people already have compromised health and contracting the virus from an asymptomatic carrier could be their death sentence.
Article continues below advertisement
Of course, medical workers aren't the only people who can't stay home. There are the custodial and support staff within hospitals, the first responders, maintenance and sanitation workers, as well as workers in pharmacies, grocery stores, and other essential businesses who must continue to go to work. We help keep them healthy by staying home as much as possible, only going to the store when we absolutely must.
It may feel like you're doing nothing, but it means everything to these brave, overworked people who can't stay home.
The best way to prevent contracting or spreading coronavirus is with thorough hand washing and social distancing. If you feel you may be experiencing symptoms of coronavirus, which include persistent cough (usually dry), fever, shortness of breath, and fatigue, please call your doctor before going to get tested. For comprehensive resources and updates, visit the CDC website. If you are experiencing anxiety about the virus, seek out mental health support from your provider or visit NAMI.org.