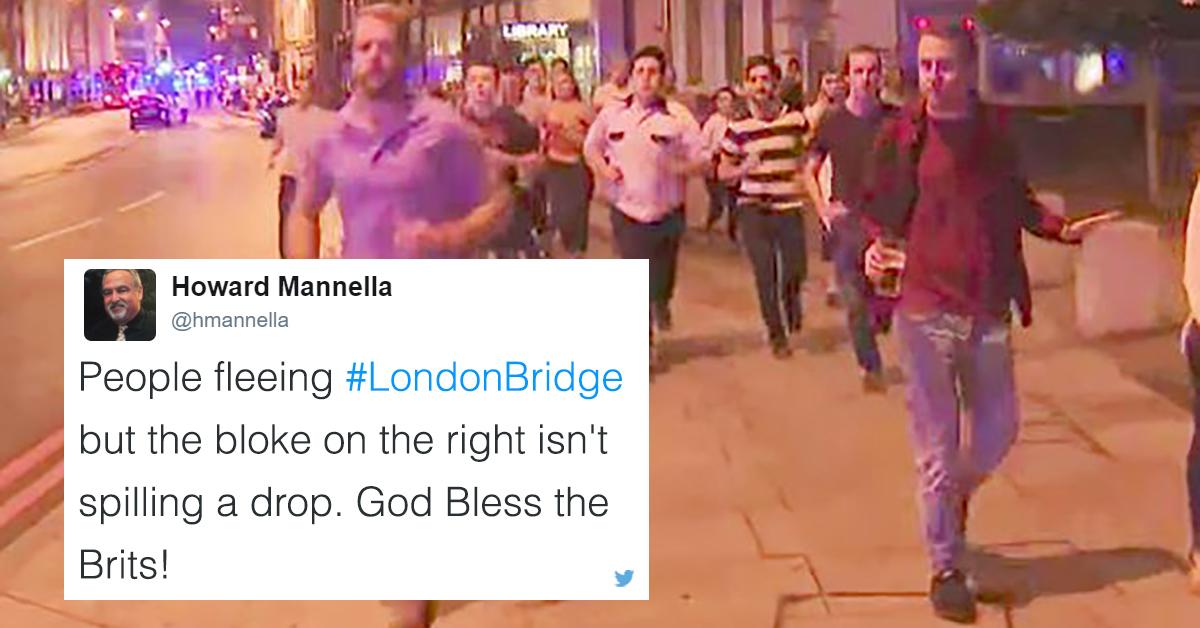 Guy Flees London Attack With His Beer And Doesn't Lose A Single Drop
By Mark Pygas
On Saturday, three attackers killed seven people and injured 48 in a van and knife attack near London Bridge. In the videos and photos that circulated on social media in the aftermath, one man stood out from the crowd. Why? As police evacuated nearby bars and restaurants, he fled the scene of the attack with his beer in hand. He's clearly got some of his priorities in order. People couldn't believe just how perfectly he held the beer all while fleeing at the same speed as everyone else:
According to the Liverpool Echo, the man seems to be Paul Armstrong from Merseyside. A Facebook post shared by a relative said that he was uninjured, and took his pint with him because alcohol is overpriced in the capital. It reads: "So that guy with the pint? Yes, that's the elusive Paul Armstrong. That's what happens when you're a Scouser paying London pint prices." Can't say we blame him. It costs a small fortune these days to go out and buy beer. Must be some heavy profit involved.
Social media felt pretty inspired by the scene, many in fact envious of the dedication and balance he had while running away. It's amazing he didn't spill a single drop.
And if you've ever been out for the night in an expensive city, you'd probably do the same. Granted this is probably the most English thing ever, can't spill a drop when you're out with your mates.
We all wish we were as cool as this guy. But in all seriousness it was a very devastating attacks and we'd like to encourage you to donate to help them if you can. This guy was a fun spin on something tragic -- but there were real world ramifications.