Adult Disney Fan Crying After She Meets Goofy Sparks Heated TikTok Debate
A grown-up Disney fan was torched on social media after uploading a video of her crying when she met Goofy, which started a convo on "Toxic" Disney adults.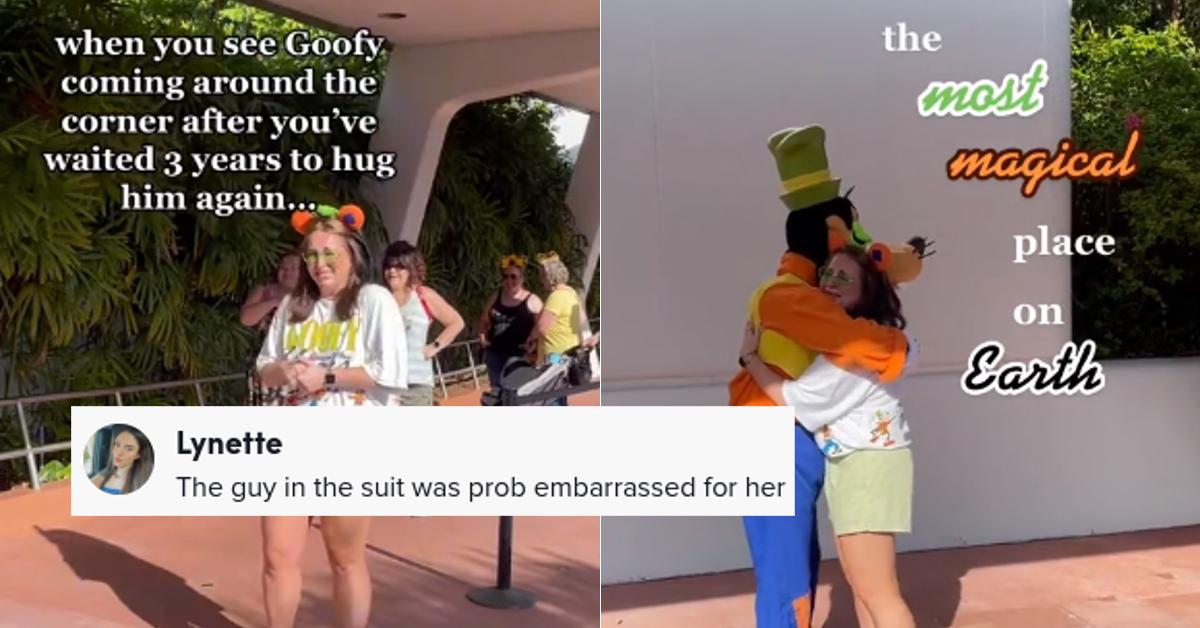 Disney Adults have been getting a lot of hate recently, and the criticism is rooted in a lot of different feelings towards the media conglomerate.
For some, it's a heavily political issue: Disney has vocally spoken out against Florida's HB 1557 bill, which states public school teachers aren't allowed to address questions pertaining to sexuality to children until the 4th grade.
Article continues below advertisement
For others, it just boils down to a kind of personal distaste in seeing adults wig out over content that is primarily aimed toward children. For many of us, it's easy to look at childhood with all the warmth and fuzziness that nostalgia affords us. That's probably because for a lot of us this represented a time when adults were in charge of our choices and we lived out existences where our responsibilities were a bit more low stakes.
Article continues below advertisement

And many of us as children thought that everything was just going to "work out," almost like magic. Which is a sentiment captured in a lot of Disney's movies.
So a lot of the ire towards "Disney adults" can probably be summed up by the sneaking suspicion that they aren't putting the same type of enthusiasm into making their adulthood fun.
Article continues below advertisement
Whatever the reason why people dislike Disney adults, it's definitely a phenomenon, about as real as the adults who parade around the park and lap up all of the attractions, sights, and experiences.
But a now-viral TikTok has launched a debate as to whether or not it's kosher to call these Disney adults out on having a good time at the park, even if they are literally crying tears of joy at the thought of seeing a man dressed up as Goofy and getting to hug him.
Article continues below advertisement
TikToker @everydayisdisney (Sarah) shared a video of her hugging Goofy at the park and breaking down in tears. She gave her reasoning as to why it was such an emotional experience: her late grandfather's (who Sarah refers to as Papa) favorite character was the lovable dope.

Article continues below advertisement
Some commenters who saw the video said that it's reactions like Sarah's that makes performers' jobs at the park so enjoyable. But there were others who began lambasting Sarah as a "Disney adult" and said that they're put-off from attending the parks with their children because seeing a bunch of adults nerd out and acting like children is embarrassing.

Article continues below advertisement
This eventually devolved into a debate with differing arguments: some folks put forth that there really isn't anything wrong with being a "Disney adult" and that it's the same as being a die-hard sports fan, gamer, or a fan of a particular musician or artist.

Article continues below advertisement
Then there were those who conceded that yes, while in many instances Disney adults can be considered off-putting, that Sarah's case was a special circumstance, especially considering that she lost her father and seeing Goofy in person was a way for her to process her grief.

Article continues below advertisement
Others just didn't like the fact that her special moment of processing grief for her father was turned into what basically seemed like an advertisement for Disney, noting that she looked to the camera before crying and giving Goofy a hug.

Article continues below advertisement
What do you think? Do "Disney Adults" bother you as much as they do TikToker @freewardojonathan, who says that the park is now "unbearable to visit?"
Or do you think folks should just mind their own business and if Sarah wants to walk around Disney and feel like a kid again after paying for the price of admission she's got every right to do so and shouldn't be criticized for it?
Edit: Also, Sarah reached out to Distractify in order to comment on the attention her post has received, which she believes carry a lesson in cyber-bullying. As per her statement: "I think there is an incredibly important lesson here to be learned around cyberbullying. I dug into some of these video duets/stitches and comments and lot of the people behind the account are in middle school/high school/college. These are really formative years for learning how to treat others and I'm concerned for how brazen people have become online when criticizing strangers."
Article continues below advertisement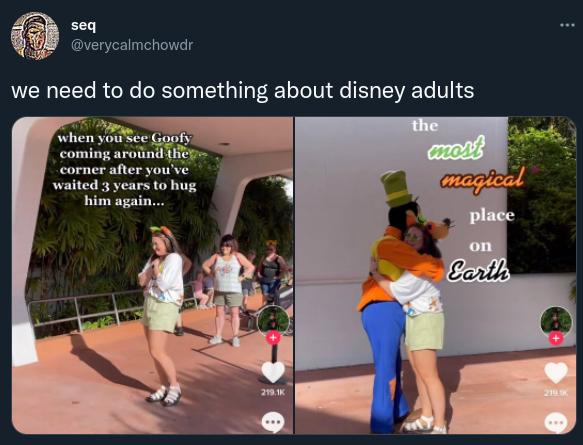 She added: "Personally, I'm not bothered by it but I'm also an adult that has a strong sense of self. I worry for young people on the other end of cyberbullying who haven't yet grown confident and are more susceptible to online hate comments. I think we as a society need to examine how we're raising our children that they feel it's ok to actively tear another person down without realizing the severe and sometimes irreversible consequences of their actions."