Couple Decides What Their Last Name Is Going to Be with Coin Flip on Wedding Day
A couple went viral on TikTok after recording a high-stakes coin flip at their wedding which decided who would adopt the other's surname.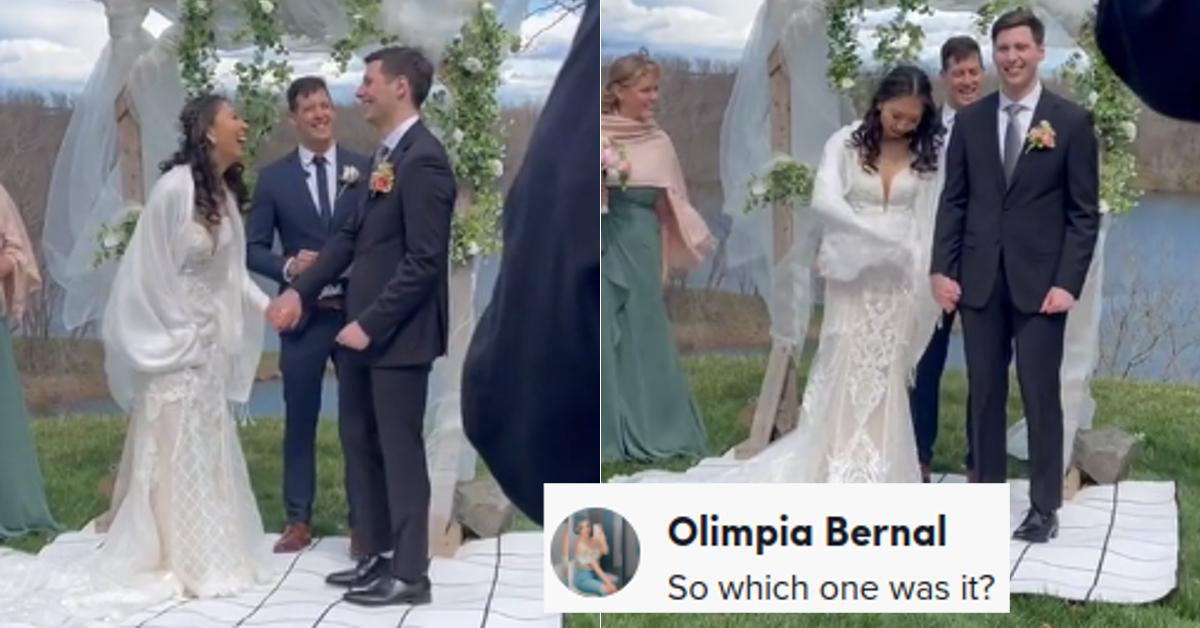 The idea of surnames existed well before social security numbers, blood samples, and photo IDs: they provided a way to track someone's lineage, which was a big deal in the olden days.
Article continues below advertisement
If you were a child of someone, then everyone knew which family you came from. If your parents passed on, then it was known what would be bequeathed unto you. And if you were a woman marrying into a man's family, there was an idea that you now "belonged" to them. And while feeling like you "belong" to a tribe or group is definitely not a bad thing, the concept of ownership and women taking their husband's last names and thus losing their own identities is one that has been oft-argued.
Many women are electing to keep their own last names upon getting married as time progresses, and then there are hyphenated last names or even men who take on the surnames of their wives. It's an issue that some folks have very strong opinions about, but in the case of one recently married couple who went viral on TikTok, they were willing to leave it all up to change. Unless one of them is capable of telekinesis.
Article continues below advertisement
Pearl and Collin Hansen (spoiler alert) first met while working the same Friday night shifts at the college they both attended. Perhaps they bonded over the fact that they're the kind of folks who don't mind sacrificing the beginning of the weekend in order to make extra money, or that they're both really into coin flips.
Article continues below advertisement

The couple often uses the Harvey Dent method of making decisions and also as a way of them figuring out "what they truly want" Collin told Insider in an interview, so for them to decide on a common last name utilizing this method was a natural fit for the two.
Article continues below advertisement

Pearl was feeling a bit conflicted regarding the issue of last names as she was a teacher and all of the children she instructs refer to her by her maiden name, Lee. Now you might be asking yourself: why didn't they just keep their respective last names? Well, the issue is a bit more complicated than that.
Article continues below advertisement

For both Pearl and Collin, they were going to be the last folks in their respective families to carry on their individual surnames and they knew that they both wanted to share the same last name, but the question was: which would it be?
Article continues below advertisement

That's where the coin toss comes in, an idea that Pearl heard while listening to the Freakonomics podcast where someone quipped that they should've just flipped a quarter to decide what their last name was going to be when they were married.
Pearl thought that the idea was "really funny," and Collin was on board with it as well.
Article continues below advertisement

The moment of truth, the coin toss that decided the surname, was actually recorded by someone in attendance at the wedding, TikToker Alyssa Danielle who posts under the handle @diaryofasolotraveler.
Article continues below advertisement

It didn't take long for the clip to go viral on the platform, something that the newly married couple only became privy to while they were one their honeymoon and they began receiving messages from friends and family members who saw them online.
Article continues below advertisement

"It was honestly just so ironic that the thing that we'd get our 15 minutes of fame for was a coin flip," Pearl said.
As mentioned above their names are Pearl and Collin Hansen, meaning that he won the coin toss and Pearl is going to have to tell her students that Ms. Lee is now Mrs. Hansen. Or maybe she could just have a work pseudonym.
Article continues below advertisement

As for their advice on picking who gets which last name? Collin offered up some of his own experience in the matter for any other couples who are having a difficult time deciding: "The coin flip's definitely an option, but I think that honestly, it's most important that you're both comfortable with whatever's happening because you will get pushback."