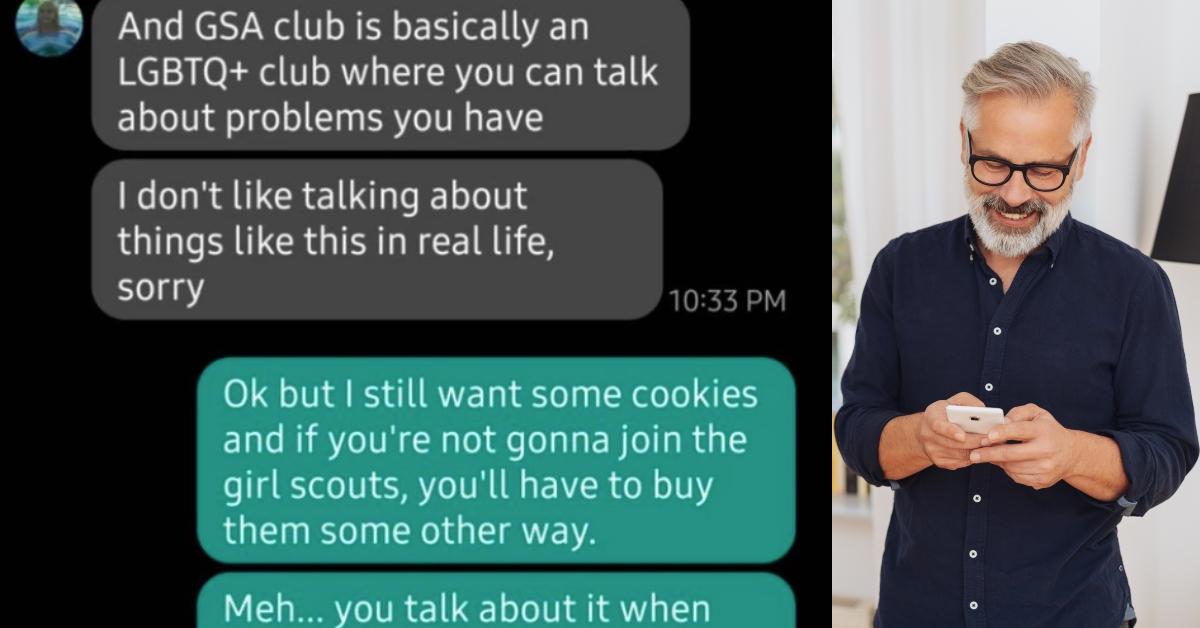 Daughter Comes Out to Her Dad and He Has the Best Response Ever
Somehow, this dad made her coming out a total non-issue and quickly pivoted the conversation to a much more important topic: cookies.
When one dad knew his daughter was going to come out to him as a lesbian, he decided to approach the conversation in the best way possible. He made her coming out a total non-issue and focused the conversation on a much more important issue: cookies.
Article continues below advertisement
He shared their text conversation on Imgur, where it went viral because it's everything a coming-out talk should be: lighthearted, loving, and ultimately super casual.
Dad initiated the conversation. When he found out his daughter joined the "GSA," he approached her to ask if she'd joined the Girl Scouts of America. Of course, he writes, "I knew very well what gsa was..." The GSA is the Gay-Straight Alliance, an organization that often has chapters at schools around the country. His daughter then took this opportunity to break the news to him.
Article continues below advertisement
But first, Dad decided to drag on the cookie conversation a little longer. After all, what's more important than discussing the best Girl Scout cookies? Coming out? I don't think so.
But his daughter pushed on and finally came out to him. "Dad, I'm a lesbian," she wrote. That couldn't have been an easy thing to do, but her dad knew just how to handle it. After all, he said in an interview with Bored Panda, for him, it was something he "cared so little" about that he didn't want to make it a bigger deal than it was.
Article continues below advertisement
He basically said, "Cool, but can we focus on the cookies please?" Of course, he made sure to tell her that she could talk about things like her sexuality whenever she wants. But he also wasn't about to turn it into a huge deal when it wasn't one.
The only thing he would say on the matter? "You're not allowed to date a jerk." I think every dad wants their kids to end up with someone loving and kind. And that's all this dad wants for his daughter. Well, that, and he really wants her to bring him cookies.
Article continues below advertisement
He might not care that his daughter is a lesbian, but a fan of coconut?! That he cannot abide. He used this opportunity to highlight how ridiculous it would be to disown or harshly criticize someone for just one little aspect of themselves. But also he's wrong, and the "coconut ones" (also known as Samoas or Caramel Delites) are the best Girl Scout cookies. By far.
I'd say he effectively shifted the conversation, made it clear that he loves his daughter, and highlighted that her sexuality is of no consequence to him. In fact, it's much less important than her stance on Girl Scout cookies. And then in true dad form, once it got late, he texted her to go to bed.
Article continues below advertisement
He said, "Society has for so long indoctrinated us as to what is and what is not acceptable, that it's a struggle for some parents." But, he said, his job as a parent isn't to "choose whom she lives or whether or not she likes coconuts."
He continued, "I think that's why the analogy struck with so many people. An argument about coconuts was as inane as an argument about whom someone chooses to spend the rest of their lives with."