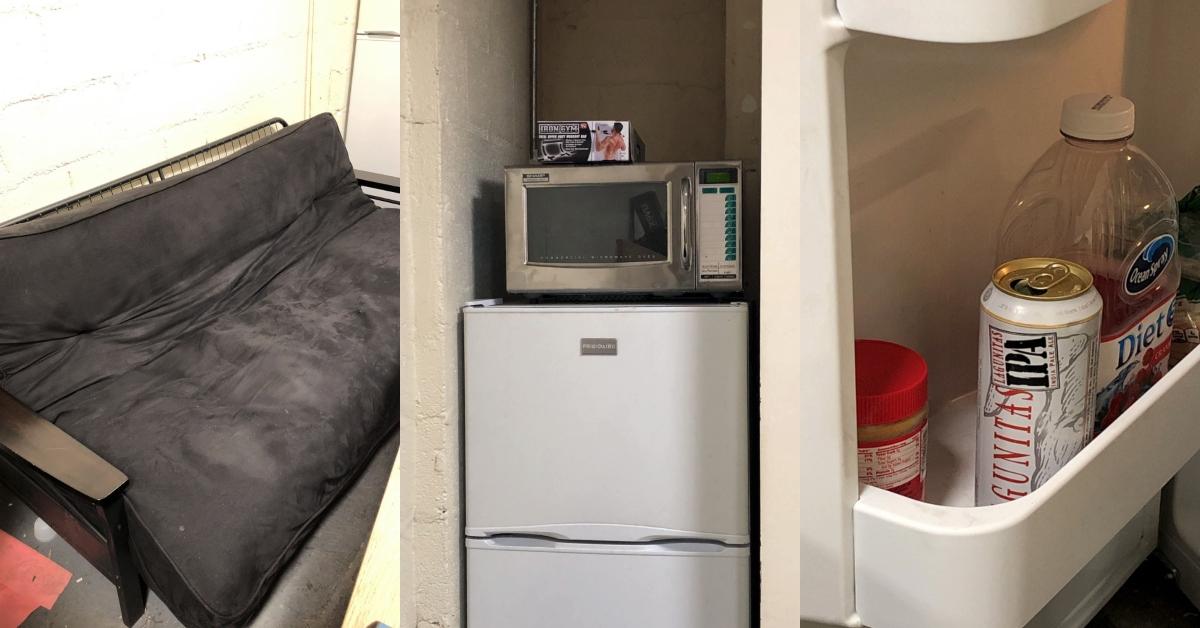 Employees Busted for Secret 'Man Cave' Under Grand Central Station Platform
Three MTA employees at Grand Central Station in New York City were busted for having a secret "man cave" under a platform, Track 114. They reportedly used the unsanctioned break room to drink alcohol, rest, and watch TV.
Article continues below advertisement
The New York Post reports that investigators found the lounge, "complete with futon, flat-screen, microwave, and refrigerator. It was located behind a plasterboard wall in an "unused locksmith shop in the lower level of Grand Central. Apparently, there are an unknown number of these abandoned spaces throughout the station.
Article continues below advertisement
Carolyn Pokorny, the MTA Inspector General, said, "Many a New Yorker has fantasized about kicking back with a cold beer in a prime piece of Manhattan real estate — especially one this close to good transportation. Few would have the chutzpah to commandeer a secret room beneath Grand Central Terminal."
There were two complaints about workers using the space to "hang out and get drunk and party" before it was finally investigated back in August of 2019. Three Metro-North employees — a wireman, a carpenter foreman, and an electrical foreman — denied ever being in that room.
Article continues below advertisement
However, they'd all left fingerprints behind, and there was other evidence too, including an Amazon streaming device that was linked to the carpenter foreman's mobile hotspot Wi-Fi network. Eventually, the electrical foreman admitted to having a key to the locksmith shop, despite the fact that he hadn't worked with locksmiths for at least five years.
Officials have taken the secret, unsanctioned man cave very seriously. All three men have been suspended without pay and could possibly be fired. The internet, on the other hand, thinks these men should be allowed to have their little work oasis.
Article continues below advertisement
As the story gained traction, Twitter was overwhelmed with cries to "let people have this one." Others expressed a desire to hang out in the train station man cave. People generally think it seems like a fun time.
Article continues below advertisement
But investigators don't quite see it that way. Railroad president Cath Rinaldi called it "outrageously inappropriate" and "not consistent with Metro-North's values."
"It just completely destroys the reputation of Metro North. It's so disturbing on so many levels," she said. "These employees should not be doing this when they're on the job, so to have this thing set up, it's completely unacceptable."
Article continues below advertisement
There is an official break room that Metro-North workers have access to at Grand Central. But come on! There's no way it's as fun as the secret one that's hidden under the tracks.
Article continues below advertisement
According to NBC New York, the inspector general's office said that "Metro-North Security failed to take any steps to investigate the initial complaint about the room." Probably because it seemed so innocuous at the time!
This incident has prompted Metro-North to start a new project where they will map all the rooms in Grand Central and keep track of how they are locked, something that many cannot believe didn't happen until now. What this story tells us is that there are secret rooms in Grand Central but that Metro-North will not be happy if you find one and use one for your own purposes.