People Think TikTok Influencer Zoe Laverne Is Dead, but Don't Believe Everything You Read
Disgraced TikTok influencer Zoe Laverne was caught in an appropriate relationship with a minor, and since then, has gone dark on social media. Now, people think she might be dead.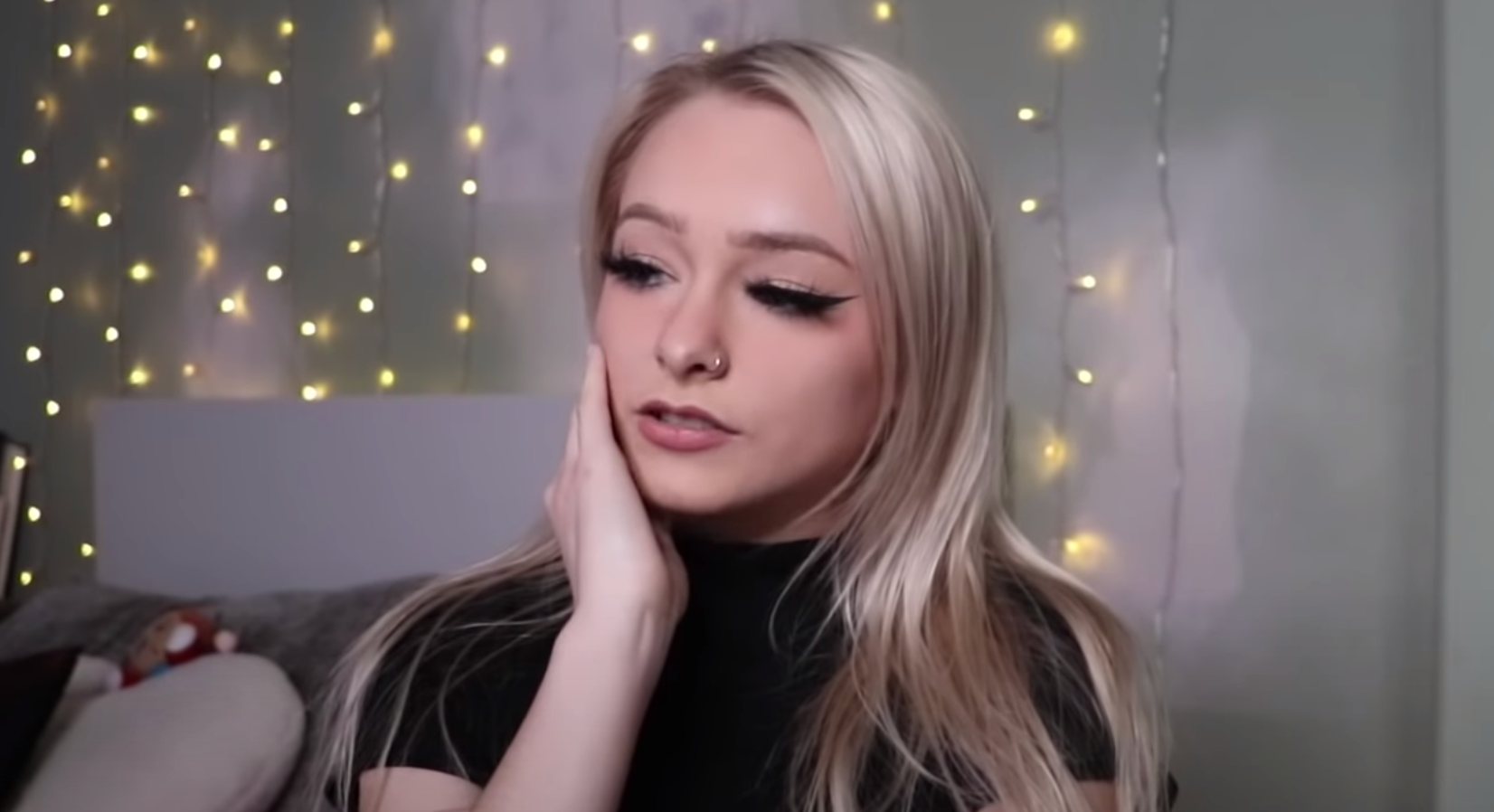 If you've been following the Zoe Laverne saga, then you know it's a complete mess. The 19-year-old TikTok influencer got caught kissing her 13-year-old friend, Connor Joyce when videos of them were leaked earlier last week.
Fans accused Zoe of grooming and pedophilia, expressing their disgust that she would take advantage of a minor. Zoe deleted her Instagram and almost completely went dark on social media, save for several posts and videos with her mom in which she apologizes for her actions or cries.
Article continues below advertisement
"Connor and I kissed yes..never had a relationship but we did catch feelings for each other after being so close..These videos were from months ago and we both realized it was wrong and we both cut it off," Zoe wrote (the Instagram account is allegedly hers, but the whole apology note can be found on Twitter).
She told people that she had told Connor's mom what had transpired, and that "[the leaked footage] was not meant to be on social media and I'm sorry you had to see it."
Article continues below advertisement
One Twitter user wrote, "The apology says all in needs to, 'this wasn't meant to be on social media'. Because you knew it was wrong. Because you knew he was 13. Girl, no. Just no. She may be 19, but that's old enough to know better and she herself said she did know better."
Article continues below advertisement
This then led to rumors of her arrest, which began circulating on prank news sites, including channel34news.com. A YouTube video titled "Zoe Laverne Getting Arrested Video" was uploaded October 29, but didn't actually feature her getting arrested — it just showed clips from the leaked footage as well as a video that shows Zoe crying with her mom after everything went down.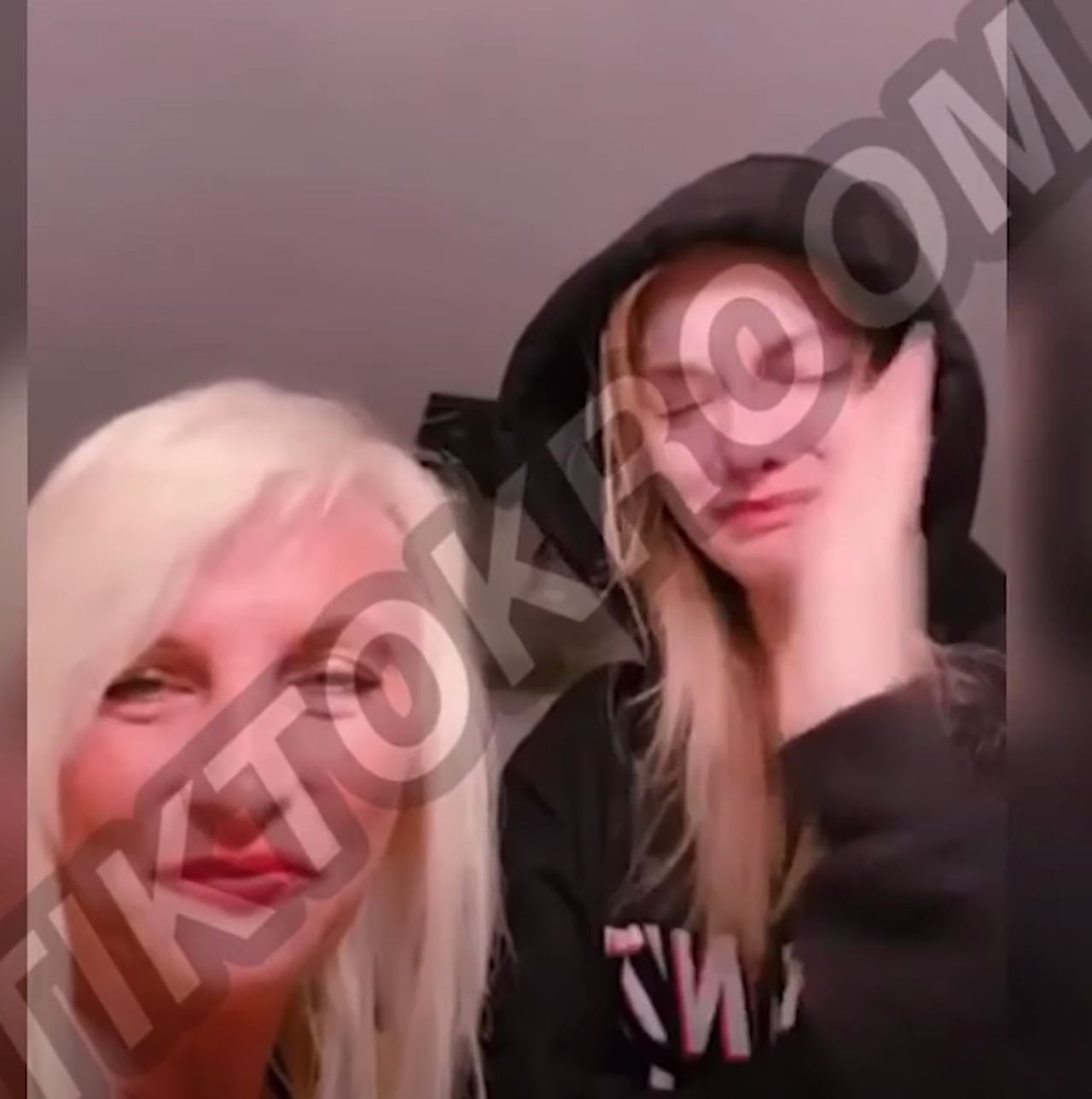 Article continues below advertisement
Now, if you search for Zoe Laverne on Google, you get a bunch of search results that make it look like she died.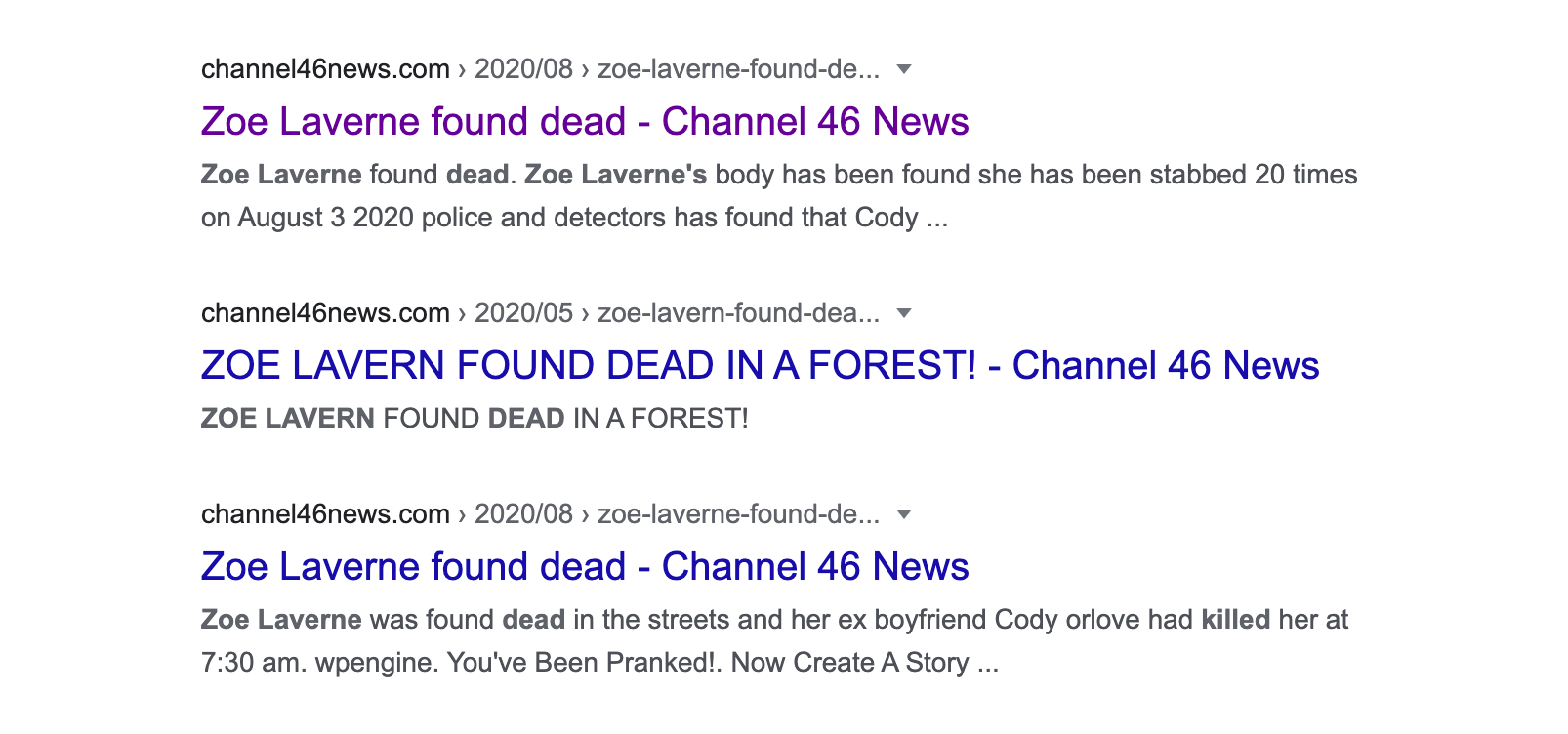 Article continues below advertisement
Is Zoe Laverne dead?
No, Zoe Laverne is not dead. Various prank new sites published articles about her death seemingly back in August and February. One "report" states that she was shot in a forest, and two others claim that her ex-boyfriend Cody Orlove killed her. All claims about her death are not true. As of now, it seems like Zoe is taking a break from social media, working on her mental health, and spending time with her family. It's unclear if she will, in fact, face criminal charges for her inappropriate relationship or if she's even been officially accused of one (yet).
While Zoe is most likely not dead, she's definitely canceled. This isn't the first time Zoe has been under major scrutiny. In fact, several months ago, TikTok users created a Change.org petition to get the TikTok influencer banned from the platform, citing that she was a bad influence, vaped on camera (and encouraged followers to do it), says the N-word, and even tells people to "go kill themselves." The petition has been signed by nearly 47,000 people.
Article continues below advertisement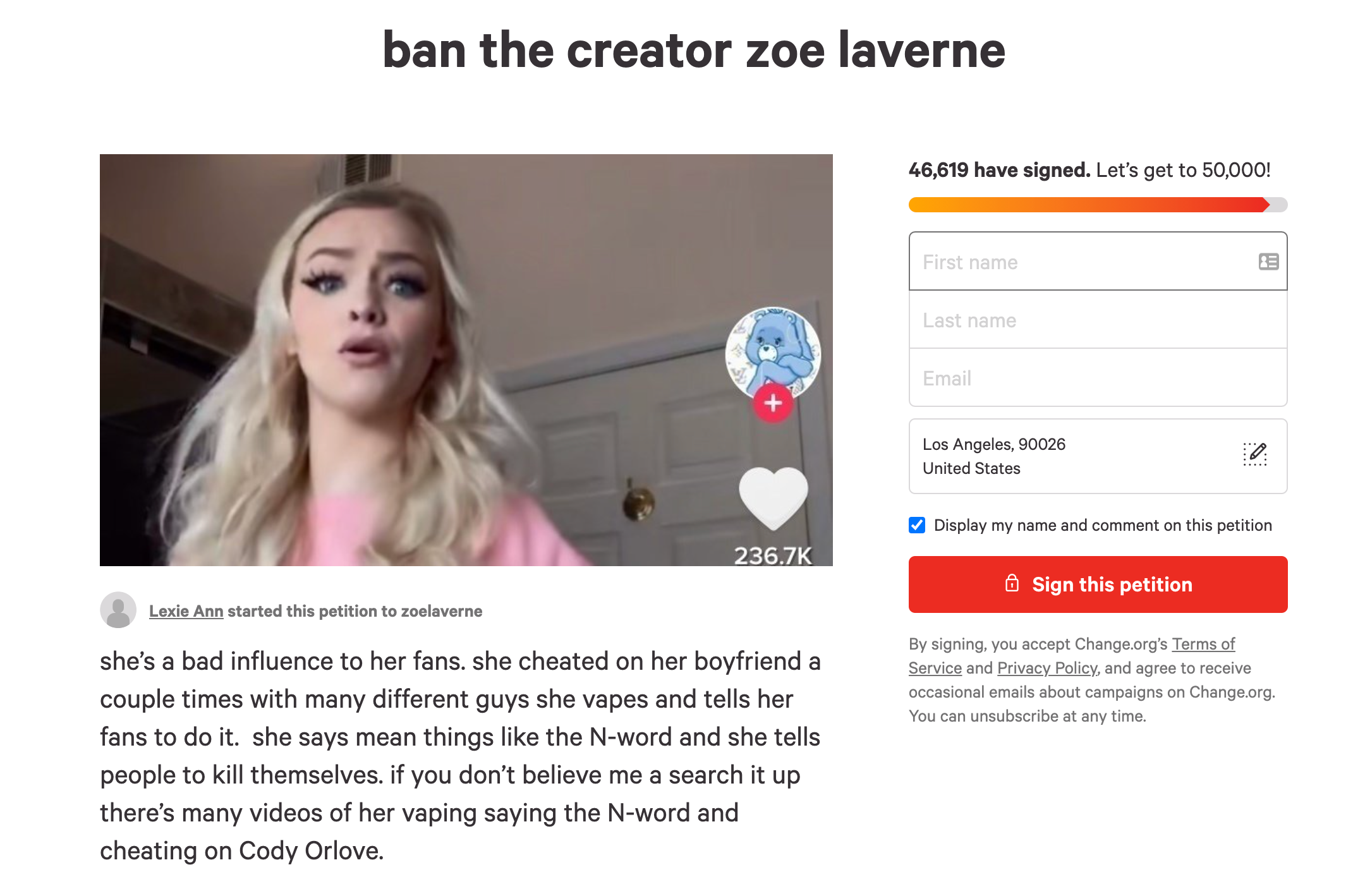 At this time, it's unclear whether or not Zoe will continue to make content on TikTok. Maybe it'll be better for everyone if she took a break — indefinitely.
If you need support, The National Sexual Assault Hotline is available 24/7 at 1-800-656-4673. You will be connected with a trained staff member in your area. Or visit RAINN.org to chat online with a support specialist at any time.