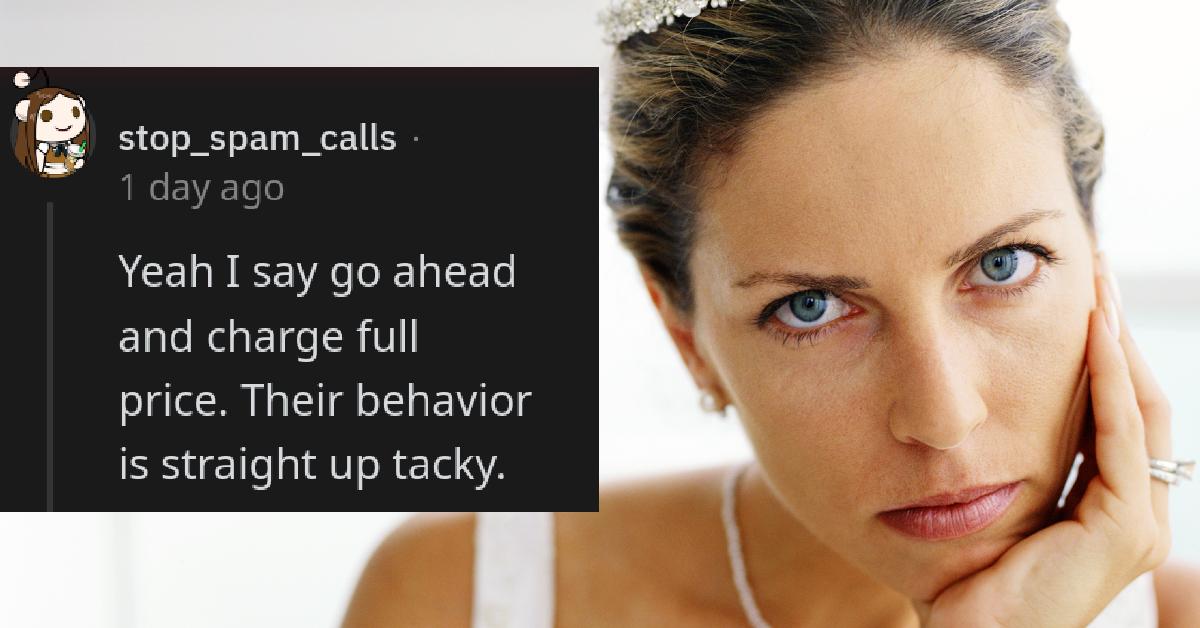 Man Sends Invoice to Cousin After Not Getting Invited to Wedding, People Disagree
A man wanted to know if he was in the wrong for sending his wife's cousin an invoice after she "didn't have space" for them at her wedding.
A Redditor posted a now-viral blog on the social media site's AITA wanting to know if they were in the wrong for invoicing a relative who didn't invite them to their wedding.
This is after the family member seemingly took advantage of the fact that OP and their wife own a printing business.
Article continues below advertisement
The Redditor stated that while they usually are more than happy to offer their services for free, even eating the cost of materials, not to mention the time to help out other family members with their special occasions and events, they were a bit taken aback that their wife's cousin (the relative in question who was getting married) would expect them to provide all of those services without inviting them to their wedding celebration.
The phenomenon of folks "mooching" off of family members is unfortunately very real, like this one piece published by The Penny Hoarder where a concerned individual was worried about relatives mooching off of his finances.
However goods and services, especially labor, are a completely different story, and some folks might feel like they're entitled to such things for free as they don't know the value of them.
Article continues below advertisement

The Redditor wrote in his post: "I own a printing company that I run with my wife. Her cousin came to us and wanted us to do all the signage, banners, guest books, life-sized cutouts, etc for her wedding."
Article continues below advertisement

Apparently, they have a history of helping out friends and family as a gesture of good will for the wedding. "We do this all the time for friends' weddings and events, and we never charge. We're happy to help out and it's usually a lot of fun working together to make some cool stuff." Pretty nice for them to do any they said it usually doesn't cost them a ton.
Article continues below advertisement

However, this was the first time they experienced being all but forgotten about when it came to that coveted invite. "A few weeks before the wedding, her wedding planner tells us they need all the items by X date so they can set it up for the wedding. At this point, we hadn't received our wedding invitations and didn't even know when the actual wedding was."
Article continues below advertisement
"My wife texts her and tries to clarify when the wedding is and if we missed the invitation somehow. Her cousin replies and says 'Oh we downsized the wedding and we decided to have like a close friend and family thing" and that they didn't have space for us in the small venue.'"
The most insulting part for them is just how cavalier the couple was about forcing revisions which significantly increased the overall cost of the project.
"My wife and I are pretty hurt and insulted. And on top of it, we've spent close to $2000 on all the materials. Her cousin and the wedding planner kept making tiny revisions to the artwork, had us print samples to see how it would look in person, resized several of the items a few times, etc. All that cost a ton of time and money. And we're a functioning business, so we either had to delay other orders or stay late and print her stuff on our own time."
Talk about a bunch of wedding zillas.
Article continues below advertisement

Naturally upset, the couple didn't want to just give them free stuff so they decided to reach out to them via an invoice for the countless hours of work they put into the project.
"So I went ahead and billed her for our cost and said we needed payment before delivery because I'm not going to chase her for payment for months/years after the wedding. We're not making money on it, just charged her for the cost of materials. So far we've gotten threatening calls from the cousin, her fiance, some random members of my wife's family that I don't know, some of the groomsmen, etc essentially calling us a-------."
Article continues below advertisement

"After the harassment, I'm considering charging full price or else we won't deliver the items.
Are we the a------- here? Sorry but I'm not going to waste my hard earned time and money on someone who doesn't even consider us 'close friends and family'"
Article continues below advertisement

Redditors who saw the post expressed that they thought OP's wife's cousin was in the wrong, as it was made pretty clear that they were only being used for their business and there were no intentions of inviting them to the wedding. Since wedding gifts are expected from guests, and OP and their wife were not invited, then they shouldn't be expected to fork over the goods.
Even then, OP just charged them for materials and not their labor. What do you think? Should they have just chalked it up as a loss and given over the invitations and let them know after the fact they did a crumby thing? Or were they in the right because they were being taken advantage of?