Woman Named Marijuana Pepsi Just Got Her PhD With a Dissertation on Black Names
Marijuana Pepsi wasn't about to let an unusual name like hers prevent her from going places in life. She worked her butt off for years and just earned her PhD with a dissertation on Black names.
My high school librarian's name was Mrs. Read. Igor Judge became a judge, Storm Field, a weather reporter, and Michael Vickers, a vicar. The idea that your name can subconsciously influence the field of work in which you end up is called nominative determinism. But not everyone follows that pattern.
Article continues below advertisement
When you grow up as hyper-aware of your name as Marijuana Pepsi Vandyck (née Jackson, then Sawyer) did, you might actively choose to work against the perceptions that go along with it. And that's exactly what Marijuana Pepsi did. She didn't run away from a name that confused some teachers and made her peers giggle. She leaned into it, and how, she has a PhD in higher education leadership from Cardinal Stritch University in Wisconsin.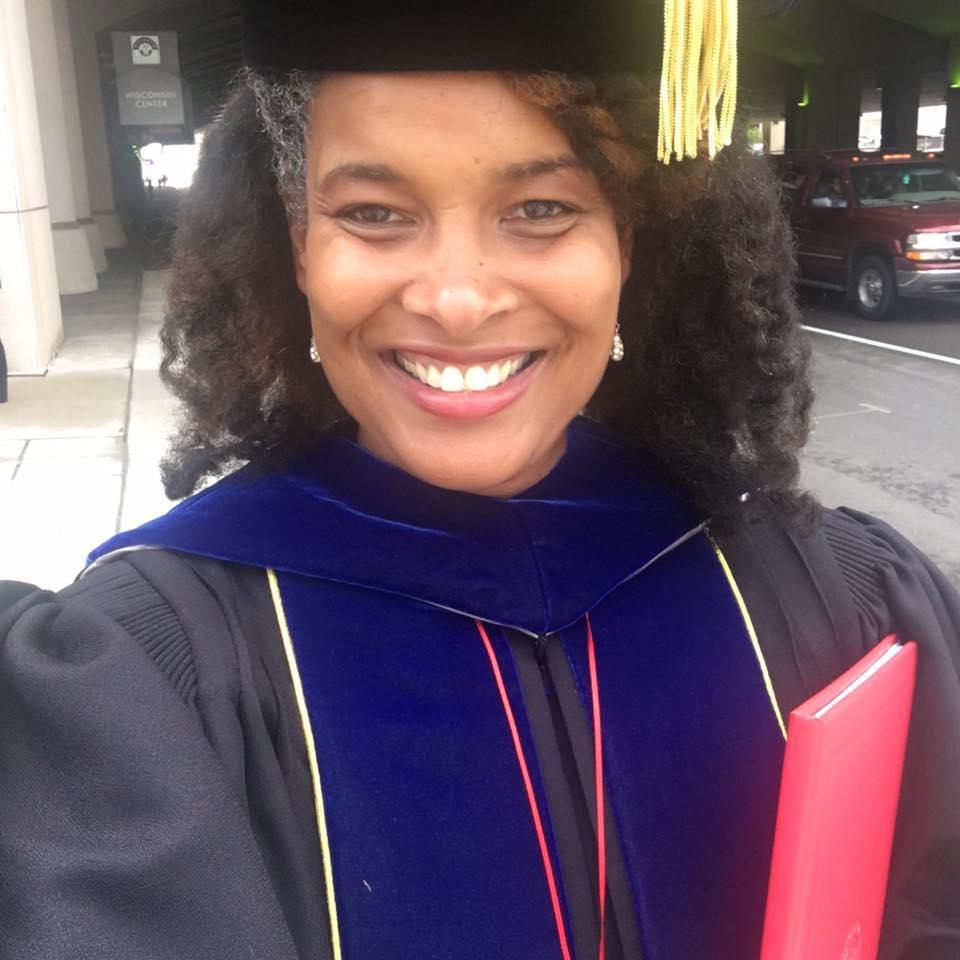 Article continues below advertisement
Dr. Marijuana Pepsi Vandyck was first written about in the Milwaukee Journal Sentinel ten years ago, where tale of her name had become somewhat of an urban legend. But it's not a legend at all. Marijuana is her legal first name and Pepsi is her legal middle name. And those are the names that she has always chosen to embrace and go by.
Marijuana's mother Maggie Johnson was the one who picked her name. "She said that she knew when I was born that you could take this name and go around the world with it. At the time as a child," she told the Journal Sentinel, "I'm thinking yeah, right. You named my older sister Kimberly. You named my younger sister Robin." (A great name, if I do say so myself.) I guess there's just something about the middle child...
Article continues below advertisement
Instead of shortening her name or picking another one to go by entirely, Dr. Vandyck embraced her unusual moniker. And she was determined to prove that even with a name like Marijuana Pepsi, you can do great things. At the time the first article was written about her a decade ago, she had earned a master's degree and was dead set on going for a doctorate. So that's exactly what she did.
Article continues below advertisement
Marijuana earned her PhD in higher education leadership last month after eight years of studying and commuting, according to the Journal Sentinel. Her dissertation topic? "Black names in white classrooms: Teacher behaviors and student perceptions." She interviewed black students at the University of Wisconsin-Whitewater, where she went for undergrad, "about the effect of their distinctly black names on their treatment by teachers and on their academic achievement."
Article continues below advertisement
"Many of the students reported an experience that Marijuana knew all too well. The teacher would stop on their names while taking attendance [and quiz them] about it in front of everyone." This behavior absolutely affects kids in the classroom and needs to be talked about and addressed. Dr. Marijuana Pepsi Vandyck has worked hard to make sure it will be. She hopes to write a book that expands on her dissertation, and she may possibly try to find a professor position.
In the meantime, she works full-time at Beloit College as director of a program that serves first-generation enrollees and students who come from low-income families or have learning or physical disabilities. She also owns Action as Empowerment, a performance coaching business, and she's a real estate agent.
Article continues below advertisement
In addition to all that, she has a 16-year-old son named Isaac and a husband, Fredrick Vandyck, with whom she lives on a 3-acre hobby farm in Pecatonica, Illinois, where they raise pigs and chickens.
She's accomplished so much! It wasn't an easy path, and not just because of her name. After her parents divorced when she was little, she moved in with her mother, but the home was unstable.
Article continues below advertisement
Marijuana left at 15 years old and stayed with other relatives and friends. She worked insanely hard to get degree after degree and even credits her mother for making her as resilient as she is. "She instilled in me that fighting attitude — never take no, you can do anything," she said.
Yes, she still gets asked about her name. Yes, marijuana producers try to connect with her on LinkedIn. Yes, she hears from people who say they want to name their own children Marijuana. (She advises against it.) It hasn't always been easy for Dr. Marijuana Pepsi Vandyck, but she did it.
And she's giving back to the people who helped her get there, in the form of the Marijuana Pepsi Scholarship at her undergrad alma mater. This award is given to a first-generation African American student enrolled at the school. She tells students she talks to that, no matter what tries to get in their way, "you still have to move forward and succeed." And then when you do, "reach back and pull somebody else up." Seems like she's doing just that.