Alaskan Man Found Soviet Message in a Bottle from 50 Years Ago
The message had been floating along in the water for 50 years before it reached Alaska and Tyler Ivanoff picked it up in 2019.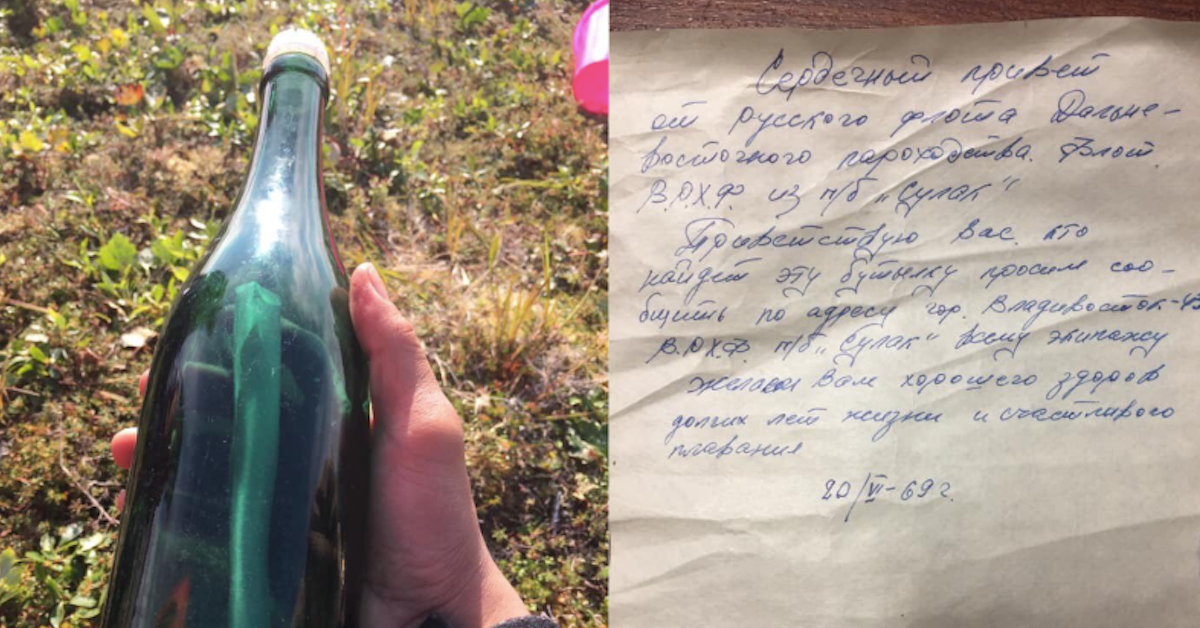 It's not every day you come across a 50-year-old message in a bottle. And it's especially not every day that you come across a message in a bottle sent from a Soviet vessel, especially when you're on U.S. soil. But that's exactly what happened to Alaska native Tyler Ivanoff.
Article continues below advertisement
Tyler went totally viral with a Facebook post in which he posted pictures of the message in a bottle he found. The note was in Russian, so he appealed to social media to help him decipher it. "I found a message in a bottle today," he super nonchalantly wrote on Facebook. "Any friends that are Russian translators out there?"
Article continues below advertisement
The bottle was remarkably intact and the note didn't even look the slightest bit moist. At first glance, it seems like a message in a bottle that could have only been written and sent out to sea a few months or, at most, maybe a year before. But alas, it was not! It was genuinely 50 years old, written and thrown into the ocean in 1969.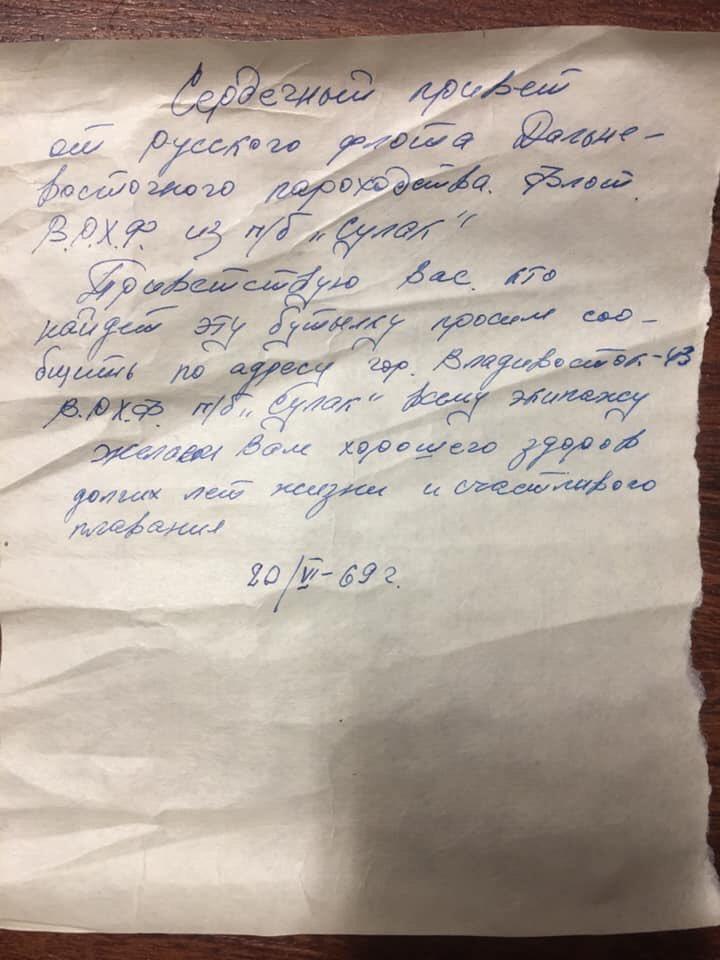 Article continues below advertisement
Since the note went so viral, it finally made its way into the hands of someone who could read and translate Russian. "Best greetings from the Russian fleet of the Far Eastern Shipping Company, Fleet V.R. H.F. from vessel Sulak" it reads, according to Twitter user and retired Navy captain @Capt_Navy. "I welcome you, who found this bottle, please inform us at the Vladivostok-43 vessel Sulak, to the entire crew. We wish you good health, long life, and happy sailing! 20/06/1969."
How cool is that?! According to Newsweek, Tyler said he was just north of the Bering Strait, "the northernmost point of the Pacific Ocean that separates North America from Asia," when he found the bottle. The bottle must have traveled thousands of miles through the Strait, no doubt encountering rough waters, before it landed at Tyler's feet.
Article continues below advertisement
@Capt_Navy posted a picture of the vessel on which this letter would have been written. It's super cool to see. And according to one Russian news source, the captain of the vessel was found! @Capt_Navy wrote on Twitter, "The news was reported that their message in a bottle was found in Alaska. The captain's name is Anatoly Botsanenko, he is now 86 years old. This news was very pleasant to him!"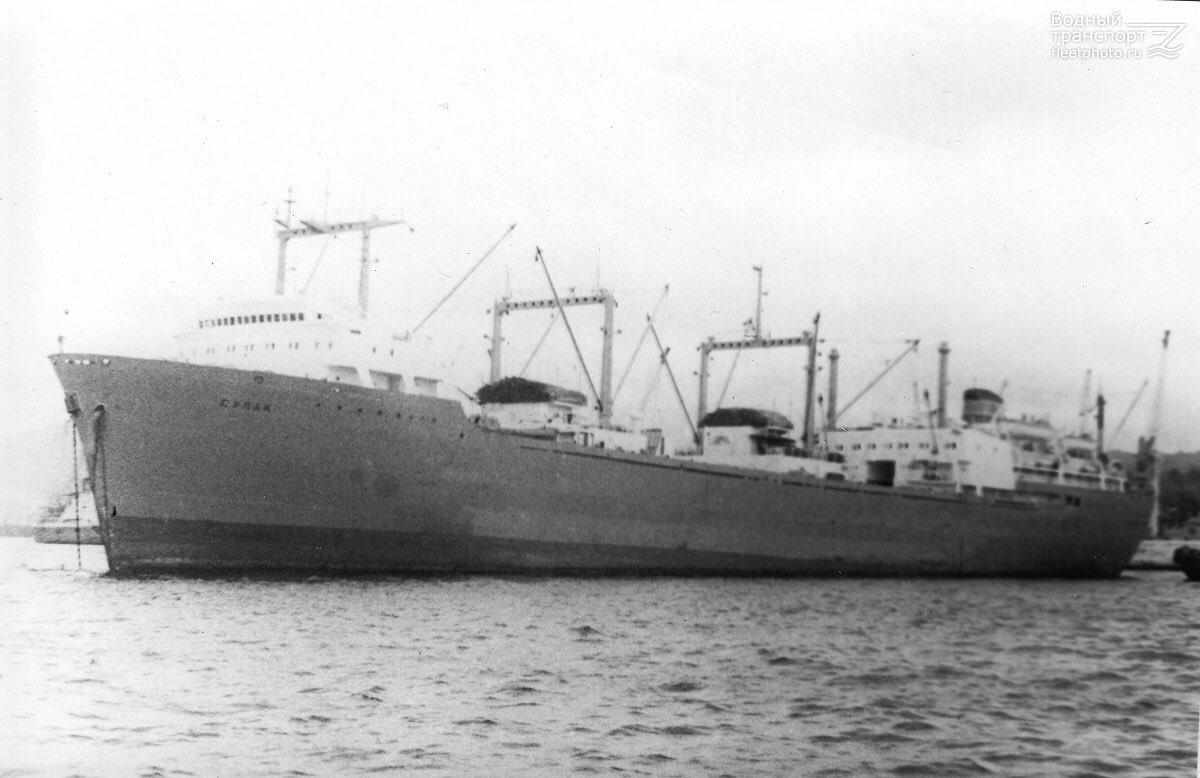 Article continues below advertisement
While this seems like such an unlikely and special story, there have been a few other incidences of messages in a bottle popping up after quite some time. In July of this year, a 9-year-old boy found a message in a bottle on a beach in South Australia. The letter was also from 1969, written by Paul Gilmore, who was 13 at the time.
"My name is Paul Gilmore," the note read, "I am thirteen years old. I am from England, and I am travelling to Melbourne, Australia. The ship is the TV Fairstar, Sitmar Line. We are 1,000 miles east of Fremantle, Western Aus. Please reply."Jyah Elliott found the bottle 50 years later!
Article continues below advertisement
He wrote a response to the note and sent it to the address provided, but he realized that since 50 years had passed, it wasn't likely that Paul still lived at that address. Luckily, the story went completely viral, as these things are wont to do, and they were able to track down Paul's family. (At the time, Paul was on a cruise and fairly unreachable.) "It's amazing, absolutely incredible," Paul's sister Annie Crossland told the ABC. "He'll be chuffed to bits."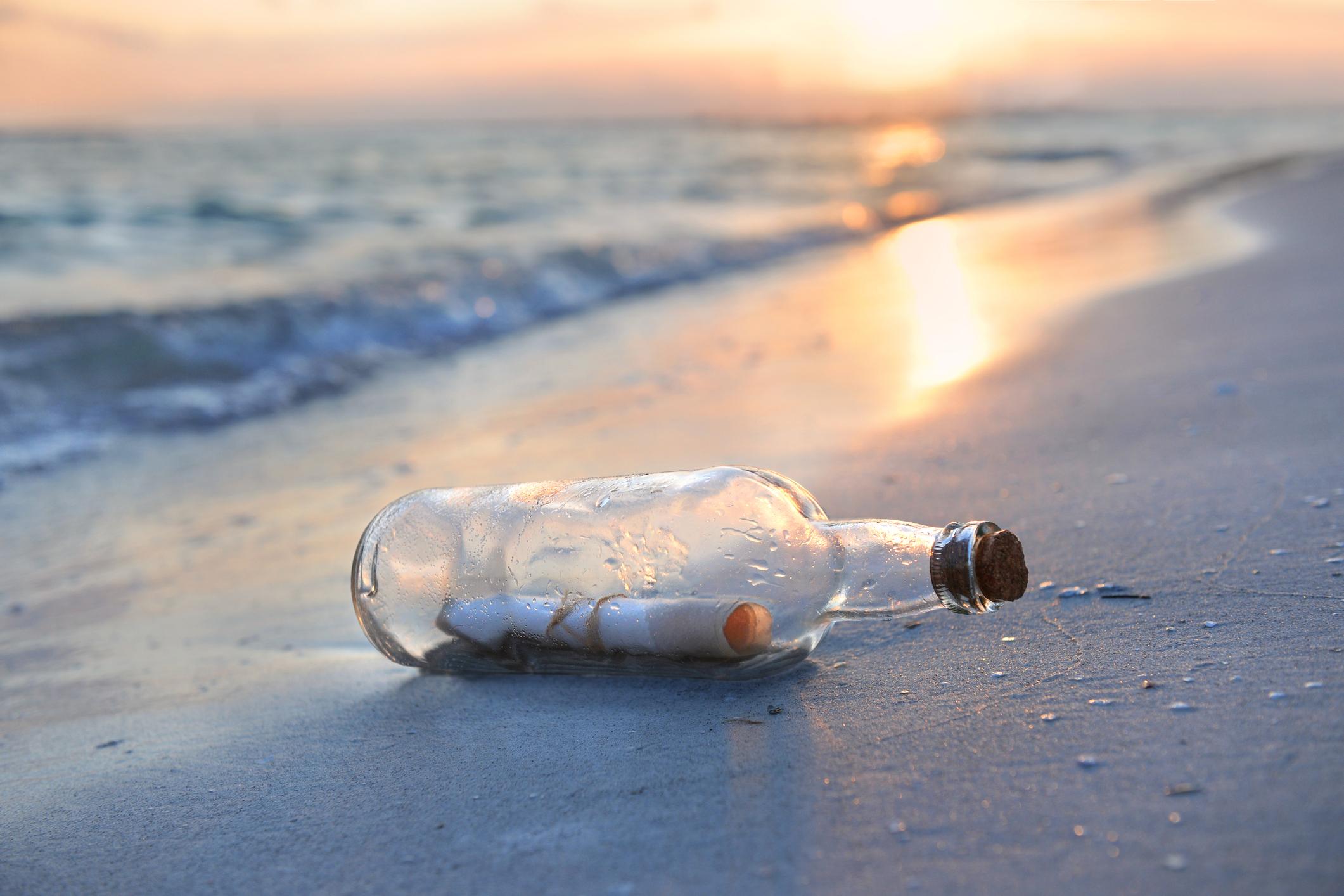 Article continues below advertisement
There is no shortage of fun and fascinating message in a bottle stories that prove we are all more connected than we think. But perhaps my favorite is the message in a bottle love story of Ake Viking and Paolina. In 1956, a Swedish sailor who was single and frustrated (I bet many of us can relate), wrote a message "To Someone Beautiful and Far Away," provided his address and a short description of himself, put it in a bottle, and threw it into the ocean.
Two years later, a Sicilian woman named Paolina found his message and replied. "I am not beautiful, but it seems so miraculous that this little bottle should have traveled so far and long to reach me that I must send you an answer," she wrote. They exchanged photos, started a correspondence, and soon, Viking moved to Italy and married the woman the ocean helped him find. It seems too good to be true, but it's real.