Viral Tweet Highlights the Struggle of Older Teachers Using New Tech to Teach Online Classes
Some teachers in their 50s and 60s haven't grown up with technology like younger teachers and have a harder time adjusting to this completely new way of educating.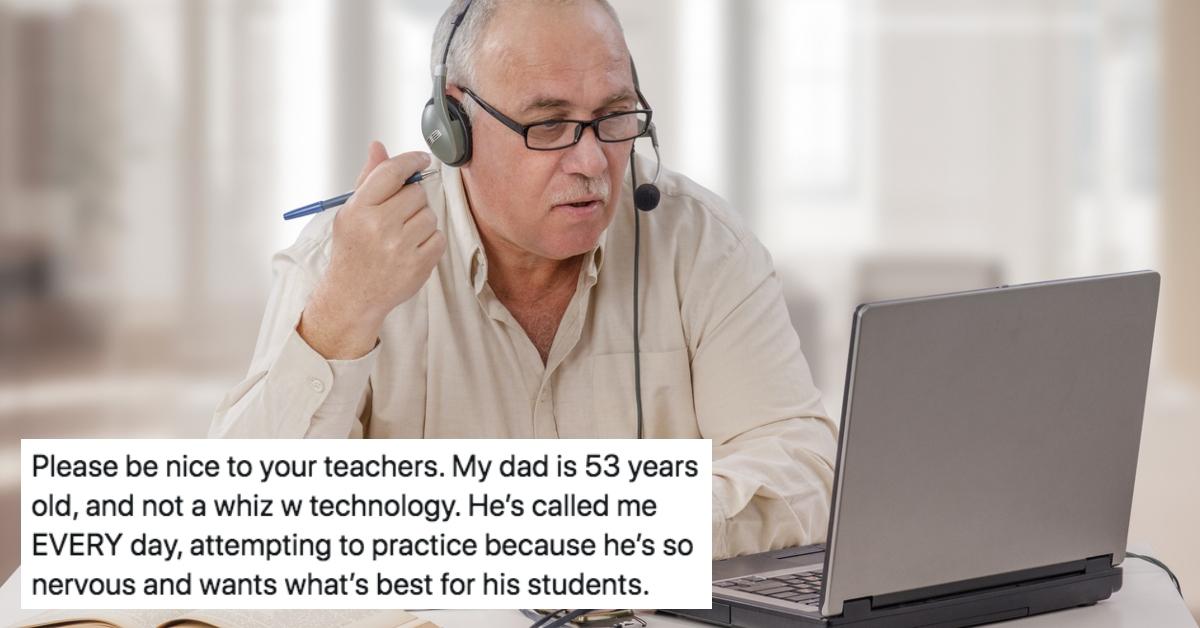 It would be difficult for teachers of all ages to adapt to online learning even with a proper amount of time to prepare, support from their district, technology help, and the lack of a devastating global pandemic that is affecting every single person in probably incalculable ways.
Article continues below advertisement
But it is especially hard for older teachers to be thrown into the world of online teaching when it is not something they've grown up with and it's not something that's comparable to in-person learning at all. Twitter user Nyla Danae tweeted to remind us that we should have patience and empathy in this time, especially for older teachers who are doing the best they can.
Article continues below advertisement
Nyla shared that her father is 53 years old and extremely nervous about being able to effectively teach online this year. The pandemic has made our normal education methods — classrooms packed with kids and teachers and hallways teeming with bodies — completely unsafe.
Some schools have made the decision to move all learning online. Others have opened for in-person learning only to be forced to shut down days in due to COVID-19 outbreaks among students, teachers, and/or support staff.
Article continues below advertisement
Many expect teachers, most of whom have been teaching one way for their entire careers, to seamlessly adapt to online learning despite the fact that it is completely different and that technology is often finicky and hard to deal with. Nyla reminded us to be patient with teachers, especially those older ones who haven't grown with technology the way younger generations have.
And evidently, her tweet resonated with people, because it went mega viral, garnering over 275,000 retweets and over 1.3 million likes. Thousands of people chimed in with similar stories, either about family members who are teachers or about teachers they've had during the pandemic.
Article continues below advertisement
Teachers obviously want to do their best for their students. But teaching through a computer screen is much more difficult than teaching in person, and it's really hard to teach in person. Teaching is not an easy job.
Article continues below advertisement
People tend to underestimate the enormous skill it takes to educate children. Teaching is not babysitting. It is hard to do well, and it's even harder now that teachers are expected to reach kids through so many layers of tech. But teachers are so readily blamed when things don't go exactly to plan.
Article continues below advertisement
"I had an older professor last semester and he was struggling so hard with moving online and this girl literally cussed him out," one Twitter user wrote. "It made me so sad I had to email him and let him know that I didn't agree with her and I knew he was trying his best."
Teachers are not superheroes. They're human beings. They cannot be expected to have everything down pat and perfect during this time of upheaval and uncertainty.
Article continues below advertisement
And like I said, this isn't just about learning a computer program. This is about shifting the entire way they communicate their lessons. "It's not just older teachers, us younger teachers have had a hard time adapting too," one person wrote, "because it's not just technology, it's adapting/changing your entire style and method to suit a virtual class, and that's difficult at any age."
Another commenter wrote that they are 65 years old and have been teaching online for 13 years. But for those classes, they had "six months to prepare with expert tech assistance." They continue, "Now we are doing it fast and our tech help is overwhelmed. Compassion and flexibility [are] key for instructors AND students."