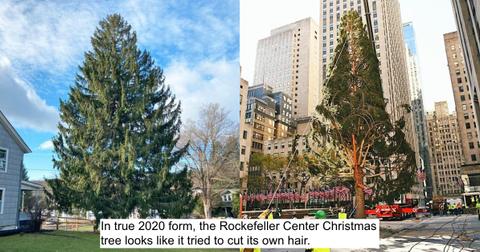 People Are Roasting the Christmas Tree at Rockefeller Center for Looking Scrawny and Sad
By Robin Zlotnick

Nov. 19 2020, Published 3:18 p.m. ET
This year's Rockefeller Center Christmas tree has arrived in New York City, and it's looking...a little sad. What is usually an awe-inspiring, bushy spectacle is, at the moment, looking a little too much like that sad Charlie Brown Christmas twig tree.
Article continues below advertisement
And Twitter has been relentless about it. Sure, the tree could use some sprucing up. But people are saying this sad tree encompasses everything about 2020. It's disappointing in all the ways this year has led us to expect.
Article continues below advertisement
I suppose we don't normally see the tree before it's been made TV-ready and has all its lights. Maybe they all look like this when they first arrive. Or maybe something has gone terribly wrong. When you see what the tree looked like before it made its journey to the Big Apple, the second option seems a little likelier.
Ladies and Gentlemen - the Christmas tree has arrived at Rockefeller Center in NYC. Left pic is how it looked when it was cut down. Right pic is how it arrived.
Welcome to 2020. pic.twitter.com/bKSq87BVP1

— 💙 Depoetic (@Depoetic) November 17, 2020
Article continues below advertisement
Oh boy. Yeah, that's bad. Maybe trees aren't meant to be dug up out of the ground, moved to the big city on top of a truck, and put on display for people to gawk at. I know it's a tree, but I kind of feel bad for it. The people of Twitter laid into the tree like you'd never believe.
Article continues below advertisement
Article continues below advertisement
Yes, the tree is bad. But I almost feel like it would be worse if the tree was full and thriving. The rest of us are withering at home for the holidays. The Rockefeller Center Christmas tree should be too!
But, as one person pointed out, the tree isn't even done getting glammed up yet. That's right. The Rockefeller Center Christmas tree gets extensions.
Article continues below advertisement
Once the tree has lights and extensions, it's going to look like a totally new tree. A wonder. A mammoth. A titan of Christmas trees. It will be a testament to how we'll all be able to bounce back after disaster.
Article continues below advertisement
The story of the 2020 Rockefeller Center Christmas tree isn't just one of redemption for the tree itself. Believe it or not, a tiny owl was found living in the tree after it made its great journey. The owl must have been in the tree as it was tied to the top of the truck and for the entire trip from Oneonta in upstate New York to the city.
Article continues below advertisement
The little owl, now named Rockefeller, of course, was taken to the Ravensbeard Wildlife Center in Saugerties, New York, where he is recovering and eating lots of mice. "I believe he did travel in the tree," Ravensbeard director and founder Ellen Kalish told USA Today. "I think when they wrapped it up, he must've gotten caught inside. The fact that he wasn't squished or damaged was beautiful." He's really cute.
They found a small owl inside of this year's Rockefeller Christmas tree, he hitched a ride all the way to NYC and is now being treated and cared for at a wildlife rehab facility. pic.twitter.com/f4PkBm6MGo

— Allison Esposito Medina (@techladyallison) November 18, 2020
2020 has been one giant disaster populated with lots of smaller disasters. The Rockefeller Center Christmas tree is coming in just under the wire. But would we really have it any other way? I mean, yeah, probably. If we're being honest.