A Twitter photo depicting two children wearing medical scrubs while walking through the hallway of a hospital is causing a huge kerfuffle online, with many people calling the image sexist.
I'm friends with a lot of people who've gone through medical school and become doctors, both men and women. My own sister's currently in med school now and absolutely crushing it following her dream of becoming a doctor.
If you talk to any one of them regarding sexism in the workplace, or a double standard when it comes to female doctors vs male doctors, they'll have plenty of stories that range from, "oh boy" to "how in the world did anyone not get in trouble for this?!" Whether it's patients who feel "uncomfortable" with the fact that their doctor is a woman to professors and leadership at universities displaying preferential treatment to male doctors-in-training, it happens.
Even my sister, when speaking with a friend of the family (who is a woman) about her enrollment in med school, was shocked when this friend kept insisting to others that my sister was becoming a nurse, and not a doctor.
Chalk it up to whatever you want, personality traits or a personal grudge, but there's a mindset that people have when it comes to men and women in the medical field: women overwhelmingly become nurses and men are doctors.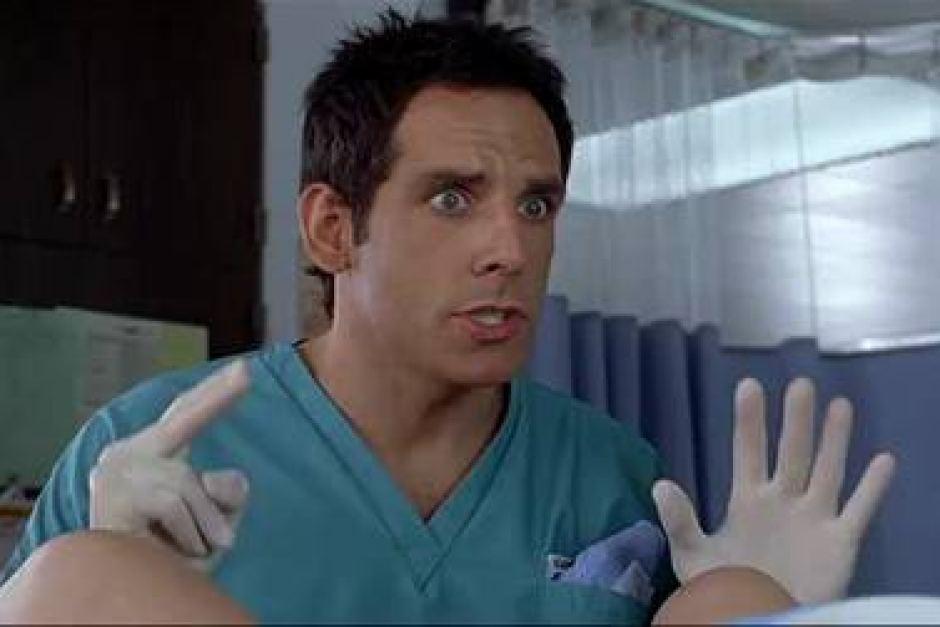 When it comes to the numbers, these stereotypes are somewhat rooted in reality: 90 percent of nurses in America are indeed women. It's the butt of a joke in the Meet the Parents films, and a statistic (with the social stigmas that surround it) that effect male nurses on a day-to-day basis.
On the flip side of that coin, there's research that project the future of doctors, as well, is going to become overwhelmingly female. More and more women have been becoming doctors in recent years.
Still, the notion that "men are doctors, women are nurses" still persists in some circles, and it's a perception that rubs a lot of people the wrong way. Which might be why so many took offense to this "cute" tweet that was sent out by Twitter account @TheMedicalShots.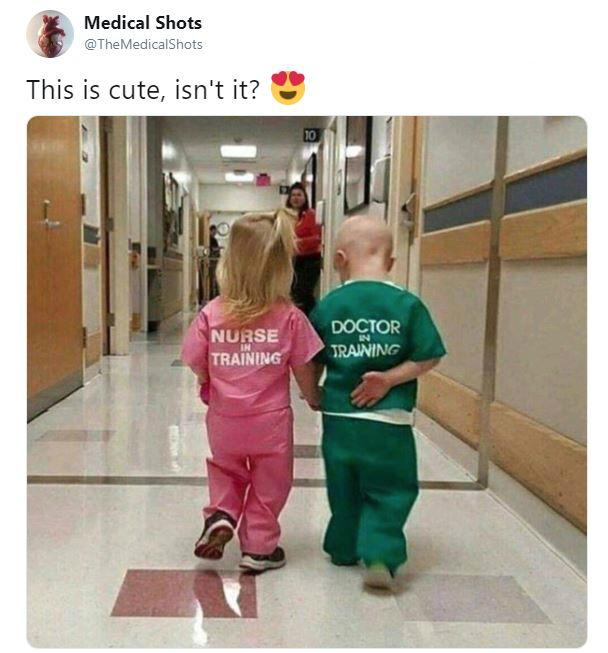 People were getting up in arms and not just the fact that the young woman was wearing pink scrubs while walking down the hallways of a hospital, but by the fact that her outfit says "nurse in training" on the back. The boy she's walking hand-in-hand with? Green scrubs with "doctor in training."
While there were tons of people who thought that it was cute, there were several twitter users who found the image sexist.

Soon a conversation about the realities of gender norms being ingrained in the minds of children from a very young age, especially with regards to their prospective future careers, began to crop up.
Some argued that the photo wasn't sexist at all, and maybe the young girl was given the option and she really does want to be a nurse when she grows up.
Others argued that it's a problem that goes a lot "deeper" than that, and it was "sexist. Period."


Others argued that it was impossible to tell who was the boy and who was the girl in the photo, and that those who thought so were "jumping to conclusions" and guilty of the same kind of sexism that the photo was thought to reinforce.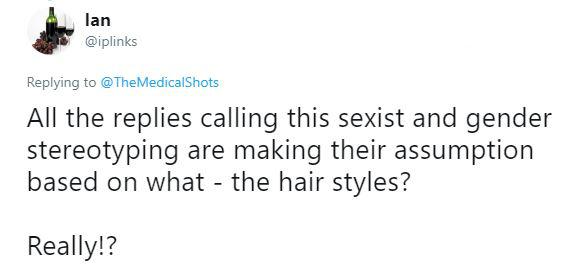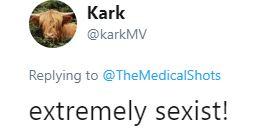 There are a bevy of articles that delve into the studies of children and their pursuit of future careers based on their genders. Decisions are reported to be influenced by not only their school environments, but TV programs, movies, and family members who dictate what fields are best suited for men and which are for women.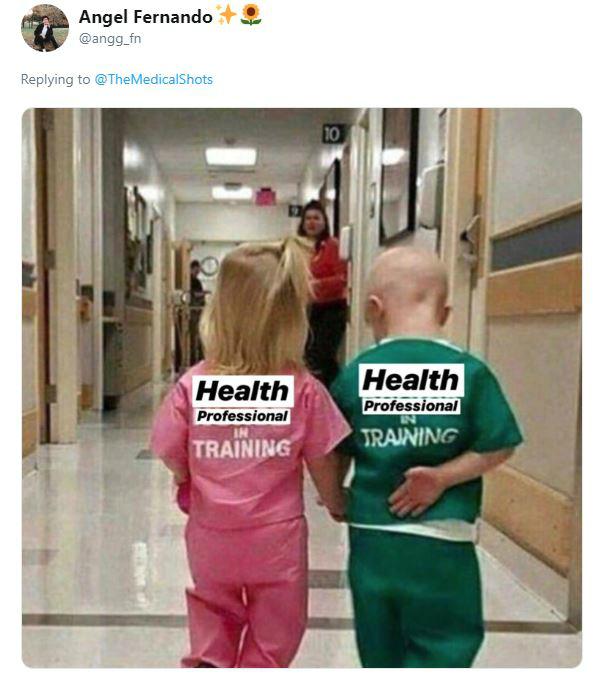 This isn't the first time the nurse vs. doctor debate came up on Twitter. A young girl recently, when filling-in-the-blanks for a homework assignment asking her to provide definitions for terms that contain the "ur" word in it, wrote that a "Hospital Lady" could very well a surgeon.
Her teacher added, "or nurse" as another possible answer choice.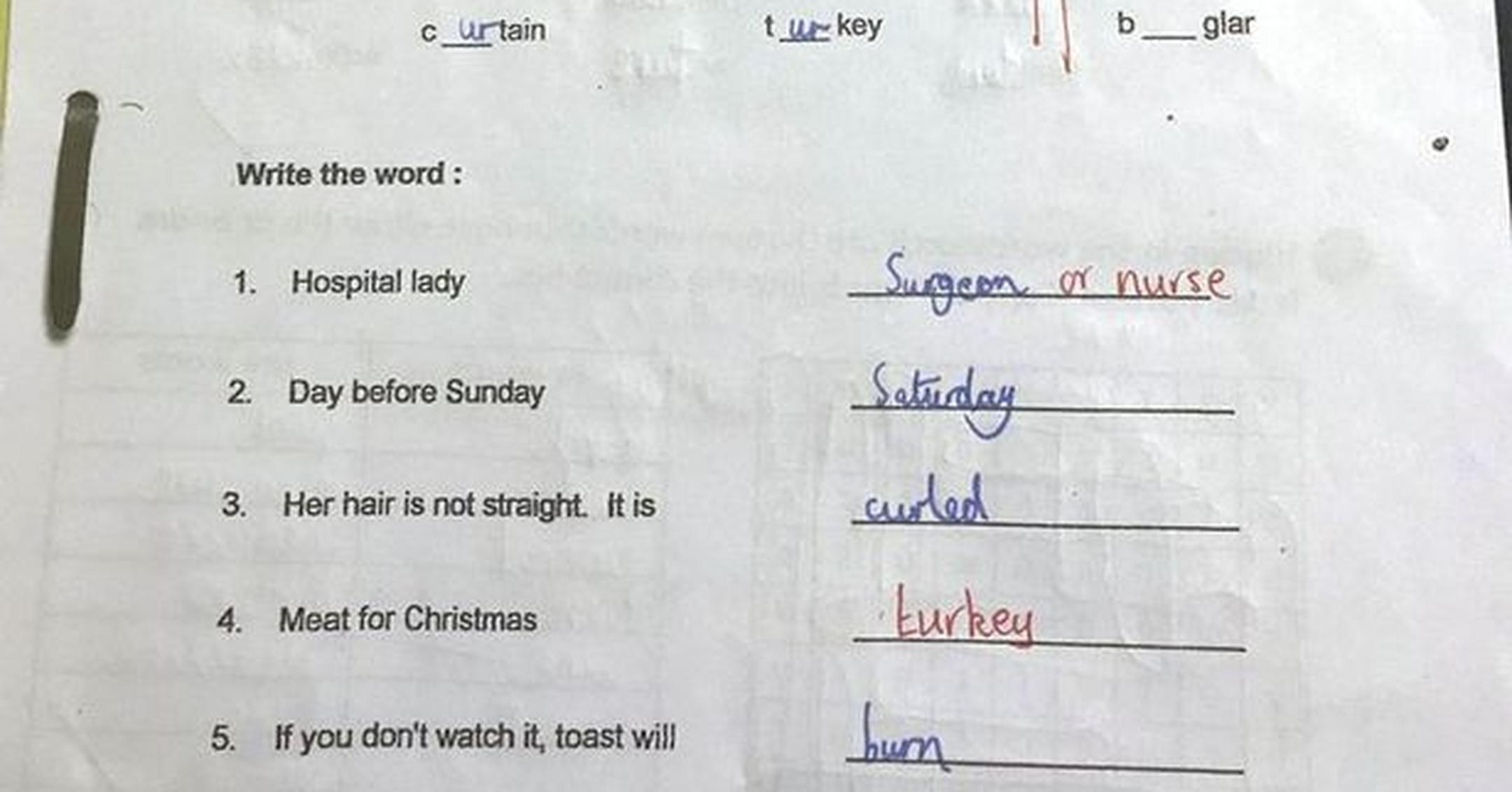 The young woman became sort of an internet celebrity for "fighting the patriarchy," so to speak. If anything, it just proves that children have very strong opinions on what they can, or want to be, when they grow up.
I'm not a Power Ranger, but I'm still waiting on that call from Zordon.