Kids Are Telling Their Parents to Shut up in the Newest TikTok Challenge
In TikTok's Shut up Challenge, kids tell their mom (who's in on the prank) to shut up, then record their dad's reaction. It doesn't always go well.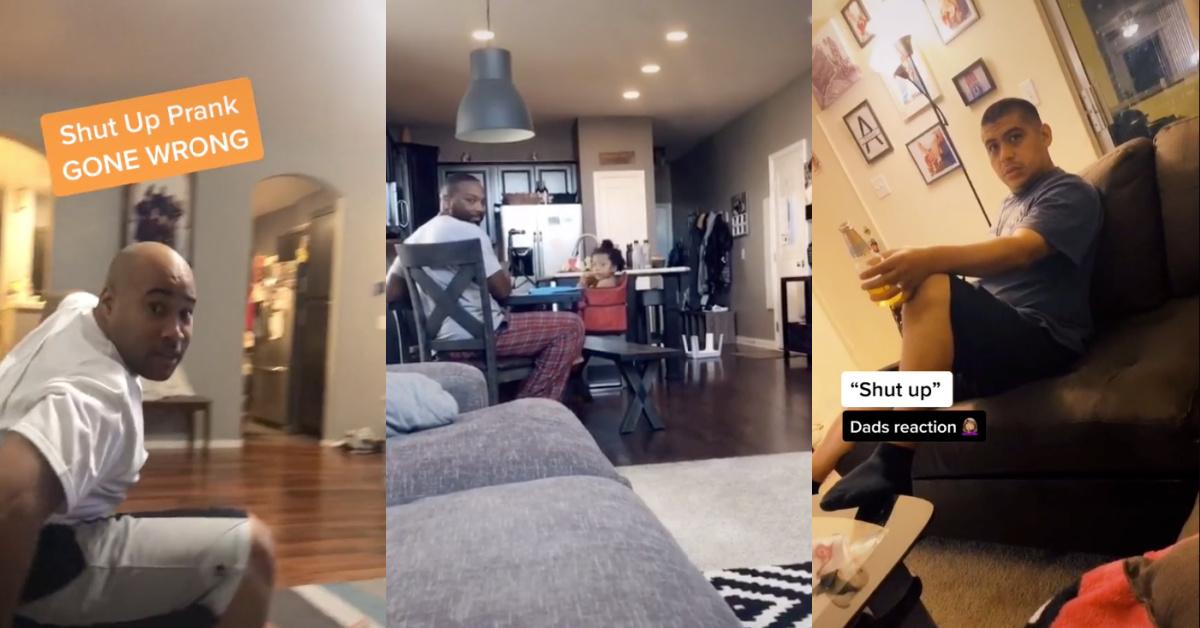 When it comes to TikTok challenges, they really run the gamut from "perfectly innocent" to "quite dangerous." We've covered dangerous challenges in the past, but the Shut up Challenge might be one of the riskiest online challenges yet. Anyone participating in it is truly taking their well-being into their own hands.
Article continues below advertisement
If you're hoping to make your own Shut up Challenge video, you won't need to purchase any special supplies or anything like that. All you'll need is an unsuspecting adult and a kid who can run quickly. We'll explain why in a sec.
Article continues below advertisement
TikTok's Shut up Challenge is hilarious — but also kind of scary.
The premise behind the Shut up Challenge is very simple, but it requires some real bravery. It seems like most people use dads as the "mark" for this specific prank. In most cases, a mom or stepmom tells their kid to do something (like clean their room or take out the garbage), and then the kid (who is completely in on the prank), tells them to shut up.
The hilarity comes in when this scene plays out in front of the other grownup in the house. Some dads immediately rush to discipline their kid, while others simply freeze, looking shell-shocked and wondering what they should do next.
Article continues below advertisement
There is definitely a bit of controversy surrounding this particular challenge. In many cases, it looks as though the dad (or whoever is the victim of the prank) starts making moves to mete out some corporal punishment (which, as an aside, the American Academy of Pediatrics says is of limited effectiveness and can have deleterious side effects). Obviously, we don't condone any kind of physical abuse, and we also don't recommend that kids tell their parental figures to shut up.
Article continues below advertisement
The best Shut up Challenge videos feature the mom (or whoever is in on the prank) rushing to defend the kid, exclaiming that the whole thing was a prank before they get grounded for the rest of their natural life. In some cases, other kids also rush to their sibling's defense, and it's honestly pretty adorable.
Article continues below advertisement
The Shut up Challenge isn't the only prank kids are pulling on their parents for TikTok.
The Shut up Challenge might be the most recent parent prank making the rounds on the popular video-sharing app, but it's certainly not the first of its kind. Kids have been pranking their parents since long before TikTok was ever a thing, so it makes perfect sense that the trend has continued now that they can capture the whole thing and possibly go viral online.
Another popular parent prank involves calling your parent and telling them (untruthfully) that you've been pulled over. Say that you told the police officer you were rushing to your parent's house because they fell and needed help, and ask your parent to "play along." Again, we don't condone lying… but you can't deny that this video is pretty darn hilarious:
Article continues below advertisement
As with all TikTok trends and challenges, use your best judgment before deciding to participate! Sometimes a little bit of risk results in a lot of reward. Other times, it doesn't work out so great.