Everyone's Freaking Out About Receiving Weird Texts That Seem to Be From Valentine's Day
A strange phenomenon resulted in people randomly receiving text messages that seemed to be from Valentines Day. Here are some of the possible reasons this happened.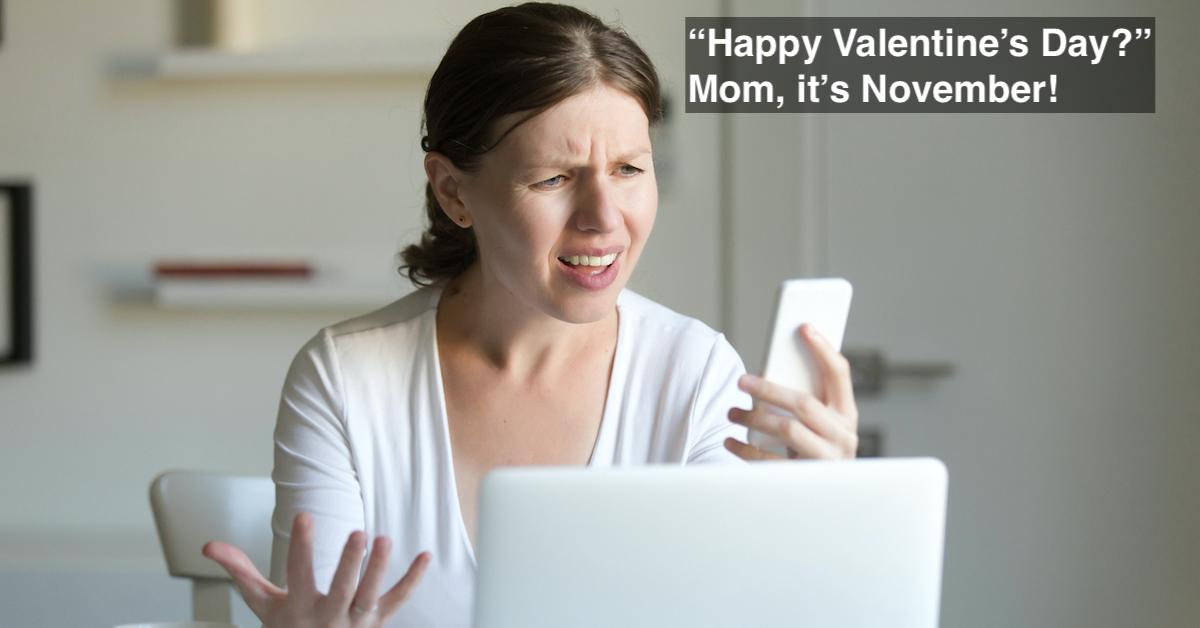 Did you wake up to weird texts from one of your contacts this week? You're not alone. Twitter erupted on Nov. 7 with countless people reporting either that they got weird non sequitur texts from their contacts or were told by one of their contacts that they sent strange texts in the middle of the night. And weirdly, a lot of them seemed to be Valentine's Day text messages.
Article continues below advertisement
Here's the story on those Valentine's Day text messages.
The texts seemed to come early in the morning by most of the reports we've seen, and it didn't matter what kind of phone the sender and receiver had, nor what carrier they use.
Article continues below advertisement
The messages often seemed completely out of left field or referencing a conversation in progress when they hadn't been. And, even stranger, a lot of the messages seemed to be about Valentine's Day.
Among the first to take to Twitter over the phenomenon was writer Ashley Ford, who shared a screenshot of several people remarking upon similar experiences. Writer and podcaster Erin Gloria Ryan replied, "Yeah my mom sent me a text asking if I got a card from her at 4 a.m. her time."
Article continues below advertisement
She wasn't alone. People got texts about a scheduled furniture delivery for Feb. 16, and several people got decidedly untimely wishes for a Happy Valentine's Day.
Article continues below advertisement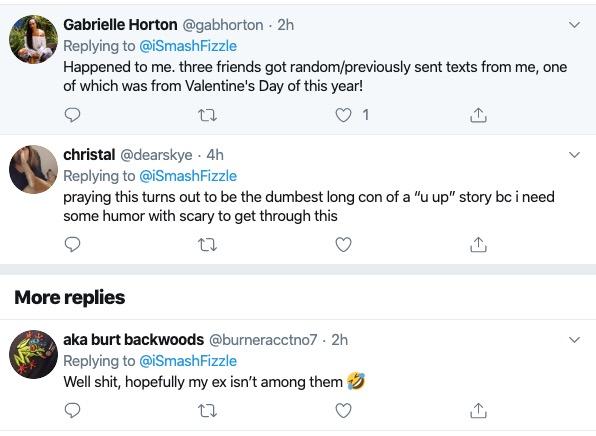 Many people even recognized the content of the texts they received, remembering having received the same messages at an earlier date. Numerous threads on reddit have inquired about the phenomenon, and on the T-Mobile sub, a verified employee with the user name ThatGalaxyGuy25 explained the issue: "It was an intercarrier issue that was brought on by maintenance being performed by a vendor, Syniverse. At this time the issue is reported as resolved."
Article continues below advertisement
Syniverse was at one time owned by Verizon but is now a private corporation that provides services, especially services related to SMS text messaging, to several telecom companies. It seems the messages were repeats rather than held messages that suddenly got "released" all at once months after the fact, though this didn't stop lots of people from joking that there's finally an explanation for that one person who didn't wish you a happy Valentine's.
Can you imagine all the fights and breakups that would ensue?
Article continues below advertisement
That said, this glitch in the matrix wasn't without upsetting consequences. One person who spoke with The Verge about the incident was very upset to receive a midnight text from a best friend who died. "It was a punch in the gut," said the person who goes by KuribHoe on Twitter. 'The last few months haven't been easy and just when I thought I was getting some type of closure this just ripped open a new hole."
Article continues below advertisement
Another woman, Barbara Coll, received an old message from her sister saying their mom was doing well, which Barbara knew wasn't the case — she died in June. "I haven't stopped thinking about that message since I got it," Coll said. Her sister also received a text about a planned visit to see their mom, which had been sent before she passed on.
Thankfully, most of the messages caused mere confusion rather than digging up painful memories.
Here's hoping the T-Mobile rep who said the issue was resolved is right and that we don't have more eerie texts to look out for.