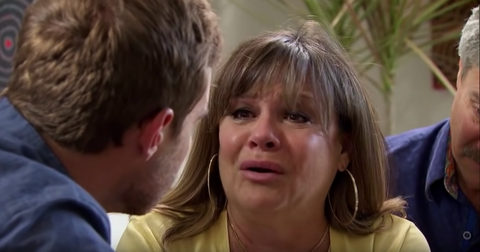 Who Is Peter's Mom Crying About in the Trailer? We Have a Few Ideas
By Sara Belcher
This season of The Bachelor has been teased as the most dramatic one yet — and for good reason. Even though we're already a couple of episodes into the season, we have no idea what happens in the end, but the trailers have teased at least one plot twist.
Peter's mother is even in on the drama this season. She tearfully asks Peter to "bring her home to us."
"Don't let her go," she cries to her son. But who, exactly, is Peter's mom crying about?
Hannah Ann is a clear possible contender.
Let's face it — Hannah Ann is the clear front-runner this season. Besides winning the first impression rose, she's nabbed every spare second with Peter that she can, and is pulling out all of the stops to make him notice her.
She's sure to make it to at least the hometown dates, if not all the way to the finale. This makes Hannah Ann one of the most prominent possibilities.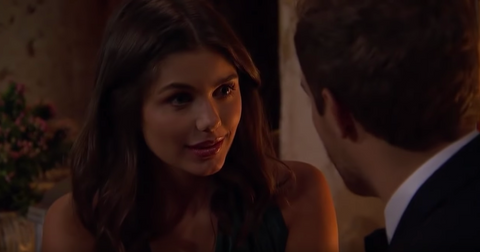 Though, that being said, we still need to see how she does during the hometown dates. It's possible that Peter's mother won't like her if she gets to meet her, ruling her out as a potential future wife.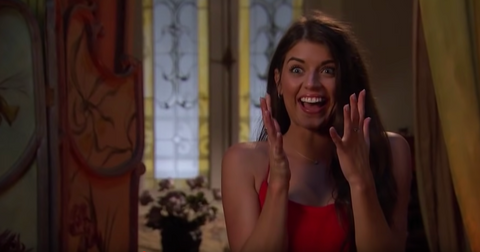 Madison has already met Peter's family.
Madison had the first one-on-one date of the season, going on what Peter called his "dream date." He took her to his parents' vow renewal, where Madison met not only his parents, but his entire extended family. Peter's family also crashes their solo portion of the date. Can you say yikes?
But even though meeting the whole family on a very first date is clearly just a little cringy (and maybe moving a little too fast), Peter says that Madison fit right in with his family.
And his mother clearly liked her. She hugged Madison multiple times throughout the night and told her that she believed Peter must like her a lot if he brought her there (nevermind the fact they had literally met that week).
Madison seems like she's a solid choice to steal Peter's mother's heart, so it's possible she's who Peter's mom is crying about.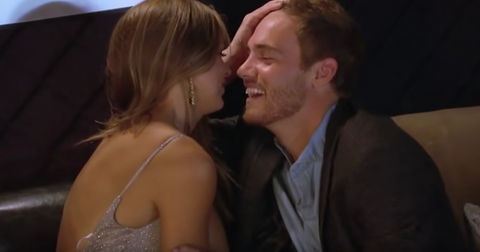 Maybe, just maybe, it's Hannah Brown.
OK, we know you're probably sick of hearing about Hannah Brown. Yes, she did have her chance with Peter, but clearly the producers are trying to include her as much as they can this season.
Hannah B. has also already met Peter's family, since Peter made it to the hometown dates on Hannah B.'s season of The Bachelorette. Peter even admitted that his parents loving her made it that much easier for him to love her. Maybe she'll make one final comeback at the end of this season.
Honestly, though, these are just our best guesses. The season's ending is still unclear — and Peter's moment with his mom could have happened even before he narrows it down to the final two contestants.
"There's a specific reason [it won't be spoiled]," he told Entertainment Tonight. "Obviously I can't say [what it is, but] I feel like this a little bit unique of an ending. I couldn't have predicted that last week was the hardest week of my entire life."
"The way this ends, no one will see coming. I can say that because we didn't see it coming," Chris told the outlet. "It's riveting, and it really is breathtaking and it'll break your heart."
Looks like you'll have to tune in to find out when The Bachelor airs on Mondays at 8 p.m. on ABC.