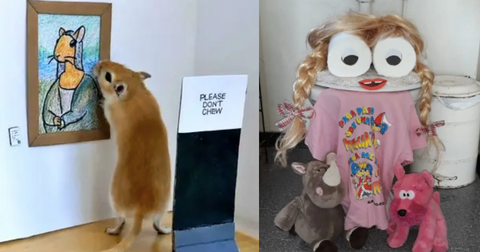 20 Times People Found Ways to Have Wholesome Fun During Quarantine
By Robin Zlotnick

Updated
Listen, we're going to be quarantined for quite some time, so we've got to learn how to make the most of it. I'd say these people are doing a pretty good job of that. Many are figuring out super creative ways to have a little wholesome fun while they're stuck at home. That may mean learning a new skill, singing with your pets, or even building furniture for the squirrels in your yard.
If you're struggling to come up with fun things to do while you're quarantined, there's plenty of inspiration in this list.
Homemade boat toys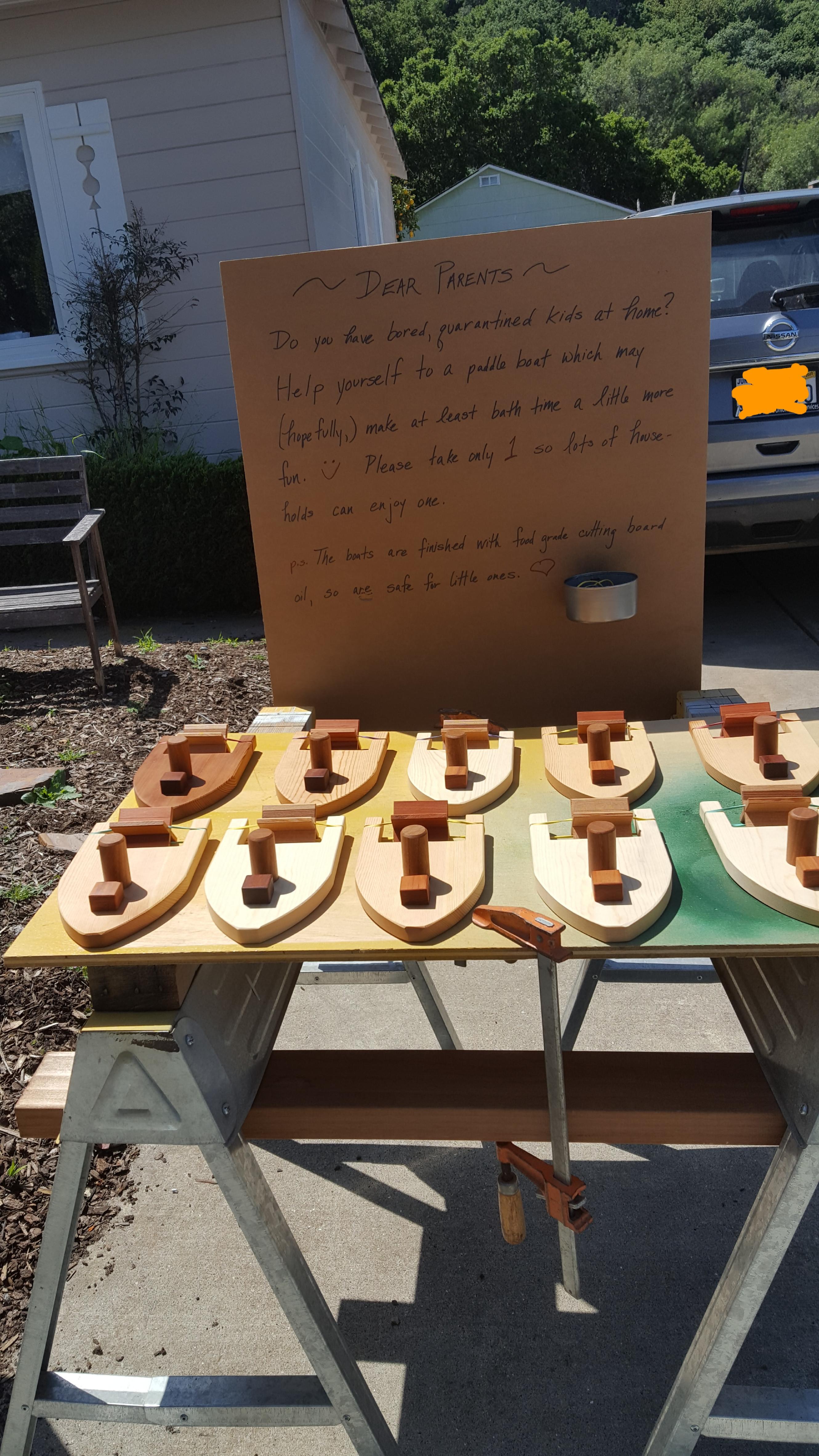 This crafty neighbor made boat toys out of wood that they then offered for free for kids in the neighborhood! They get the satisfaction of completing a project, and the kids get new bath toys! It's a win-win.
Home hibachi meal
This father usually takes his son to a Hibachi restaurant to celebrate their birthdays but because of quarantine he had to get creative. And a Hibachi restaurant was born in his house.

Dad goals 💪 pic.twitter.com/xeeuz21VTe

— Buitengebieden (@BuitengebiedenB) April 11, 2020
This dad went all out and created a whole hibachi meal in their home to celebrate his son's birthday. The clanging of the spatulas on the griddle got me real good.
Tic-tac-toe with the delivery guy
What a good way to have a fun interaction with a stranger while remaining safely distant! I bet this tic-tac-toe game was a welcome change in pace for the delivery guy too!
Gerbil museum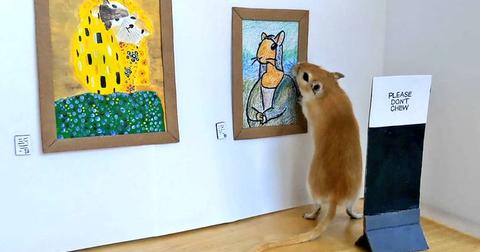 Yes, this couple spent the whole day building an art museum for their pet gerbil. Yes, it was worth it.
Fun with food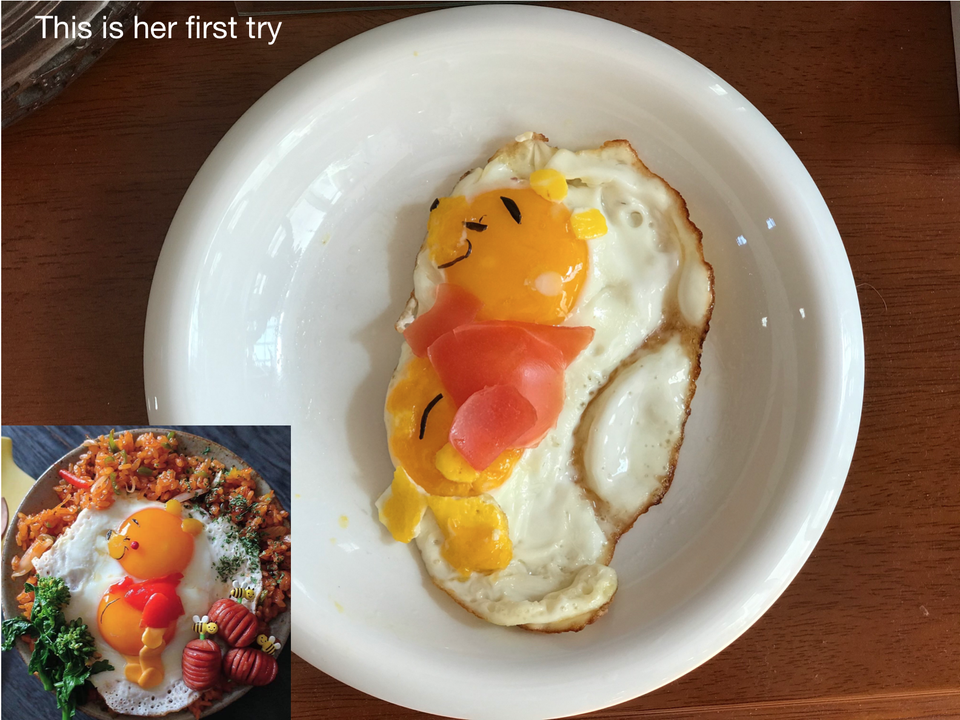 This is so cute. This person sent a picture of this professional-level food art to their mom and asked if she would make one for them. "I was just joking since I'm no longer a kid and living in another continent now," they wrote. But their mom still did it! This was her first try, and it's perfect.
Squirrel tables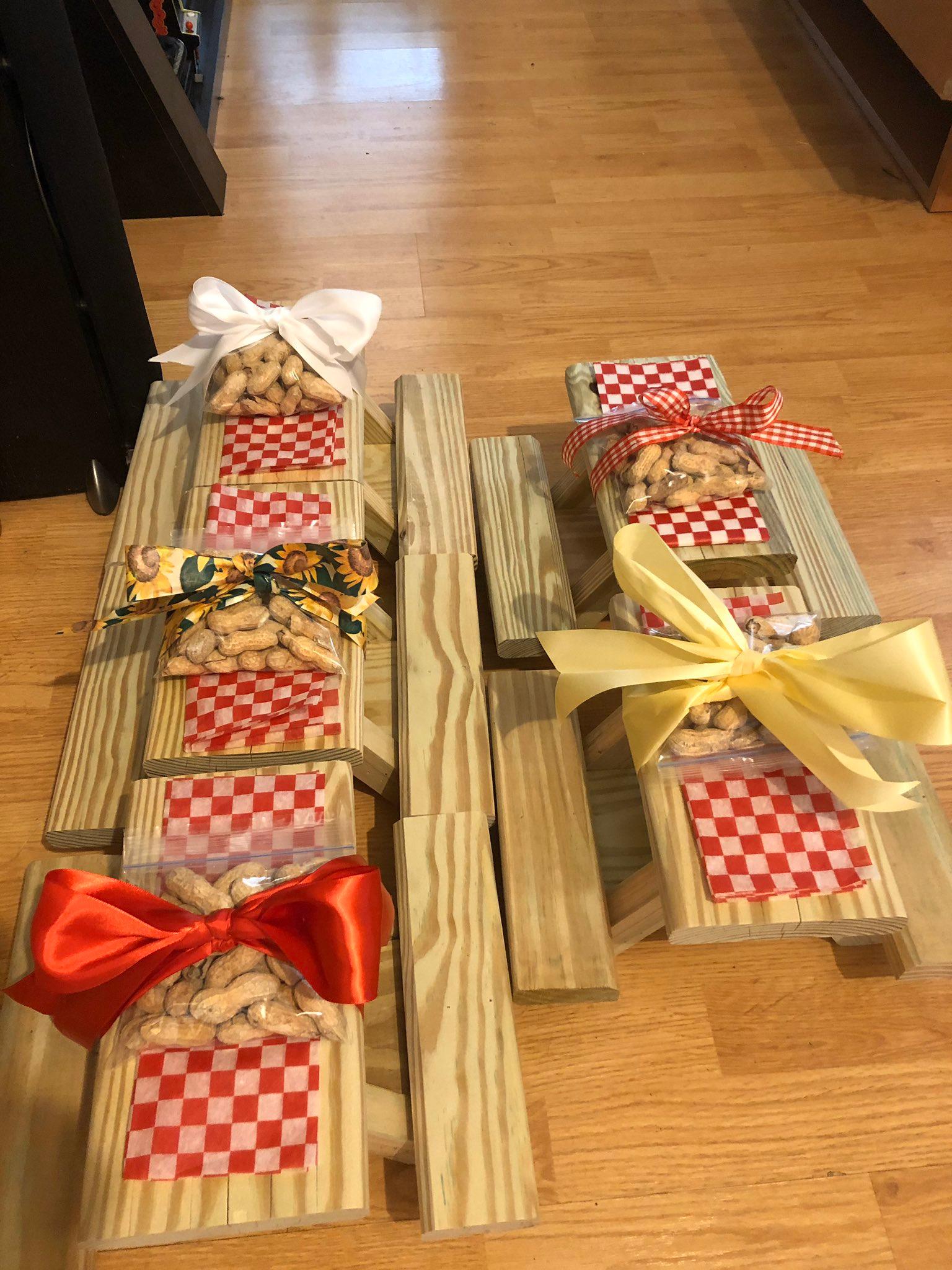 This mom is making and selling squirrel tables (complete with a red-and-white checkered tablecloth and a baggy of peanuts) in order to make a little extra money during the quarantine. And people absolutely love them. Obviously.
Mom / daughter dances
This is maybe the best video I've seen in the entire month-and-a-half I've been quarantined. You think you know what's up, but when that mom starts dancing along with her daughter, it's just pure joy.
Painting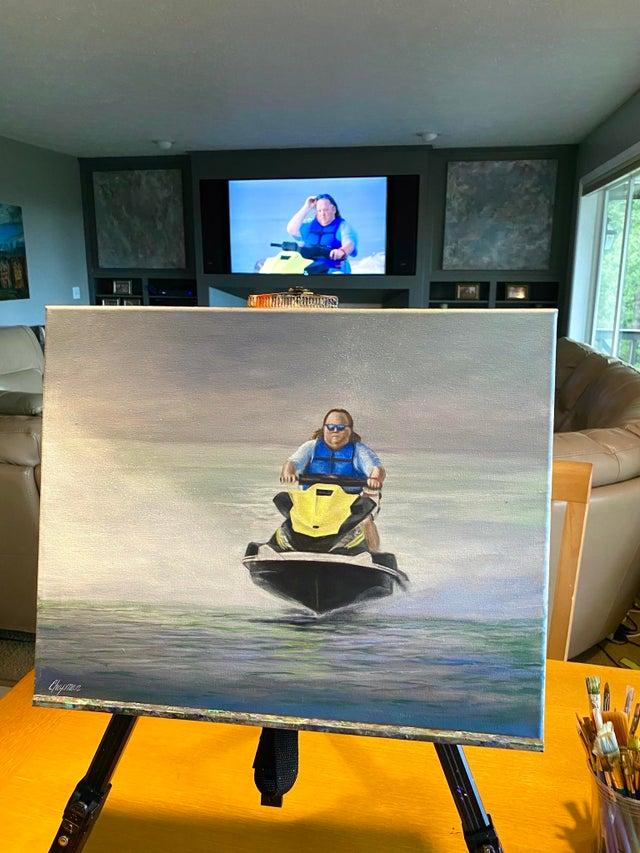 This person decided to use the quarantine to brush up on their painting skills, and it's totally working. They nailed this portrait of that slimy guy from Tiger King. What they're going to do with the painting now is anybody's guess.
Duck ramps
A family of ducks have nested in my parents' backyard and my dad put in "ramps" to help the ducklings get out of the pool. They're doing great in quarantine. pic.twitter.com/mTEdBji5JD

— Hannah Dyson (@H_Anderson4) April 16, 2020
Oh my goodness. If I had a family of ducks who visited my pool, I would be set during quarantine. I could watch them walk up and down the ramp and bob in the water all day every day.
Garage door shots
OK, so this might not be the most "wholesome" example in the bunch, but it is certainly creative. And impressive?? I don't think I could drink one shot that way, let alone three.
Zoom genie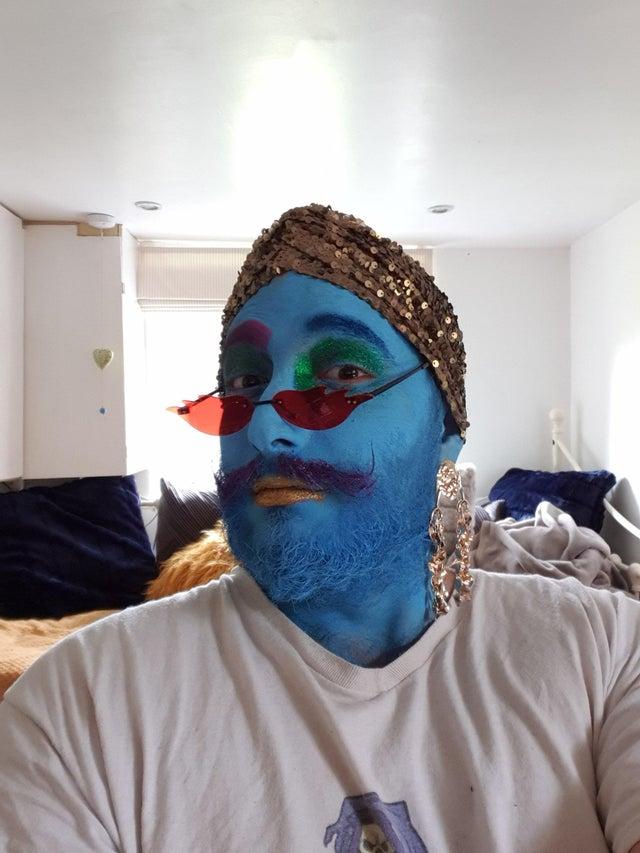 Everyone who hasn't painted themselves blue and made themselves a magical genie for their Zoom conference calls is booooooooorrrriing. This guy has figured it out. I imagine it took a while to get that blue paint off, but it's quarantine, baby! It doesn't matter!
Kitchen karaoke
This is adorable. And I love Cait's parents? And I kind of want to be them when I grow up? Anyway, it's nice to have a new life goal.
Sock puppet snacks
Obviously, when you are bored during quarantine and you have a view of a road, you should make a sock puppet and pretend to have that sock puppet eat the cars as they pass by. It's so obvious I shouldn't have to say it. It's so clearly what everyone should be doing.
Feeding the ants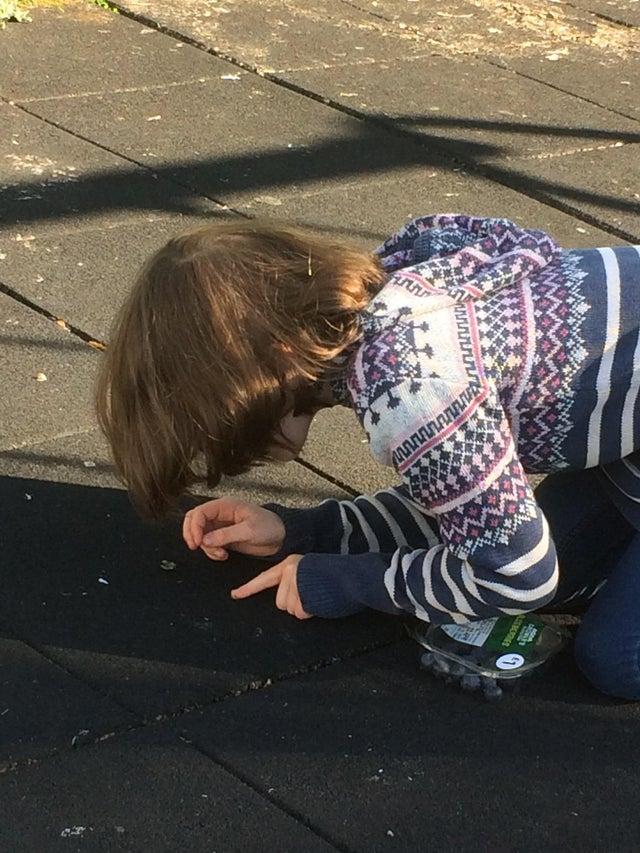 This little girl used her quarantine to befriend an ant colony because she's the coolest. She's been feeding them with honey and sugar water on her finger. According to her sibling, "She does this so much that when she approaches the colony, the ants all start to come out."
Gargantuan cardinals
Look, we're all going crazy during quarantine, some a little more than others. But the main thing is being able to have fun with that craziness, which is exactly what this couple is doing.
Wedding night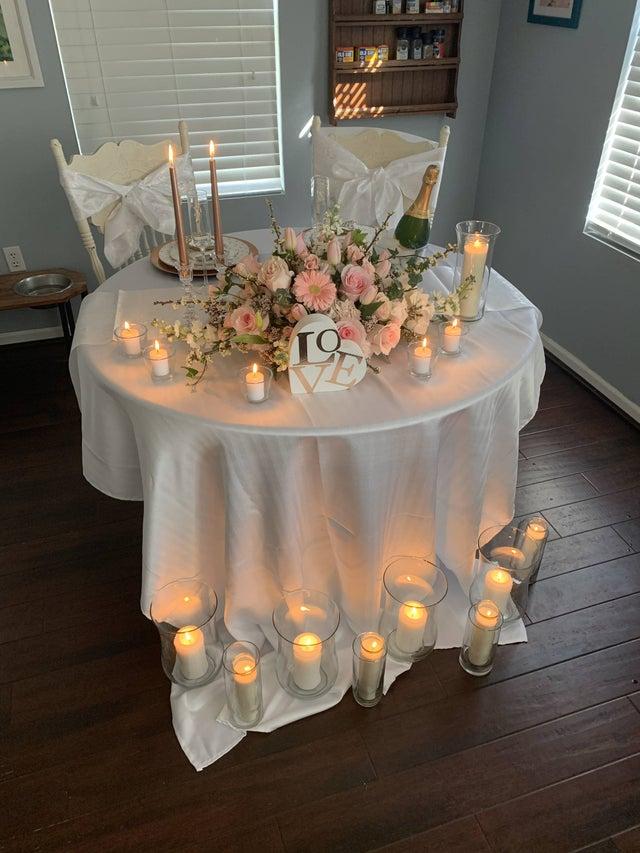 This poor couple was supposed to get married before the lockdown, so the groom's mom built them a sweetheart table for their wedding day so they could still celebrate. How cute.
Sidewalk chalk masters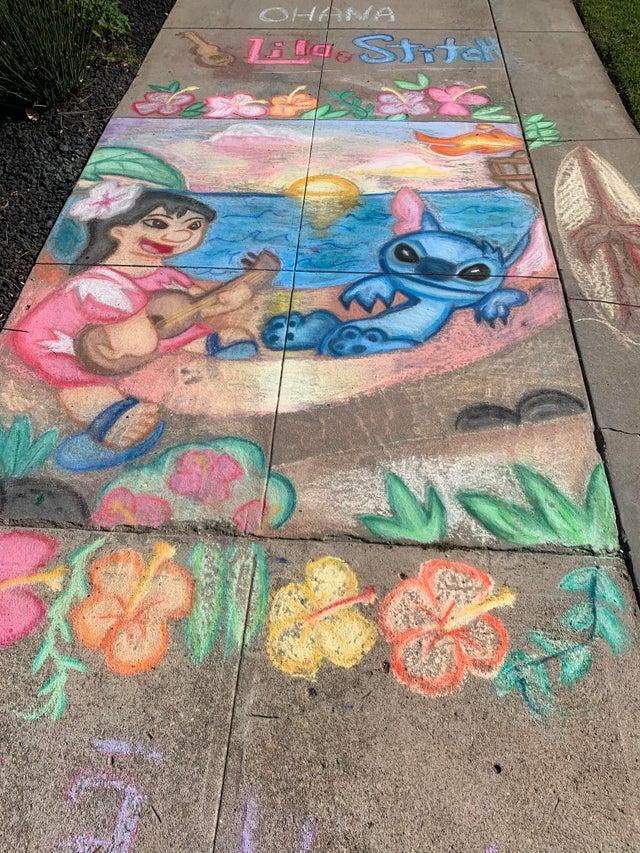 This person is using their quarantine to become an absolute sidewalk chalk master, professional-level chalk artist, truly stunning, can't believe it. The best part about this is that everyone walking by gets to enjoy it too!
Toilet characters

This mom decorates the toilet every single day to make her daughters laugh. Honestly, I would watch this show. There are some very distinct characters here. Animate them talking and I'd watch six season of that.
Dog treat station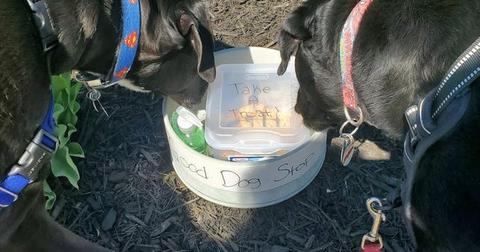 This person set out a whole "good dog stop" with free treats (for the dogs) and hand sanitizer (for the humans). It's the perfect use of time and resources if you ask me.
Dog concerts
I love this so much. This dog knows how to play the piano and his human sibling knows how dance along to his beautiful singing. I'd watch several hours of this.