Woman Gives "Second Chance at Life" to Crawfish Left on Supermarket Floor in Viral TikTok
A woman noticed a lone, live crawfish on the floor of her local supermarket. Store employees said she could keep it, so she brought the fella home.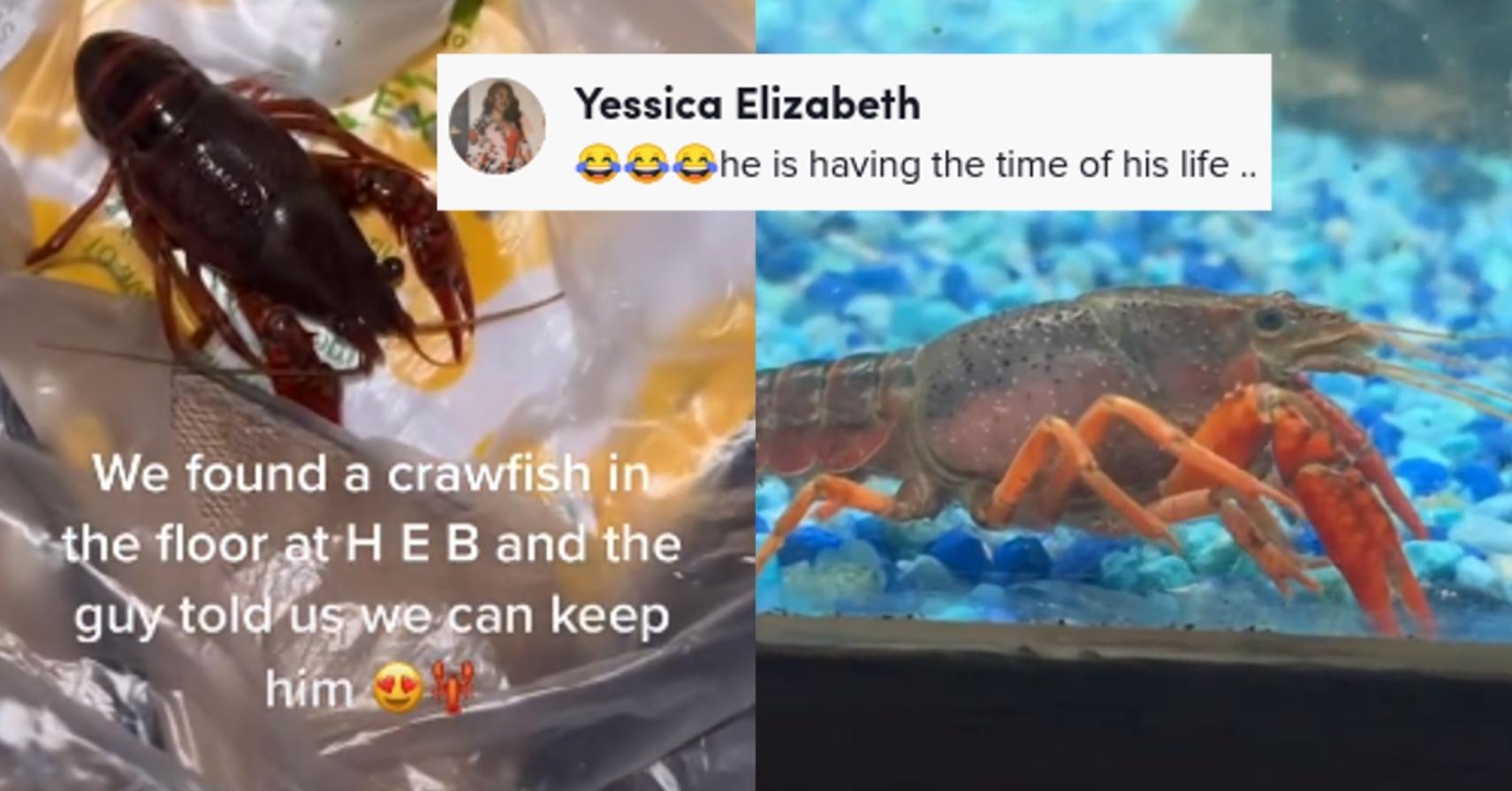 If you grew up going to the supermarket with your parents, there was one section of the store that probably captivated your attention more than any other: the fish section. Seeing live lobsters and other sea creatures swimming around in the tanks was a pretty big trip, especially since you knew that either your family, or whoever else, was going to buy one of those little suckers to eat for dinner. Probably that same night.
Article continues below advertisement
Even if you don't have any qualms with eating other living creatures, it's a pretty trippy reality for a kid to process. Personally, I remember always wishing I could dump the lobsters and crawfish into the ocean so they could be free. But that probably had more to do with the fact that I was never the biggest fan of seafood, shellfish especially, than anything.
It's especially sad when you consider that nearly 47% of the entire US seafood supply is lost to either contamination or just plain old consumer waste. Which means that the a lot of the live creatures just waiting to be gobbled up by customers at the supermarket are going to be eaten will ultimately just be discarded.
However a woman by the name of Jeni Mejia decided to make a difference for one crawfish who probably would've otherwise met an untimely end.
Article continues below advertisement
While shopping at Texas-based grocery chain HEB, Mejia said in a now-viral TikTok that she found the little critter on the floor, still alive and kicking. Since a supermarket isn't going to plop that Crawfish back in the tank and sell it to customers, Jeni was informed that she could keep it, so she did.
Article continues below advertisement
The little crustacean that probably would've end up boiled, cracked open, and in someone's belly instead was placed in Jeni's fish tank at her home. She captioned the video with: "Gave a crawfish a second chance at life" and showed it swimming around in the tank, presumably way happier than it was one the floor of the supermarket.
Article continues below advertisement
There were a bunch of different responses to the video. Many folks thought it was definitely a sweet gesture on Jeni's part and it's kind of hard to argue that it isn't: she saved a defenseless creature from an untimely demise!
Article continues below advertisement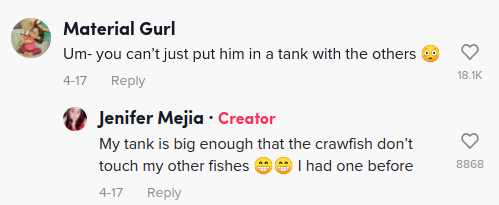 However there were others who argued that while she may have saved the life of the crawfish, she may have endangered other fish and aquatic creatures in the process.
Article continues below advertisement

Some shared stories of putting crawfish in their own tanks and how it feasted on some goldfish that they were caring for. Others were bigger "fish-nerds" about it, advising that Jeni should really make sure the other species in the tank can peacefully co-exist with the crawfish before allowing them to live together.
Article continues below advertisement

Jeni responded to some of the comments saying that she has had crawfish as pets before and that her fish tank is big enough that each of the animals has their own space.
Article continues below advertisement

She's uploaded a series of videos about the Crawfish, who she's affectionately named "Crawford." Her tiny, shelled friend hasn't eaten any of her other fish in the tank thankfully, and seems to be enjoying their new life. But I'm not an expert in the behavioral patterns or Crawfish, but it's definitely a step up from being eaten as part of a seafood boil.