Woman Experiences Everyone's Escalator Nightmare, Clothes Get Stuck Leaving Her Without Pants
A TikToker went viral after posting several clips delineating her "nightmare" experience with escalators: her clothes got stuck in one of them.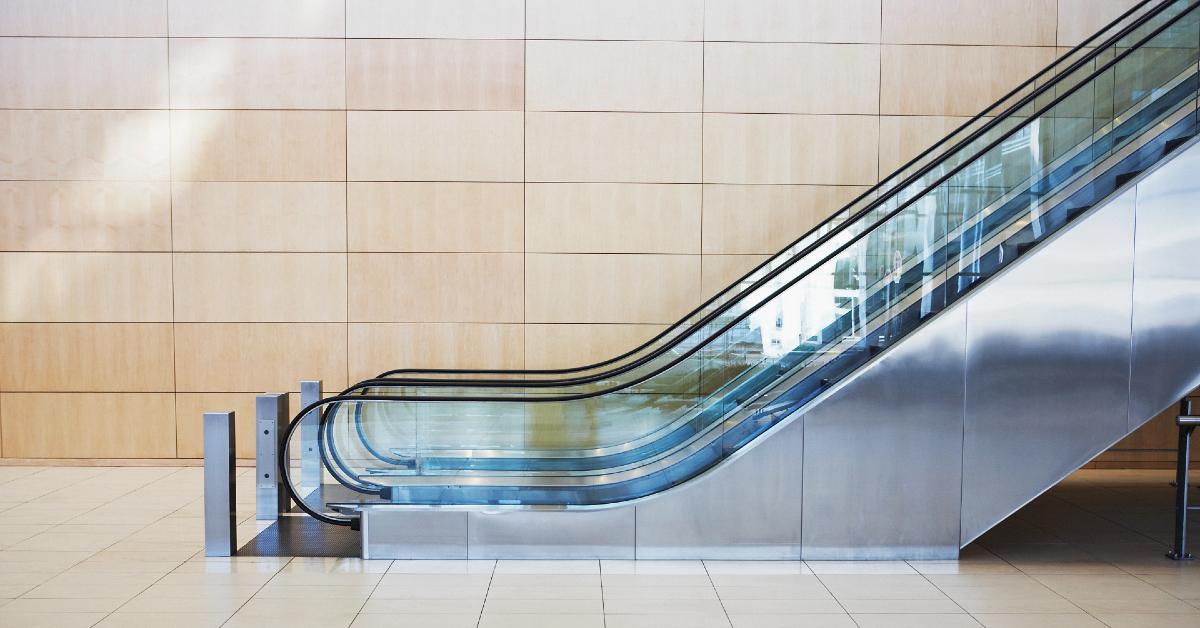 Article continues below advertisement
But what about the fear of certain inanimate objects or particular pieces of technology? Sure, we could chalk that all up to people watching the Terminator series of films and worrying that robots are going to rise up against us and kill us one day, or you could just be the kind of person who subconsciously has a phobia of any type of automation because you worry that it draws you further and further away from the human you want to be.
Whatever the reason there are some objects that folks will create nightmare scenarios in their heads about, like escalators. Personally, I know as a kid I've always worried about my shoelaces getting caught inside the "teeth" of one of their steps and I'd lose a sneaker or severely injure my foot. But that's a silly thing to worry about, right?
Well, that's what I told myself until I saw a series of viral TikToks posted by Aine Geraghty who had that happen to her.
Article continues below advertisement
Aine, who posts under the handle @aine_gero uploaded a video where she gives a lip-sync style story time discussing the incident (which she took in good fun) on her TikTok account.
She delineated exactly what happened in a series of text overlays: "ran out of ingredients while making dinner, made a quick dash to the supermarket"
Article continues below advertisement

She continued, "didn't bring a bag so carried all the shopping in my hands, going down a escalator...Unknowingly my trousers get stuck in the escalator, causing them to be dragged off me while I fall"
Well, her shoelaces didn't get snagged in the escalator, but her pants did, which I think many would argue is way worse.
Article continues below advertisement

In her compromised state, she said that no one stopped to lend her a helping hand, forcing her to take action herself: "people started stepping over me, no one helping, and laughing instead. having to then be cut out of the escalator"
Article continues below advertisement

TikTokers who saw her initial post asked if there was any video footage of the incident and implored her to upload it online for others to see, and Aine obliged with a series of follow-up clips.
Article continues below advertisement
In it, Aine can be seen at the bottom of an escalator, laughing hysterically while someone records her. The bottom of her pants were indeed caught in one of the metal steps and she tries to extricate it with her hands but to no avail.
Article continues below advertisement
In another video, a pair of scissors are taken to the bottom of Aine's pants as they got to work to extricate her from the escalator trap.
TikTokers were cracking up over the size of the small scissors that were being used to cut through the pants and some said that she should've just left her trousers there, walked out, and went about the rest of her day.
Article continues below advertisement

"After watching Final Destination. ain't no way...... just.... no"
"I have always been terrified of escalators, even as a kid. Now I know my feelings are valid Nothing has happened to me with it too"
"I know you are mortified but taking it better than I would. It is funny."
Article continues below advertisement

Others offered up to Aine that the entire situation could've been a lot worse and that at least the funny incident occurred when she was with a friend. How do you think you would've handled this situation?