TikToker Reveals How Chipotle's Barbacoa is Made, Sparking Debate on Fast-Food Quality
A TikToker revealed how barbacoa is prepared at Chipotle and some viewers are genuinely surprised.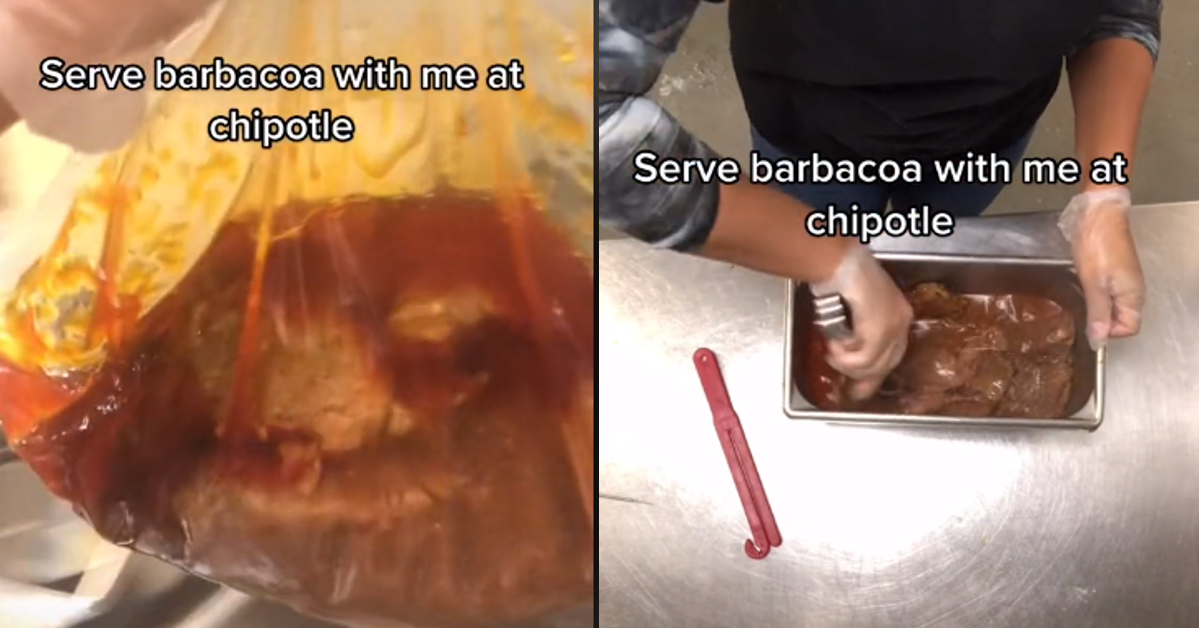 There's a reason why the phrase "perception is everything" is popular and it's because in most instances, it's darn right true. There are tons of folks who can be persuaded to drop hundreds of dollars on name-brand sunglasses that are identical to their knock-off counterparts you'd find on Canal street. No, seriously, they're made in the same factory by the same manufacturer, you're literally just paying the mark-up for the box and a ten-cent wipe cloth.
Article continues below advertisement
The same can go for dining experiences. There's no way anyone in their right mind would pay $300 at a restaurant for a $16 bottle of Vodka and $8 worth of mixers, put slap that bad boy in a cramped seating area in a nightclub full of romantically repressed individuals rocking their favorite Macy's get-ups with blaring music and suddenly it becomes a good deal.
And a lot of TikTok users are saying that Chipotle's basically doing the same thing with its food after a TikTok user uploaded a video of them demonstrating how the franchise's barbacoa is made.
Mireya, (handle @mimireya_) uploaded an earnest video with a text overlay that reads: "Serve barbacoa with me at Chipotle."
Article continues below advertisement
The fast-food location has been praised in the past for offering its employees benefits that many would consider atypical for the food service industry like paid sick days and time off alone with vacations. It's also been the subject of some scandals, namely a "tainted food" fine that saw the chain shelling out a whopping $25 million in charges.
Article continues below advertisement

It seems that Mireya's video has caused another food-related kerfuffle online because in her clip she's seen taking out bags of meat to prepare the barbacoa for customers.
Article continues below advertisement

Throngs of TikTok users weren't exactly thrilled to see the meat come in pre-packaged bags. Some accused Chipotle of being a "glorified Taco Bell" while other ones stated the "only things cooked fresh" at Chipotle were "steak and chicken."
Article continues below advertisement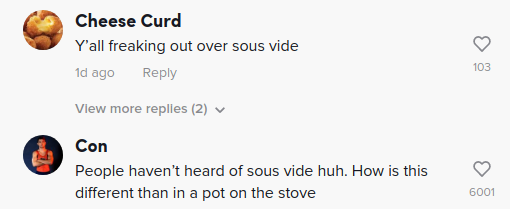 Article continues below advertisement
"The food is fresh! That's just how we make it (: some stores do it different if they don't have a retherm they use the stovetop. it's not frozen. just bc it comes in a bag doesn't mean it's not fresh, everything at stores is prepackaged & sold you still eat every day."

Article continues below advertisement
Tons of other commenters mentioned that the fact the barbacoa was placed in bags isn't problematic as its a cooking technique known as sous vide, which is French for "under vacuum."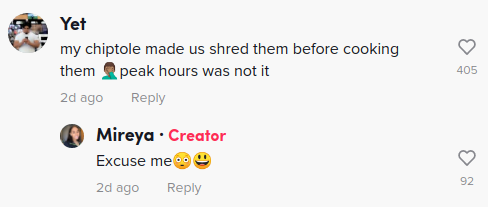 Article continues below advertisement
Judging from Mireya's video it appears as if the barbacoa is prepared in this style and is kept warm in the bags and then is prepared to put on the chain's "burrito assembly line" as a protein option for hungry customers.

Other commenters laughed at the idea of some TikTok users expecting that the barbacoa is being smoked in the back of every Chipotle location.
What do you think? Does Mireya's video alter your opinion of how Chipotle prepares its food? Or is there nothing wrong with it, like how other TikTokers had no problem with this Chick-Fil-A lemonade gripe?