Guy Got Chipotle's Official Twitter Account to Help Him Convince His Wife to Get Burritos for Dinner
Joel Willis asked Chipotle's Twitter account to make up some sort of National Burrito Day to help him convince his wife to get burritos for dinner. It worked.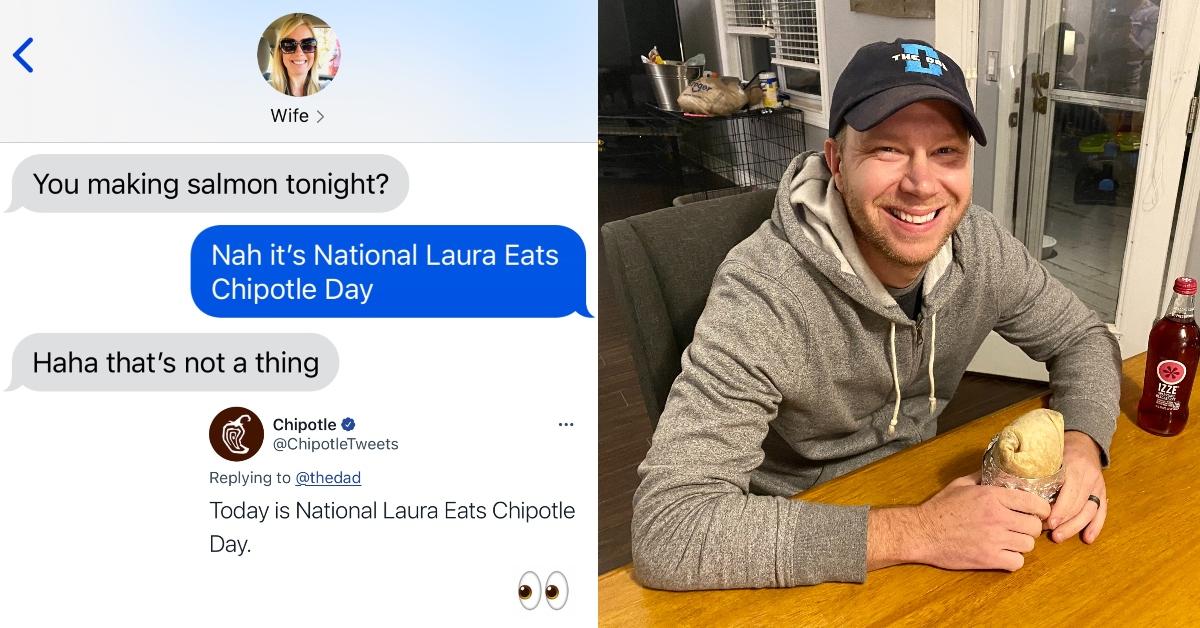 Sometimes you just want a burrito. We all know that feeling. You don't want to scrounge through the kitchen and come up with something to cook for dinner. You want meat, beans, rice, cheese, and salsa, all wrapped up in a warmed tortilla, and you want it now. And more than that, you want your wife to agree that it's burrito night.
Article continues below advertisement
But sometimes, she needs some convincing. If you're Joel Willis, the editor-in-chief of @TheDad, a popular parenting Twitter account, you use your social media prowess to get a purveyor of burritos, like Chipotle, to help you do the convincing.
Article continues below advertisement
"I want to get takeout tonight but my wife doesn't. @ChipotleTweets can you please tweet that today is National Burrito Takeout Day or something? Thanks," Joel wrote from @TheDad account. It's a small ask. He doesn't feel like cooking dinner, and he needs to convince his wife that there's a good reason to get takeout burritos for dinner.
He added, "Her name is Laura if you'd like to personalize it." And reader, it worked. Better than Joel ever could have imagined.
Article continues below advertisement
"Today is National Laura Eats Chipotle Day," the official Chipotle Twitter account posted. It was perfectly specific, sure to convince Laura to get burritos. The ensuing interaction with his wife went exactly to plan. Although it was too late to use it that night, Joel bridged the subject of burritos the next night.
Article continues below advertisement
He then shared this text exchange with Laura. She asks him if he's making salmon for dinner that night, and he says, "Nah it's National Laura Eats Chipotle Day." Of course, Laura thinks he's just making that up. That day doesn't exist. But thanks to Chipotle's tweet, he has the proof. And he was not afraid to use it.
Article continues below advertisement
In an interview with Bored Panda, Joel says that Laura is so used to him pranking her that she's completely "unbothered" by it. Once she saw the tweet, she just accepted her fate. "She just laughed and said, 'Guess we have to get Chipotle,'" Joel said. "She's the best."
He also said that National Laura Eats Chipotle Day is now on their calendar, so it's going to become a yearly tradition. For any other Lauras that would like to celebrate the holiday, it's actually on November 17, even though Joel posted about it on the 18th. Just, you know, for your calendars.
Article continues below advertisement
When Joel and Laura finally got their burritos for dinner, thanks to Chipotle, Joel couldn't help but post a victory shot. "We did it," he wrote on Twitter.
Article continues below advertisement
That is one content man. In case you're wondering, Joel's go-to Chipotle order is a brisket burrito with white rice, black beans, corn, light sour cream, and extra cheese. Although he was thrilled that he finally got his burrito, the best thing about it was not having to cook that night. I know how that feels.
"The real win was taking a night off of cooking and dishes," he said. "I typically do most of the cooking in our house, but my wife does most of the cleanup. So it was a win for both of us. In 2020, I'll take any victory I can get. And yes, the next night I cooked the salmon."