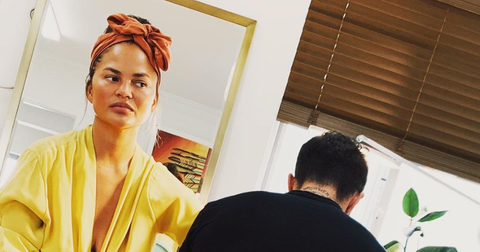 Chrissy Teigen Gets a New Tattoo to Honor Her Family
By Sara Belcher

Updated
Chrissy Teigen, the internet's favorite mom, is definitely a "cool mom" after the new tattoo she got. Solidifying her love for her family, the American model got a tattoo along her forearm of her family's birthdays. Because it's easy to forget birthdays, and what better way to make sure you remember them than to tattoo them on your body forever. 
Chrissy Teigen got a new tattoo and is now officially a "cool mom."
The tattoo, which was done by celebrity tattoo artist Daniel Winter, whom Chrissy previously visited for her other tattoos, features the birthdate of her father Ron Teigen Sr., mother Vilailuck Teigen, husband John Legend, daughter Luna, and son Miles. Chrissy posted about the tattoo on Instagram, saying, "cool mom back at it again with @winterstone."  
John commented on the photo, jokingly saying, "The ultimate mnemonic device!" He's not wrong about that, and we're sure he'll be expecting his birthday present on time this year.
Chrissy and John have matching tattoos.
This isn't the first time Chrissy has pronounced her love for her family with a tattoo. In April, the couple decided to do the thing that everyone tells couples not to do and got matching tattoos. Chrissy's read "John Luna Miles," while John's read "Chrissy Luna Miles." The tattoo was another lovely tribute to her family.
The pair debuted their matching ink on Instagram, in a caption reading "Hey guys please don't talk to us unless u have tattoos we are a cool tattoo family now and we only want to talk to other tattoo families (sorry if this seems harsh)." The tattoos are so cute and loving that we can excuse them for breaking one of the cardinal rules of dating.
In the same post, Chrissy also showed off a singular heart tattoo on her finger, making her total tattoo count up to five. Both of these tattoos were also done by Daniel. John's matching tattoo with Chrissy is the only confirmed tattoo the singer has, but we wouldn't be surprised if there was more family-related ink in his future.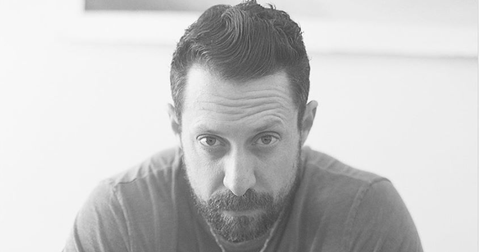 Who is Daniel Winter?
Daniel is a celebrity tattoo artist who goes by the Instagram handle @winterstone. Based in Los Angeles, the artist has tattooed other celebrities just as famous as Chrissy and John, such as Hilary Duff, Miley Cyrus, Joe Jonas, and Lady Gaga. He did Lady Gaga's famous rose tattoo — the one that goes up along her back and peeked up over the top of her dress at the 2019 Oscars.
According to the Hollywood Reporter, Daniel started as an artist, working at Disney immediately after high school. After slowly growing his own personal tattoo collection, he decided to open his own tattoo studio. Even before he gained the attention of some A-list celebrities, he had a decent following in Hollywood.
He's best known for his fine-line designs, especially of roses, and only tattoos in black ink. Most of his clients come to him for these simple designs, the likes of which have been recreated countless times in Pinterest photos.