Bride Angry at Friend Who Won't Learn Fake Language for 'Game of Thrones' Destination Wedding
A Redditor wanted to know if they were in the wrong for refusing to attend a friend's 'Game of Thrones' themed wedding due to ridiculous demands.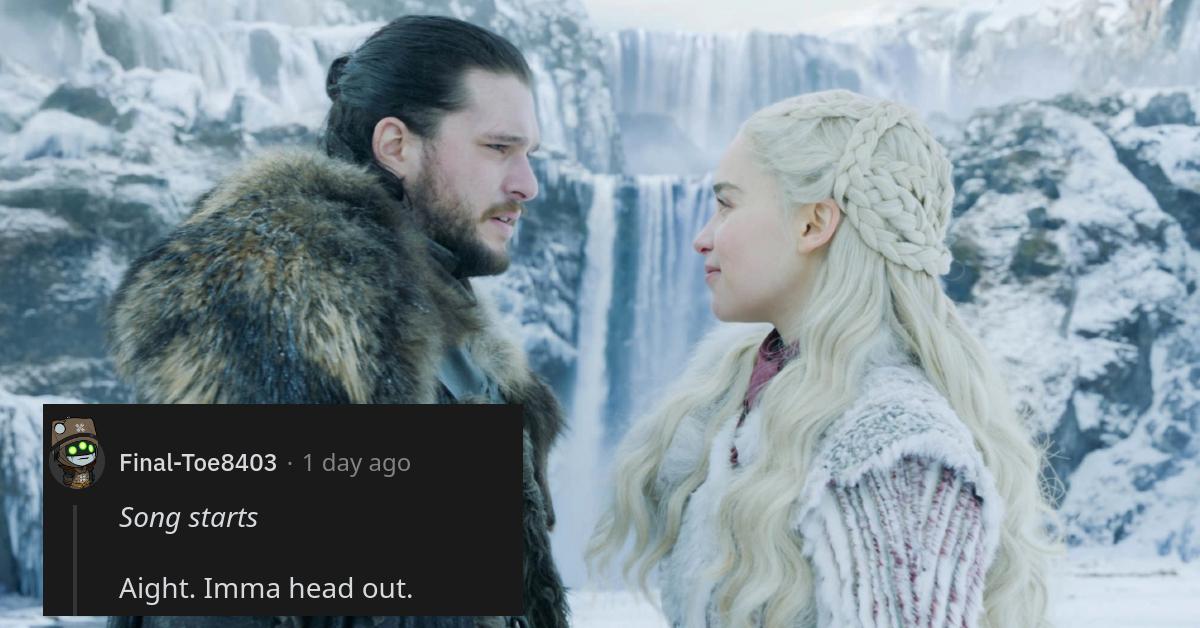 Different folks have different ideas on how to celebrate their wedding day. For some, they're just content to spend the rest of their lives with the person of their dreams and don't really care too much about the particulars of their celebration to the point where it drives them crazy.
For others, they obsess over every single detail to fulfill a particular vision for their wedding.
And then you've got uber-nerd ceremonies.
Article continues below advertisement
We're talking about folks who not only want to spend the rest of their lives with one another and get a court document to prove it, but those who share such a die-hard obsession over a particular hobby/book series/piece of media that they want said obsession immortalized in the exchange of their vows, along with some very entertaining wedding album photos many of us can feel like bad people for laughing at.
Of course, they're going to be folks who don't necessarily agree with your vision, but they aren't die-hard fans of the Minions characters like you and your bride-to-be are, nor do they want to live out their Walking Dead fantasies on the most important day of their lives because they just don't stan as hard as you do.
Article continues below advertisement
And even if you personally might not go to such lengths to pledge your love for your favorite movie or TV series as some folks would on their very special day, if a good friend or beloved family member invited you to attend a themed ceremony of this nature, then you'd still probably attend.
Article continues below advertisement
Mostly because the day isn't about you, it's about supporting them and their happiness. For one Redditor, however, a themed wedding they were invited to took the geekiness a little too far.
A user on the popular social media platform, @Fluffy_Strain6713 wrote on the site's popular AITA sub that they refused to attend their friend's Game of Thrones ceremony because of the extreme lengths the bride and groom went to in planning it.

Article continues below advertisement
They wrote, "My friend "Lexa" is getting married soon. She and her husband are extreme game of thrones fans (they've watched the show 5+ times, their house is decked out with game of thrones themed decorations/accessories, etc). Because of their shared love of Game of Thrones, Lexa and her fiancé decided to have a game of thrones-themed wedding."
They continued, "I am perfectly fine with the idea of a themed wedding. I am even ok with the game of thrones dress/costume for the wedding. The only thing I can't seem to get behind is the fact that the majority of the wedding will be conducted in High Valyrian (for those who don't know, it's a made up language from game of thrones)."
Article continues below advertisement

Strike one was the fact that the wedding was held in a fictional language that OP wouldn't be able to understand. Strike 2? It was a destination wedding, which effectively meant that OP was going to spend a ton of money to travel to a wedding which will be held in a tongue created by George R.R. Martin.
Article continues below advertisement
"Her wedding is also a destination wedding, and I'm finding it hard to justify going out of my way to go to a wedding that's not even in a real language that I wont be able to understand. Aita if I don't go?"
OP wanted to know if they were in the wrong for not wanting to go to said wedding and said that their friend, Lexa, was upset that they wouldn't be attending.

Article continues below advertisement
Where things get uber-geeky is that the Redditor's friend had sent them links to learn the fake language, and even suggested they download DuoLingo to learn the tongue so they'll be able to enjoy the ceremony. Make that strike 3.
"I mentioned that I was having doubts to Lexa, and she got really mad at me because I had originally had said I could go before I knew it was in High Valyrian. She's also been sending my links to learn High Valyrian on Duolingo and I feel like even if I did show up, she'd be mad at me for not learning it."

Article continues below advertisement
OP added at the end of their post that: "The reception will also be in High Valyrian and all speeches and toasts are expected to be in High Valyrian too."

Article continues below advertisement
There were tons of Redditors who didn't think that OP was being an a**hole because they didn't want to pay money to travel to a wedding where they'd have to learn a new language in order to placate the bride.

Would you learn a fictional language for a destination wedding to help your friend stan for a book/TV series they were huge fans of? Do you think that they're taking their geekery a little too far?