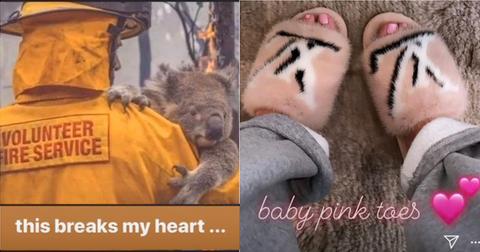 Kylie Jenner Weeps for Animals Dying in Australia Fires, Then Posts About Mink Slippers Right After
By Mustafa Gatollari

Updated
The wildfires in Australia are so numerous and brutal, that they're generating their own thunderstorms. There's been a lot of news circulating the bush fires, and the ecological and social impacts of such devastation are difficult to even project at this point. But perhaps the most tragic story is the sheer amount of wildlife that's died as a result of the natural disaster.
It's garnered the attention of numerous celebrities, like Kylie Jenner.
Australian comedian Celeste Barber managed to start a movement that resulted in over $30 million of donations to help those affected by the bushfires, which may include the purchase of a water bombing plane to help stymie the spread of them. Meanwhile, Kylie Jenner simply stated the news "breaks her heart" on an Instagram story.
While charity isn't compulsory on anyone's part, many took umbrage with the fact that Kylie, a billionaire, hasn't offered any assistance.
In fact, throngs of people urged the celebrity to either donate or help raise more awareness with her status to assist the country. The younger Jenner sister may have received a fair amount of criticism for "sitting idly and doing nothing", but there's an even bigger reason why people are disappointed in the socialite: they're calling her a "hypocrite."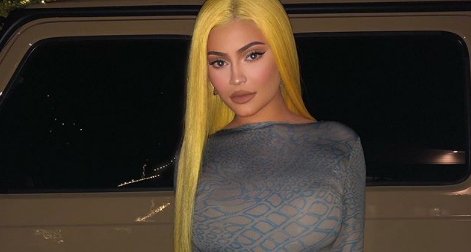 In a now-vanished Instagram story, Kylie put up several posts, one that featured a touching photo of an Australian emergency services worker rescuing a koala from the flames. The caption on the image reads, "Over half a BILLION animals have been killed in Australia. this breaks my heart..."
It was a touching sentiment, but many felt like it was an empty gesture from the California-based cosmetics mogul.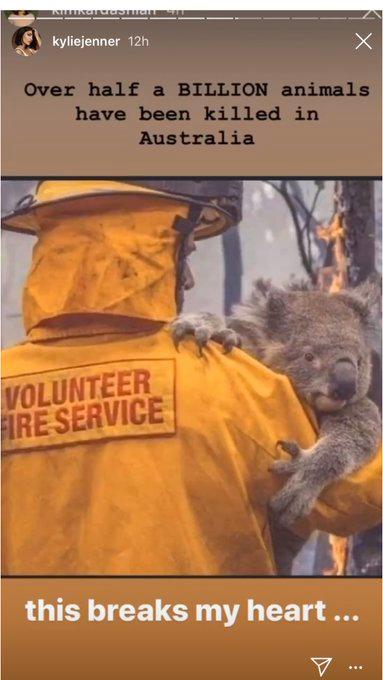 Twitter user @Lithunium_Snow, along with others, uploaded screenshots from Kylie's IG story that depict her lamenting the fate of the Australian animals who died in the fires, immediately followed by a post of her rocking pink mink fur Louie Vuitton slippers.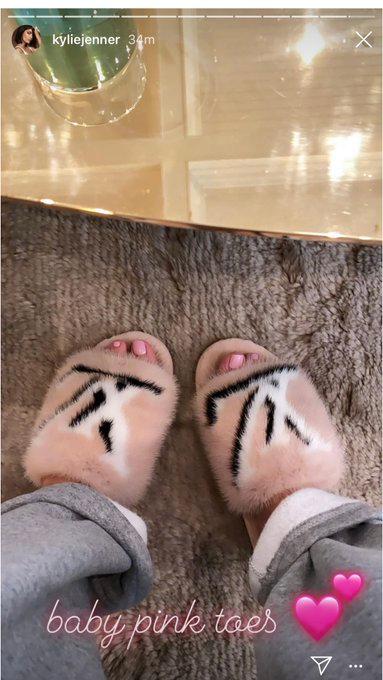 The Twitter user then uploaded photos of what minks look like (they're these cute little weasel like creatures from the ferret family) along with online store screenshots of the furry slippers Kylie was wearing.
It didn't take long for people to call out Kylie for not seeming too broken up about the dead animals on her feet.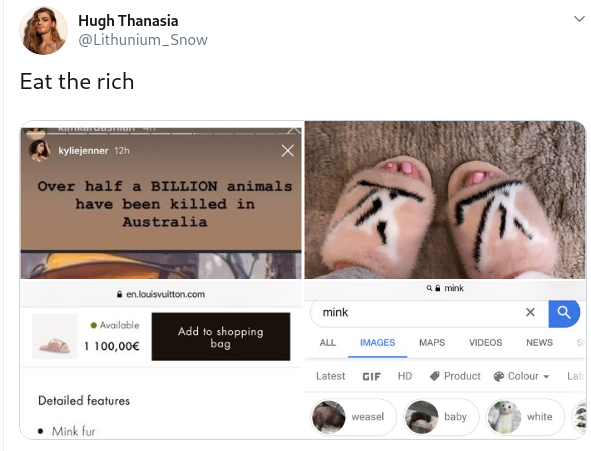 Animal rights activists pointed out how minks are factory farmed and bred for the sole purpose of being killed for their skins. Others just thought it came off a bit insincere for Kylie to mourn the loss of nearly half a billion animals' lives in the same story where she calls attention to some mink slippers and a nice pedicure.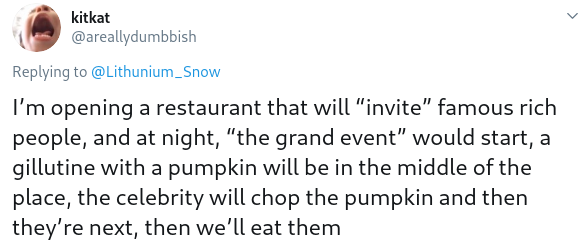 Nothing says, "I feel so sorry for this natural disaster that will irrevocably have negative effects on Australia's ecosystem" than a post about baby pink toes, right?
Kylie isn't the only member of the Kardashian clan to come under fire recently for hypocrisy. Kim Kardashian recently tweeted "Climate change is real" followed by broken heart and planet emojis.
Twitter user @tim__fitzgerald then took a screenshot of a news article covering Kim discussing her private, customized 747 jet that's been retrofitted with multiple bedrooms, a gym, and a "floating office" so they can still work and hustle while in the air — in the lap of luxury, of course.
Kim responded to the criticism from folks on Twitter who scolded the star to "stop flying on private jets" or to donate more with a tweet of her own, saying that she and her family don't publicize all of the charity work they do or who they donate to.


While I think Kim makes a decent point, the uber-rich are constantly donating money to several causes, for tax write-off purposes if nothing else, it's kind of difficult to say that you're worried about animals dying, then post yourself wearing some garish mink slippers.