Moving Company Locks Customer in Back of Truck When She Refused to Pay More Money
A TikToker uploaded a clip that appears to show a moving company locking their roommate in a truck after a disagreement about payment.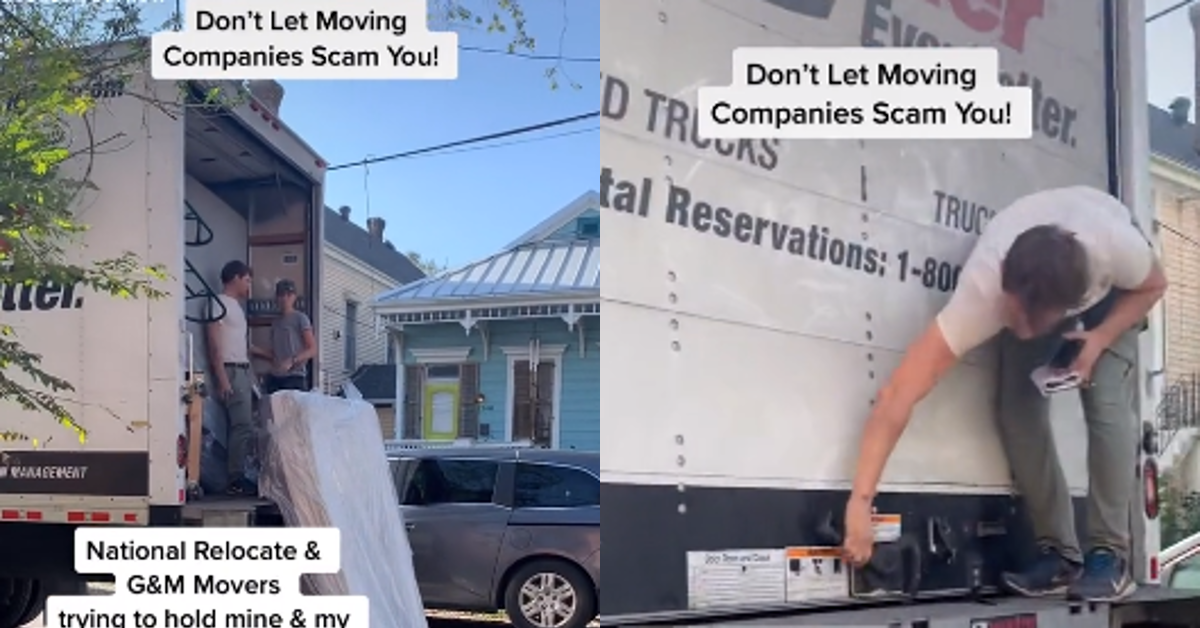 Moving can be a super stressful experience, especially if you have a lot of belongings and are relying on a company to help transport your belongings safely to a new location.
Giving a stranger access to everything you've accumulated, which can amount to thousands if not tens of thousands of dollars is a pretty big demonstration of trust, especially if you don't have access to the truck.
Article continues below advertisement
Unfortunately, there are some companies out there that reportedly implement a litany of different common "scams" and "cons." Forbes has listed some of them here, but a common one is "giving you a questionably low estimate to lure you in and then withhold or threaten to withhold your house goods unless you pay significantly more than the quote provided."
And it appears that TikTok user @followyourflow, unfortunately, came across that one in a now-viral clip that's been making the rounds on social media.
And their refusal to participate in the said scam, according to the user, resulted in their roommate being locked in the back of the moving truck by one of the company's employees.
Article continues below advertisement
In a text overlay of the video, the TikToker writes, "Don't let moving companies scam you! National Relocate & G&M Movers trying to hold mine & my roommates belongings hostage until they can scam more money out of us. This guy LOCKED my roommate in the back of his truck!"
Article continues below advertisement

"That's our stuff, you can't touch our stuff right?" Sam, the uploader of the video, can be heard saying in the clip. Their roommate appears to be talking with the moving company employee who, after a while shuts the door on someone who is inside the truck and locks it.
Article continues below advertisement

"Do not f***ing lock someone in a truck are you kidding me? You are tripping. Absolutely the f*** not," Sam says. The movers ultimately open the back door of the truck, letting the TikTok-er's roommate out.
In the comments section of the video, Same wrote that the company charged "thousands more than what they originally quoted" and then began to tack on even more fees.
Article continues below advertisement

When Sam and their roommate refused to pay the extra money, that's when the dispute started and the company proceeded to hold onto their belongings, not allowing the customers to take them out of the truck.
Article continues below advertisement

Sam went on to say that the customer service representative for National Relocation which contracted G&M movers for the job "ghosted" them once "G&M had [their] belongings."
The TikTok-er said that the police showed up around an hour after the incident occurred.
Article continues below advertisement

"[The moving company employee] knew he couldn't touch her so his solution was to lock her into the back of a truck on a HOT af day. It took myself & someone else stepping in to get this guy to let her out," Sam added in the comments section of the video.
Article continues below advertisement

Tons of TikTok-ers expressed their disbelief and shock at what transpired, while many others said that they too had awful experiences with moving companies.
"This is a common scam with these companies. They also make you sign the form that nothing is missing or damaged before they unload the truck," @pittyrow commented.
Article continues below advertisement

Sam added that the moving company employee is now going to court under False Imprisonment charges.