Warning: incredibly heartbreaking image ahead! Well, at least if you really don't like to see sad pups. And, honestly, who wants to see a sad dog? In this strange time of quarantine thanks to the novel coronavirus pandemic, many dogs are pretty excited to see that their humans get to be with them all day as they work from home.
This writer is currently writing with a smiley pittie sleeping on her lap and it's safe to say that both of us are pretty happy with the situation. Though the world is scary right now, there's nothing like a dog to make it better.
But not every dog is as excited about being cooped up inside all day. Costume designer Rashida Ellis snapped a pic of her English bulldog on April 21 and it's safe to say that just about everyone who saw it had their heart broken immediately. She captioned the photo, saying, "Big Poppa has been so sad today, I think he miss playing with the kids in the building. He just watches them from the patio."
The sweet, wrinkly pup appeared to be staring down at the kids playing below him, not understanding why he can't go down and play with them too. The dog is known as Big Poppa, or Pop the Bulldog, or BiggieSmalls, but, whatever you call him doesn't matter nearly as much as his sweet, crestfallen face.
As Maisie Williams eloquently put it, "not being dramatic but I would literally die for big poppa". Maisie, we, and it's safe to say everyone else, agree.
Pop the Bulldog is getting a lot of fans who want to lift his spirits.
Look, it's one thing for COVID-19's quarantine to be affecting people, but it's a whole other thing when it affects an innocent pup that just really wants to get pets and love. Seriously, look at this face and tell it that it can't go outside to play with his friends.
But Big Poppa and his mom Rashida are doing the right thing by social distancing right now, although many of Pop's new fans want to march right over there and give him all the pets he wants.
Others are using Pop's image as a way to convince people to stay inside, as we are less likely to spread the virus if we continue social distancing measures and therefore will hopefully be able to contain the virus more quickly. So basically, the point being made is that you should stay inside if you want to see Big Poppa smile again sooner.
Other dog owners have hopped on to share pictures of their sad pets too.
If Big Poppa wasn't enough to convince people to stay inside (although, if you're not convinced, we kindly ask you to look at his smooshy, sad face again), more dog owners have started sharing pics of their quarantined pets as well. Some, like Big Poppa, are rather sad that they can't go play with their friends. Others are being shared in the hopes that they might lift people's spirits and remind Big Poppa he's not alone.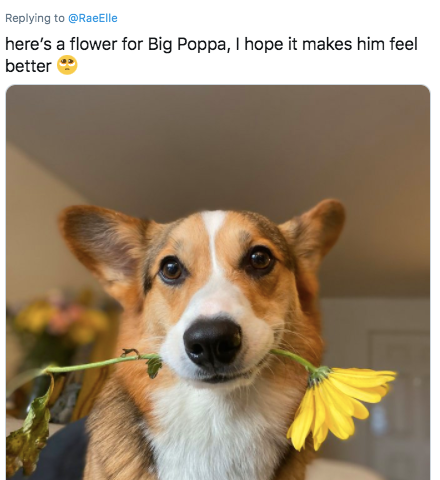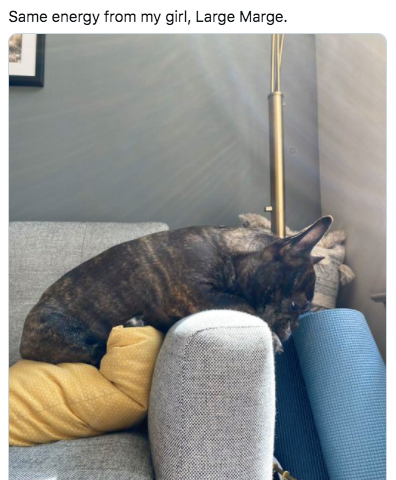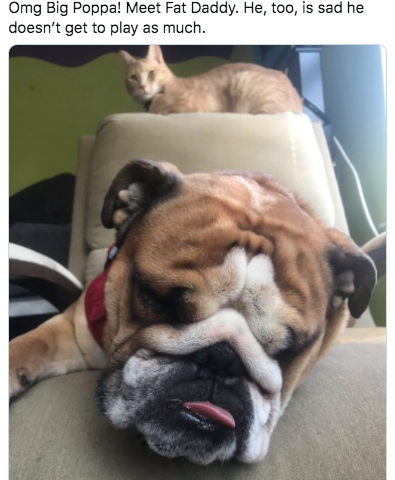 So, folks, next time you consider breaking a stay-at-home or shelter-in-place order when you're exhausted by quarantine, remember: Do it for Big Poppa!
The best way to prevent contracting or spreading coronavirus is with thorough hand washing and social distancing. If you feel you may be experiencing symptoms of coronavirus, which include persistent cough (usually dry), fever, shortness of breath, and fatigue, please call your doctor before going to get tested. For comprehensive resources and updates, visit the CDC website. If you are experiencing anxiety about the virus, seek out mental health support from your provider or visit NAMI.org.