Senior Care Center's Request for Pen Pals Gets Overwhelmed With Responses
Victorian Senior Care has facilities across North Carolina where residents have been isolated from friends and family for months. So, they decided to start a pen pal program.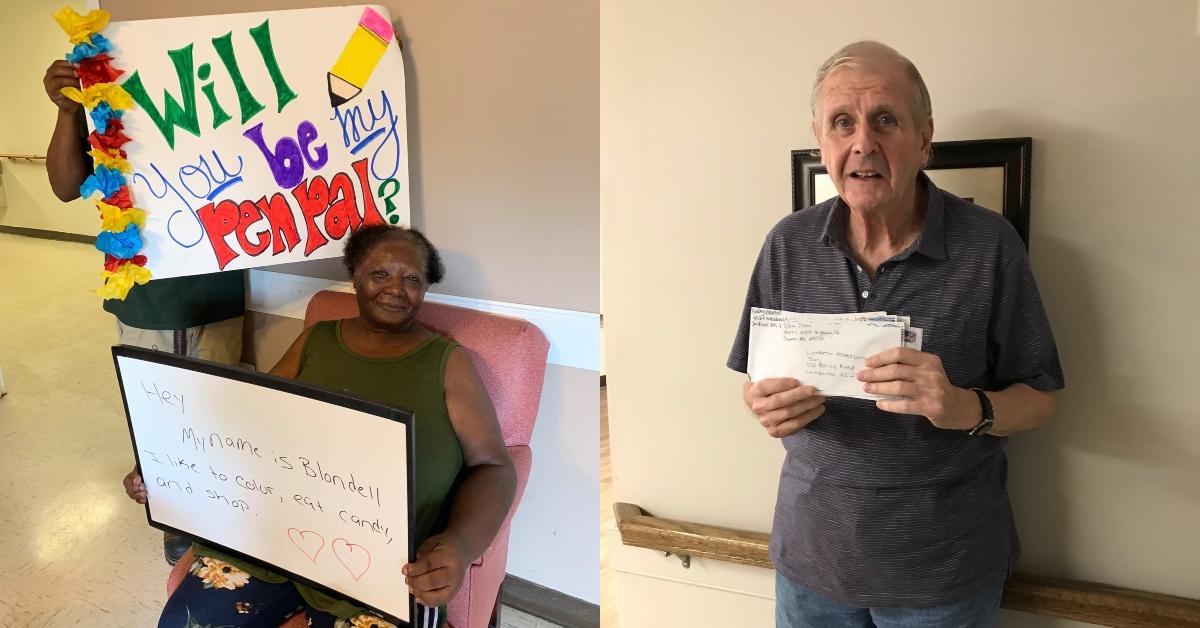 Victorian Senior Care has senior and assisted living facilities all over North Carolina. Because of COVID-19, residents at their homes have not been able to visit with friends or family.
Article continues below advertisement
Toward the end of June, they decided to put out a call for pen pals for their residents on their Facebook page. They had some residents hold up signs with their names and their interests and asked people to write letters to someone they felt they could connect with. It's safe to say they didn't expect the response they got. Thousands and thousands of people liked and shared their posts and inundated their residents with letters.
Article continues below advertisement
In the original post, they write, "Pen Pals Wanted!! We hate that we are not able to have our normal visitors due to COVID-19 restrictions, so we at Phoenix Assisted Care would like to pass the time by writing our pen pals!
"Send a letter to the address listed below with my name as the recipient. We can't wait to hear from you!" People were instructed to address their letters to the specific person they wanted to connect with.
Article continues below advertisement
That first post was shared on Facebook 33,000 times. The next, a day later, got 327,000 shares. In that post Victorian Senior Care provided links to the Facebook pages of each individual facility, where you can find addresses and residents searching for pen pals.
They write, "Thank you so much for all of your love and support! We never imagined this would get so big, but we are extremely excited about it and very blessed."
Article continues below advertisement
"Nobody likes to get bills in the mailbox, everybody likes to get a letter," Donna Horton, who works at Phoenix Assisted Care, told ABC 7. But she says she never expected the call for pen pals to reach as many people as it did.
Article continues below advertisement
She said, "I told somebody yesterday, I expected, I don't know, maybe 100 letters. I didn't expect this. We are getting prepared for next week because we honestly believe our mailbox... They're not going to fit in our mailbox."
People are not only sending letters; they're sending flowers and personalized care packages too. One man asked for a pen pal who was also a fan of the New York Yankees. Later, he received a Yankees jersey in the mail.
Article continues below advertisement
Donna said that as a precautionary measure, the mail they're getting is quarantined for 24 hours before they're sorted and distributed to their residents.
Article continues below advertisement
Victorian Senior Care COO Meredith Seals told Better Homes and Gardens, "It has been mentally strenuous on them to not be able to see their families or go out into the community. We never imagined it would get this big. We are overwhelmed with the love that we have received from all around the world."
As for the residents themselves? Meredith says, "They are astounded by the response received. It has increased their mental well being in this challenging time." If you are interested in sending a letter to a pen pal, visit the Victorian Senior Care Facebook page for more information.