WWE Fans Are Livid About the Strange Mickie James/Asuka Match
What happened during a recent match between the WWE's Mickie James and Asuka? Was there really a major screw up? Here's why fans are mad.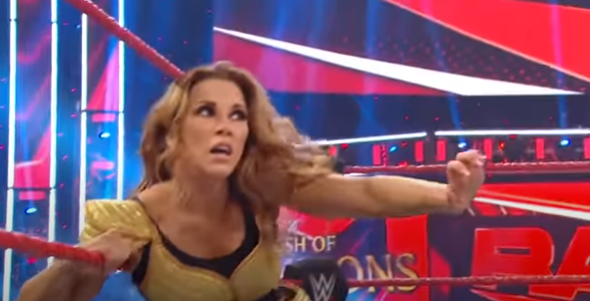 Although professional wrestling matches feature fixed outcomes and the very nature of a lot of the beefs between superstars is generally perceived as "fake," that doesn't mean that a lot of things can't go wrong. You can't "fake" being thrown from a 20-foot cage or having your leg snapped after landing on it wrong while performing a flying drop-kick off the top rope.
And when you're filming live, it's hard to recover from botches, like what happened to Mickie James during a recent WWE match.
Article continues below advertisement
What happened to Mickie James during her match with Asuka? And was there really a "botch"?
WWE fans were pretty livid after a contest between the WWE RAW Women's champion, Asuka, and Mickie James ended in an anti-climactic fashion. Asuka had James locked up in a nasty submission, one that James appeared to be getting out of. Either that or she was moving in a very odd way and found herself in strange positioning.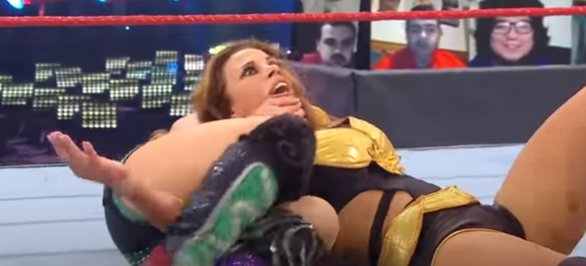 Article continues below advertisement
Whatever went down was certainly strange: it almost appeared as if Mickie had reversed the submission on Asuka and managed to pin the champ's shoulders down. Then, out of nowhere, the bell was rung and the referee separated the two women as they lay on the ground. The ref then called the match, ruling that James was unable to continue. The announcers were a bit shocked as to what happened and it didn't help matters that the referee didn't offer up any reasoning as to why he ended the bout.
The mysterious, premature stoppage had WWE fans peeved, with many people stating online that a huge gaffe had occurred. Some went so far as to the call the botch "lazy."
Article continues below advertisement
Article continues below advertisement
Others thought that everyone in the ring at that point just looked confused and had no idea what was supposed to happen. It appeared like neither of them were on the same page. Which is strange, considering the high level of work that viewers are used to seeing from both Asuka and James.
Article continues below advertisement
Did Mickie James sustain a shoulder injury?
Although there were a lot of fans who attributed the match's quick end to a "botch," some are reporting that in James' attempt to roll out of the submission, the Diva inadvertently popped her shoulder out of her socket and relayed this information to the referee. The bell was rung in order to see to it that James' arm was OK.
Article continues below advertisement
If you've grappled before, then you know how tough it can be to wriggle out of submissions while rolling around the mat, even if it is "fake." Given the strenuous work schedules of WWE Superstars, then it's not crazy to think Mickie actually did hurt herself.
The WWE hasn't officially commented as such, but they did release the following kayfabe statement regarding Mickie's loss to Asuka.
Article continues below advertisement
"Realizing that this could be her last chance at a championship, Mickie James left it all in the ring against The Empress of Tomorrow. But although Mickie James was ready for Asuka, Asuka was also ready for her. The Raw Women's Champion locked on the Asuka Lock, and despite James' best efforts to fight out, the referee ruled her unable to continue and awarded the match to Asuka."