Nathan Apodaca Goes Viral for New TikTok Skateboard Video — Watch!
Who is Doggface209 on TikTok? The user goes viral after sharing a video of himself skateboarding and singing Fleetwood Mac while drinking juice.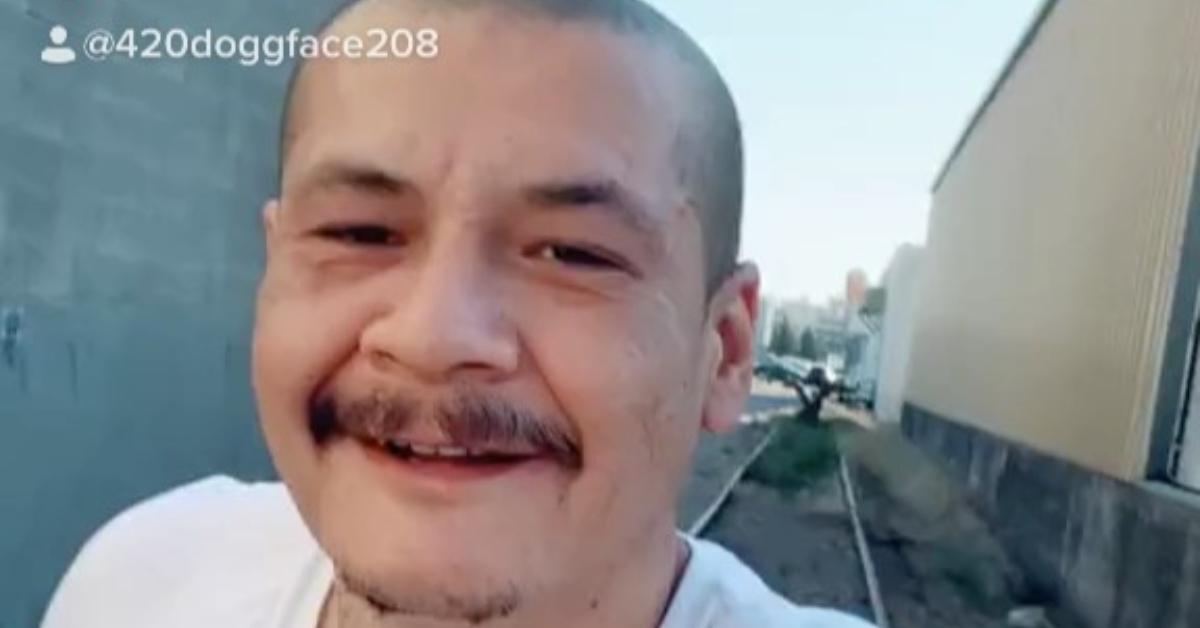 It's hard not to get lost scrolling aimlessly for hours on the viral social media platform TikTok. While the app became a popular tool among Gen Z-ers, it has since taken off with older generations as well. While it's easy to see loads of videos featuring viral dances, insane challenges, and go-to hacks, there are also some videos that are just feel-good moments that people can't get enough of.
Article continues below advertisement
Recently, TikTok users Doggface208 has gone viral after sharing a video of himself skateboarding and singing Fleetwood Mac while drinking cranberry juice. Currently, the video has almost three million "likes." So, who is Doggface208? Keep reading to find out more.
Who is Doggface208? Meet the viral TikToker.
While many are familiar with TikTok teen stars such as Charli D'Amelio and Addison Rae, many users are now following Doggface208. With more than one million followers, the TikTok dad is making a name for himself in the social circuit. And, he even has his own line of merch! So, just who is he?
Article continues below advertisement
Nathan Apodaca is reportedly from Wyoming and was introduced to the social media platform by his daughters who helped him film his first video (via HITC). If you follow Nathan's TikTok page, you'll see that he regularly shares feel-good dance videos, skateboarding clips, and sometimes viral challenges he's participated in, such as the Takis Challenge.
Article continues below advertisement
TikToker Doggface208 went viral for singing Fleetwood Mac.
While many of his TikTok videos have more than 500,000 views, Nathan's most-viewed clip featuring him singing "Dreams" by Fleetwood Mac has been viewed more than 13 million times. Fans certainly can't get enough of Nathan's #mood and shared their reactions to the viral clip on social media.
"Thank you @doggface208 for this amazing smooth video that made my night. Stay cool brother," one person tweeted. Another individual wrote, "I will never be as cool as this guy, skateboarding, drinking juice straight out of the bottle, and vibing to Fleetwood Mac."
Article continues below advertisement
This Twitter user commented, "LOVE U SO MUCH MAN THE VIBES ARE UNREAL." One person questioned how Nathan didn't spill any of his cranberry juice while riding. "How you didn't spill a drop of the @OceanSprayInc cran-raspberry is mind boggling!!!! Great video!!!" the fan wrote.
One fan of Nathan's hopes they'll get to longboard together, writing, "Hope I see you around town one day. I'd absolutely love to do some Long-Boarding!" Another Twitter user posted, "Love this video!! the most chill feeling one I have seen !!! always makes me smile."
Overall, Nathan's video has certainly brought a smile to many peoples' faces, especially during these difficult times.