Hey Now... Hilary Duff Says That Lizzie McGuire Belongs on Hulu
By Shannon Raphael

Updated
When Hilary Duff announced that she would be reprising the role of Lizzie McGuire, which made her a household name, fans were ecstatic. The show was a must-watch for tweens and teens in the early '00s, and people were dying to know what happened between Lizzie and Gordo after their fated middle school graduation trip to Rome, and they wanted some closure as to what happened to Miranda.
Photos from the set of the reboot were soon released as well, and the nostalgia was in full-force.
Article continues below advertisement
But, it was later revealed in January of 2020 that the show was put on a filming hiatus, because, allegedly, of creative differences between the showrunner, Terri Minsky, and Disney+. In the time since, there hasn't been much of an update as to what the status of the show is. That changed when Hilary hinted at the show's future on her Instagram page.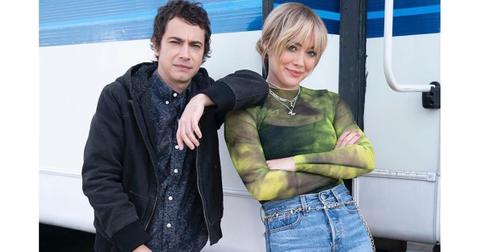 Article continues below advertisement
Why was Lizzie McGuire canceled? The highly anticipated reboot might not be happening at all now, and star Hilary says it has to do with its rating. Read on to find out what she said, and if there really isn't going to be a reboot after all.
Why was 'Lizzie McGuire' canceled?
After the reboot was announced, it was confirmed that the show would center around Lizzie's life as a single thirty-something in New York City. Though Hilary confirmed that two episodes of the Lizzie McGuire reboot series had been filmed in November of 2019, the status of the show has been in limbo since January of 2020.
Terri Minsky, who was the showrunner for the series' original run from 2001 to 2004, left the reboot after "creative differences."
Article continues below advertisement
Variety confirmed the shakeup with a statement from Disney+, but did not hint that the show would be axed as a result of these differences.
"Fans have a sentimental attachment to Lizzie McGuire and high expectations for a new series. After filming two episodes, we concluded that we need to move in a different creative direction and are putting a new lens on the show," the statement read.
Article continues below advertisement
No further announcements were made about a new showrunner or even when filming would continue, and the reboot was placed on the backburner. But, Hilary herself hinted that the show might have been axed as a result of having content that was more mature for Disney audiences.
'Lizzie McGuire' might not hit the small screen because it wasn't "family friendly."
In the wake of Terri's exit from the series, Hilary stayed noticeably mum on the status of her reboot. Because she had been so vocal during the show's initial announcement and filming, fans were worried that her silence wasn't boding well for the future of the show.
The actress seemed to break her silence about the show's future on her Instagram stories on Feb. 25.
Article continues below advertisement
Hilary posted a screenshot of an article about how the show Love, Victor was being moved from Disney+ to Hulu as a result of not being "family friendly." Love, Victor is a spinoff series from the 2018 film Love, Simon, which chronicles a teenager who is both figuring out how to come out as gay, and is embarking on his first love with an anonymous classmate.
The series was moved to Hulu, allegedly, because it will contain alcohol usage, struggling marriages, and exploring sexual identity.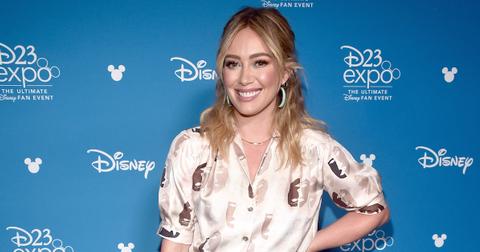 Article continues below advertisement
The Lizzie McGuire actress wrote "Sounds familiar..." on her Instagram story, hinting at the fact that her own reboot might have faced a similar fate as a result of having more adult storylines.
Hilary seemed to confirm this when she posted on Instagram on Feb. 28. "I'd be doing a disservice to everyone by limiting the realities of a 30 year old's journey to live under the ceiling of a PG rating," she wrote. She went on to say that she wanted the "next chapters" to be as "real and relatable" as the original series had been.
She then asked Disney to consider letting the show move to Hulu.
Article continues below advertisement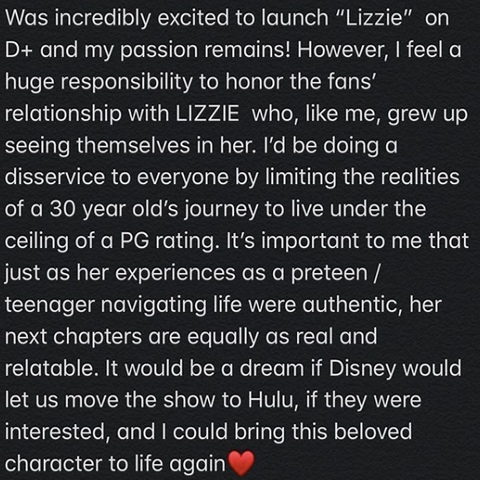 It appears as if the reboot is following the lyrics from the Lizzie McGuire intro song, "we'll figure it out on the way." Hopefully, that means that the show will get back on track, whether it's at Disney+ or at another streaming service.