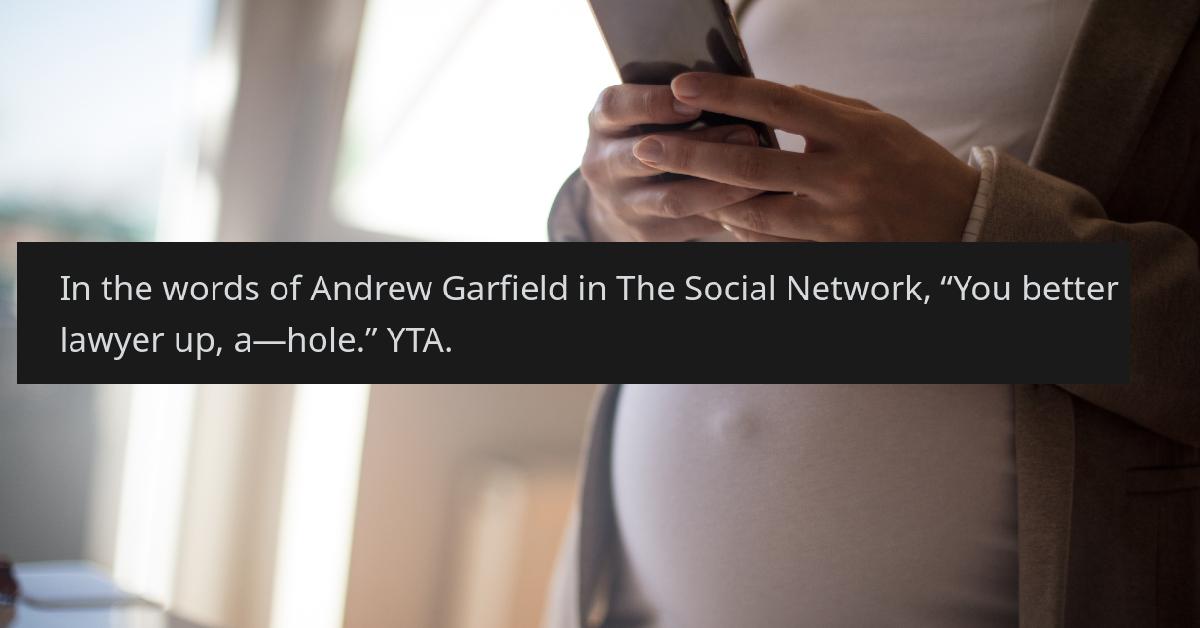 Woman Gets Fired After Maternity Leave Because New Hire Got Paid Less
Redditors are scorching this boss who asked if he was in the wrong for firing a woman upon return from her maternity leave in a viral post.
A Redditor's AITA post caused an uproar when he asked if he was in the wrong for firing a woman shortly after she returned from maternity leave.
He provided a detailed blog post stating his reasons for doing so, which were heavily criticized by several users who concluded the short-sighted manager had actively discriminated against the woman despite his explanations for his choices.
Article continues below advertisement
The manager, who published the blog under the user name @Happy-Mind stated that he "feel[s] like the devil right now" and asked if he was an a--hole for firing an employee returning from maternity leave.
He wrote in the post: "Our company offers a large amount of maternity leave, 10 months. One of my employees got pregnant recently, i'll call her Jess."
He explains that the team was finishing a project when Jess went on leave and had started a new project while she was gone.
"During this period, our team had to adapt to working without her expertise in certain matters. We adapted and eventually some of us developed the skills needed to do some of her workload."
Article continues below advertisement
However, the team wasn't able to make do without Jess and they hired somebody new to help handle Jess's work and some other duties. "This new employee came at significantly reduced cost," he explains, "as he was straight out of Uni and we pay him a fraction of what Jess costs currently."
Article continues below advertisement
When Jess was supposed to return to the workplace, OP thought he'd have the budget for a seven-person team and she would work alongside the new hire, who would presumably continue to develop his skills while also providing additional support as Jess transitioned back into the workplace.

Article continues below advertisement
However, upper management informed OP when he submitted Jess' paperwork to return to work that they wouldn't be able to afford to keep both the new hire and Jess on staff. The ws left him in a bit of a pickle: does he get rid of the new hire and keep the team member he's worked with for considerably more time?

Article continues below advertisement
Or does he save the company money in the short-term, fire Jess because the timing of her pregnancy didn't align with the business' operations, and then ask a bunch of strangers on the internet if that was the wrong thing to do?
"We are 5 months into a project that should take an estimated 10 months, and my decision came down to Jess and the man we hired to replace her. The reason we hired a replacement, which is not normally what we do, is because we anticipated that for this project the workload would be far greater than our current capacity, which it is not."

Article continues below advertisement
He listed his reasons for choosing the new hire over Jess:
"Far cheaper, thus freeing up a lot more money than keeping Jess on
He was up to date with the project and we would be able to move forward seamlessly, whereas with Jess we would have to take time catching her up to speed on half the project
The clients already knew and liked working with him, whereas they didn't know Jess at all
She has been out of the field for a prolonged period, whilst he has been here for the past 9 months, so she may, or may not, find it hard to adapt back to work life, whilst with him it isn't a question
He performed his work better than she did hers and interacted better with the team."

Article continues below advertisement
Since keeping both on staff wasn't an option he says he "had to do right by the team and firm." As a consolation, he said that he offered to write her "a brilliant letter of recommendation and that in a few months she could try and apply for a job at [the] firm."
"Jess" didn't seem to really appreciate that response.OP says she called him a "c--t" and left. Redditors who read the post seemed to agree with that assessment.
User @E_Turnips wrote: "Every single reason you mentioned was only true because she had been gone on maternity leave which legally CANNOT be a reason to terminate someone. Yet it is the cause behind everyone reason you gave. Be prepared for a lawsuit."
Article continues below advertisement

Another said: "OP: So I fired her because 1. She had a baby. 2. She had a baby. 3. She had a baby. AITA????"
Others went so far as to say that they saved screenshots of the post in case Jess ever learns of it and decides to pursue legal action. Many pointed out that he admitted Jess was so good at her job that three other people needed to take over her job functions to fulfill them.
Article continues below advertisement

Throngs of Redditors thought that the new mom definitely has a case against her previous employer for workplace discrimination depending on local labor laws.
What do you think?