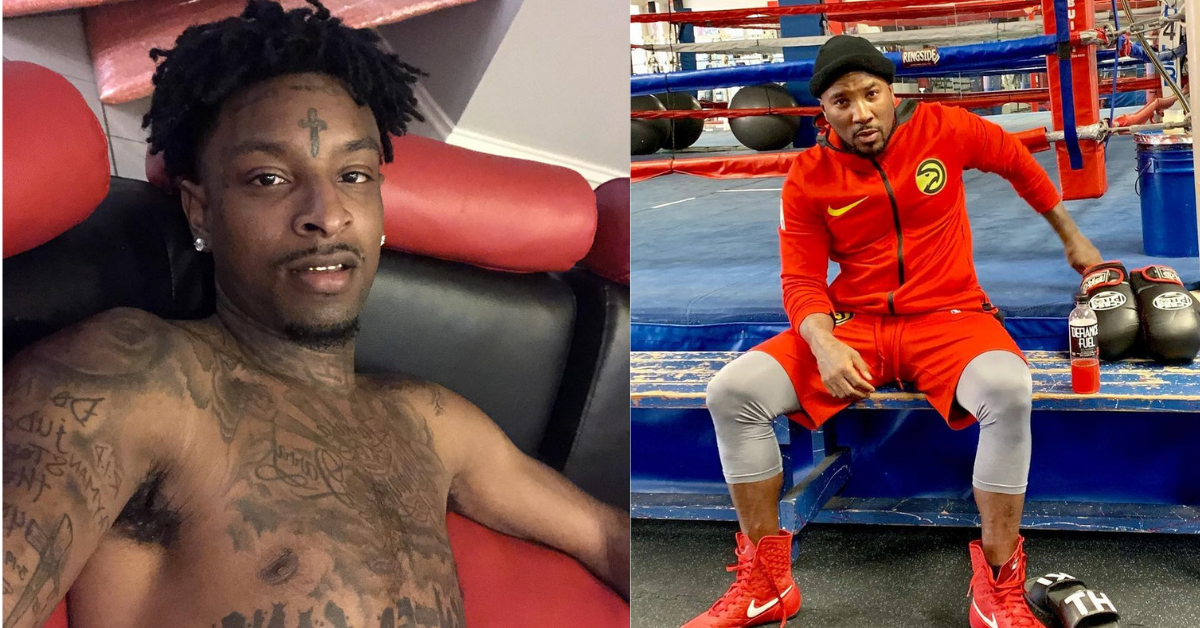 21 Savage Dissed Jeezy on His New Album "Savage Mode 2"
Tupac and Biggie. Nicki Minaj and Cardi B. Drake and Meek Mill. These are just a few of the many feuds that have gone down in hip-hop history. Some of these beefs have been going on for years and some have been squashed. One feud that seems to still be going is that between rappers 21 Savage and Jeezy.
Article continues below advertisement
21 Savage seemingly called Jeezy some unkind names on one of his tracks.
Rappers 21 Savage and record producer Metro Boomin released their album, "Savage Mode 2," which serves as a follow up to their 2016 debut collaborative album, "Savage Mode."
Article continues below advertisement
On one of the songs on the record called "Many Men," a rendition of the original song by 50 Cent, 21 Savage seems to diss his fellow rapper, Jeezy. He raps, "Nice girls can't even keep me (Never) / Need a bad girl like RiRi (Yeah, yeah) / We don't pump fake, we kill beef (21) / 21 Savage, not Jeezy (Pu--y)."
Article continues below advertisement
While it seems clear that 21 Savage did, in fact, fire some shots at Jeezy, it doesn't look likely that Jeezy will respond. It's also a mystery as to why these two are beefing in the first place.
Other rappers have spoken up about the beef but not Jeezy himself.
According to Hot 97, it doesn't seem likely that Jeezy will respond to the diss. However, 50 Cent had some thoughts on the new song by 21 Savage.
Article continues below advertisement
He spoke with Spotify about the new record and how it felt to have a newer rapper give his own rendition of a song that debuted on his freshman album.
Article continues below advertisement
"I think you're going to see more artists mirror some of the things from my music, even if they're doing it a little different," he continues. "The cadences are a little different cause they're rapping. And why I pointed out that 'Many Men' was the slowest track on 'Get Rich Or Die Tryin,' is because it fits production-wise now. Musically now, things are slower. They like rapping to R&B beats. It provides more space for them to make changes in the cadences."
He then spoke to the not-so-nice mentions of Jeezy on the track. "Whether you're addressing another artist, like in 21 Savage's piece he dealt with some not so good feelings he had toward Jeezy. Pop was here, Pop didn't even use the title in it. The melodies is what struck the chord in him. The demographic didn't mean something to them, in that timeframe there was nothing better than that," he continued.
Article continues below advertisement
21 Savage also feuded with producer Young Chop.
In early 2020, a feud between 21 Savage and American producer Young Chop arose after Young Chop insulted 21 Savage on an Instagram livestream where he set his sights on discrediting 21 Savage's jewelry. "Let them know that. With yo' b---h ass. You a b---h. And I walk around with all my jewelry on. And my s--t real. F--k wrong with you?"
In April 2020, Young Chop took an Uber in 21 Savage's neighborhood in an attempt to find where he lived. Young Chop stated that an unknown gunman fired at his car, but he was not injured. None of Young Chop's claims have been confirmed.