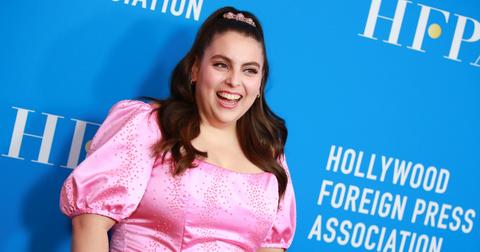 'American Crime Story' Season 3 Is Shaping Up to Be 2020's Most Scandalous Series
By Rebecca Macatee
On August 6, FX announced the third season of Ryan Murphy's American Crime Story would focus on the 1998 impeachment of President Bill Clinton, and Monica Lewinsky is signed on as one of the show's producers.
Per IndieWire, production for Impeachment: American Crime Story is slated to begin in February 2020. Audiences are already excited — and they're pretty impressed with the American Crime Story Season 3 cast, too! Here's what you need to know.
Beanie Feldstein will be part of the American Crime Story Season 3 cast as Monica Lewinsky.
You probably recognize Beanie Feldstein from her roles in Lady Bird, Booksmart, Neighbors 2: Sorority Rising, and FX's What We Do in the Shadows. The 26-year-old actress also made her Broadway debut alongside Bette Midler in a 2017 production of Hello, Dolly!
Sarah Paulson will play Linda Tripp.
Sarah Paulson, who has a long history of working with Ryan Murphy, will play Linda Tripp in Impeachment: American Crime Story. Linda is the former civil servant whose recordings of conversations with Monica Lewinsky helped lead to Bill Clinton's impeachment.
In addition to starring in several seasons of American Horror Story, Sarah played prosecutor Marcia Clark on The People v. O. J. Simpson: American Crime Story.

Annaleigh Ashford will play Paula Jones.
Annaleigh Ashford, known for her role as Betty DiMello in Masters of Sex and Elizabeth Cote in American Crime Story Season 2, has been cast as Paula Jones in Impeachment: American Crime Story. Paula was a former Arkansas state employee who sued Bill Clinton for sexual harassment.
Why did Monica Lewinsky agree to be a producer on Impeachment: American Crime Story?
In an email to Vanity Fair, Monica explained, "I was hesitant, and truthfully more than a little scared to sign on. But after a lengthy dinner meeting with Ryan, I came to understand even more clearly how dedicated he is to giving a voice to the marginalized in all of his brilliant work. I'm privileged to work with him and the other talented people on the team, and I'm privileged to have this opportunity."
She continued: "People have been co-opting and telling my part in this story for decades. In fact, it wasn't until the past few years that I've been able to fully reclaim my narrative; almost 20 years later."
Ryan Murphy really wanted Monica Lewinsky to tell her own story.
In a 2018 interview with the Hollywood Reporter, Ryan recalled running into Monica at a party. "I told her, 'Nobody should tell your story but you, and it's kind of gross if they do,'" he said. "'If you want to produce it with me, I would love that; but you should be the producer and you should make all the goddamn money.'"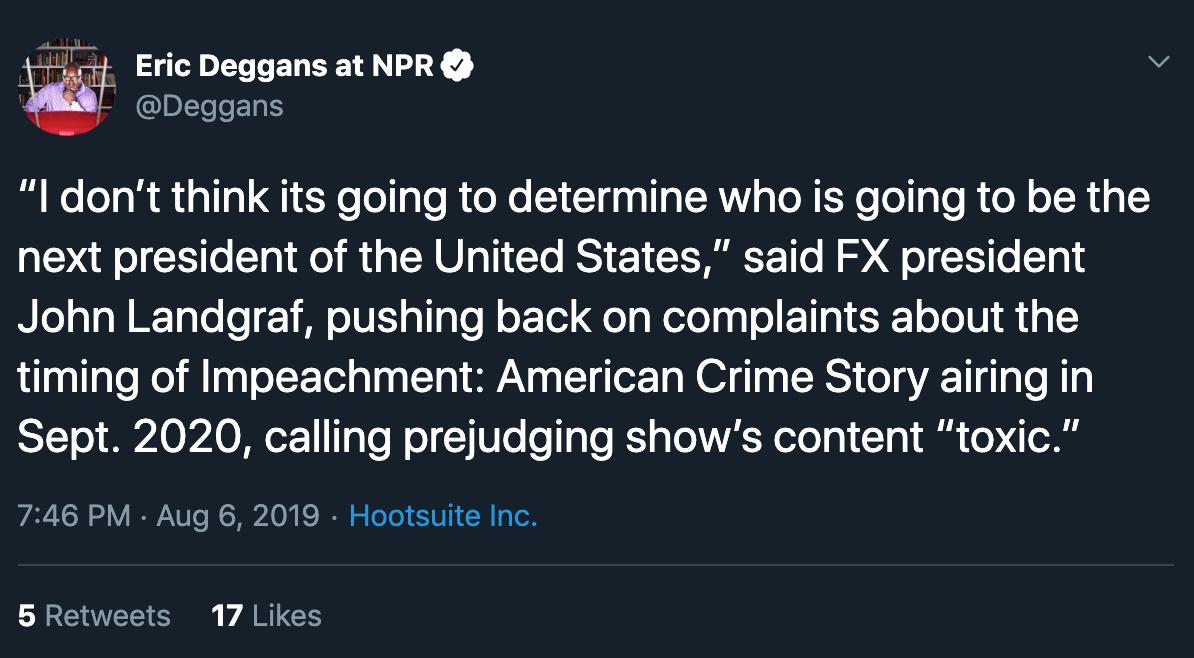 Why is Impeachment: American Crime Story being released so close to the 2020 presidential election?
FX announced its plans to premiere Impeachment: American Crime Story, on Sept. 27, 2020 — less than three months before the 2020 presidential election. This sparked some criticism online, but FX chairman John Landgraf said (per the Washington Post), "This is a completely valid [story] cycle for American Crime Story."
"There's a lot of nuance in this story that people don't know," he added. "People are going to be very interested in this, and it's going to be a great show."
Tune in to Impeachment: American Crime Story, on Sept. 27, 2020 at 10 p.m. EST on FX.