Fourth-Grader Was Bullied for His Homemade College T-Shirt, So the School Made It Official Merch
This student went from excited to devastated when he was bullied for his homemade UT t-shirt. So UT responded by giving him all the merch and making his design official.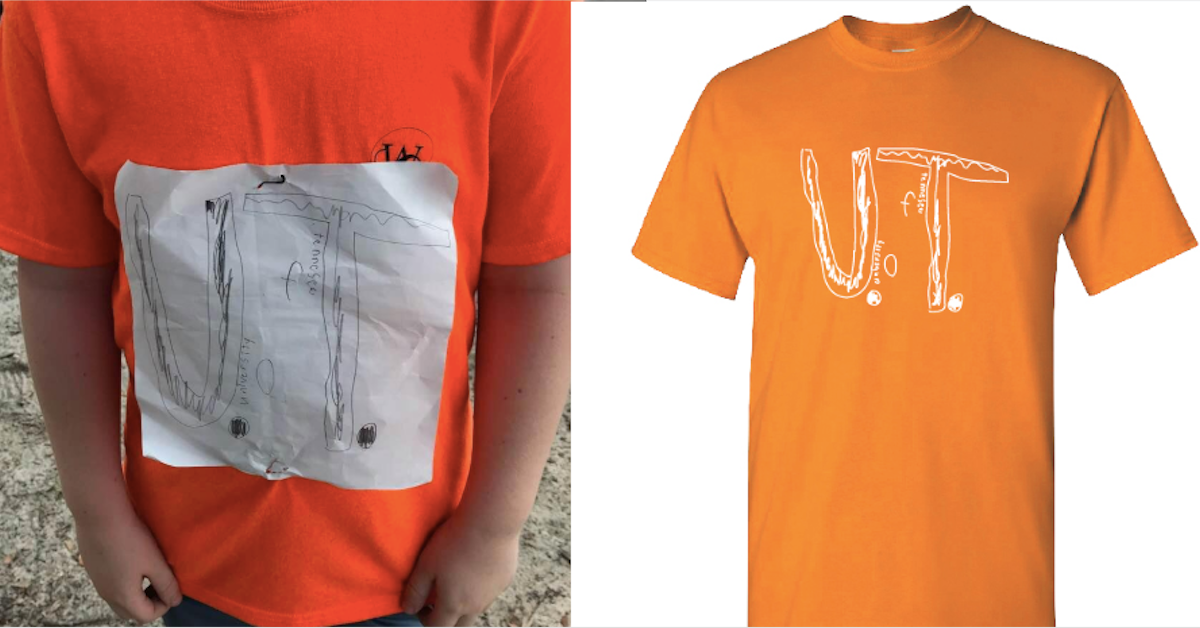 Alamonte Elementary School in Florida held its College Colors Day recently, where students are encouraged to wear gear from their favorite college or university. A fourth grade teacher at the school, Laura Snyder, took to Facebook to tell the story of one of her students who didn't own any official merch from his favorite college, UT (University of Tennessee).
Article continues below advertisement
A week before College Colors Day, she discussed with this student that he could wear an orange shirt in support of his favorite school. "When the day finally arrived," Laura wrote, "he was SO EXCITED to show me his shirt. I was impressed that he took it one step further to make his own label." He had drawn out "UT" on a piece of paper and attached it to his orange shirt. Innovative, right?!
Article continues below advertisement
Unfortunately, his mood turned when he was bullied at lunch for his homemade UT t-shirt. "Some girls at the lunch table next to his (who didn't even participate in college colors day) had made fun of his sign that he had attached to his shirt," Laura wrote. "He was DEVASTATED. I know kids can be cruel, I am aware that it's not the fanciest sign, BUT this kid used the resources he had available to him to participate in a spirit day!"
Laura was going to take it upon herself to gift him a University of Tennessee shirt, but she posted on Facebook to see if any of her friends had connections at the school and could possibly "make it a little extra special for him."
Article continues below advertisement
Luckily, Laura's post took off, went completely viral, and it wasn't long before UT was made aware of the situation. Jimmy Delaney, the university's Associate Athletics Director for Fan Experience and Sales said in a statement, "As a marketing and fan experience guy, I love the creativity that he showed there and it got back to us and got back to the football team, to campus here, to the Vol Shop."
Several departments donated all types of merch and sent it to the student, the teacher, and the whole class. How awesome is that? Within days, the pack arrived, and it was full of all the UT merch you could ever imagine.
Article continues below advertisement
Everyone in the class loved the package. It was like college swag Christmas! Several departments included handwritten encouraging notes that Laura read to her class, and then her student, the one who started this all, got to pass out merch to his classmates.
Article continues below advertisement
"It made this teacher so proud to see the kids congratulating my student. High fives, hugs, pats on the back could be seen from the kids," Laura wrote. She turned this whole experience around just with one simple ask on Facebook.
Article continues below advertisement
But that's not all. UT also decided to make this student's hand-drawn design into an official t-shirt. They announced on Twitter that a portion of the proceeds from every shirt would go to an anti-bullying organization.
When Laura told her student that the university was making a shirt out of his design? "His jaw dropped. He had a big smile on his face, walked taller, and I could tell his confidence grew today! Thank you to the UT Nation for that!!"
Article continues below advertisement
The UT Vol Shop shared in a tweet that their site crashed because so many people were trying to pre-order this t-shirt and show their support. As for Laura's student, he's all smiles, and I wouldn't be surprised if UT tops the list of colleges he will apply to in eight or nine years. Go Vols!