Neighbor Congratulates Mom on New Baby, Then Tells Her to "Shut Up" in Anonymous Note
A mom shared a note she received from a neighbor after the birth of her new child asking her to "shut up" her child.
Being a new parent is difficult even when you've got a lot of help, consideration, and understanding from those around you. Waking up in the middle of the night to constantly feed and check on this life you're now in charge of not only keeping alive but ensuring grows up to be a decent human begin is stressful as it is.
But having to worry about others while simultaneously caring for your child makes things all the more difficult.
Article continues below advertisement
Of course, there are certain situations where it'd be understandable that someone would be miffed a person brought their baby along like an evening movie theater showing a horror film. It's hard to get mad at audience members who are rolling their eyes and wishing they caught a different showing if there's a baby crying in a dark room where a serial killer is stalking a group of young 20-year-olds.
If you're catching a summer matinee of the new Ice Age movie and you're angry that there are kids talking through it, then yeah, that's on you.
However, if you're in the comfort of your own home and you've got a crying baby, should you feel apologetic about that? Apparently, a neighbor in this viral note posted by a Mumsnet user seems to think so.
Article continues below advertisement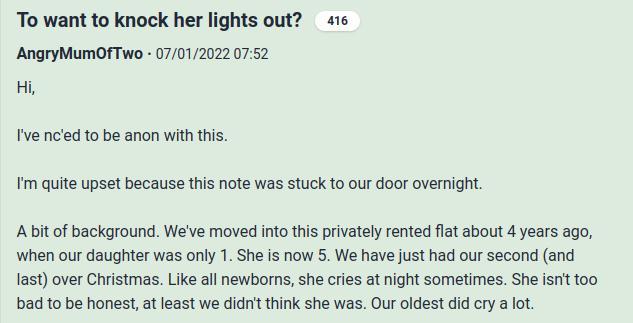 The mom, who posts under the user name AngryMumofTwo said that she found a note on her doorstep one day that said: "Flat 16. Congratulations on your new baby. Also, as this building is home to older residents, we do not appreciate you moving in just to breed. Please kindly shut up your baby at nights so that the rest of us can sleep. Kindest regards."
Article continues below advertisement

The woman said that she has been living in the same apartment for four years along with her two children. Her new baby was born on Christmas of 2021 and wakes up in the middle of the night crying sometimes. She noted that her infant wasn't as "bad" when it comes to crying as her older child.
Article continues below advertisement

She wrote in her post: "We get along with most people who live here. We're generally quiet and private as are all the other residents. Over 50 percent of them are elderly, though this isn't a retirement block of flats. We're the youngest, but there are others not much older than us."
Article continues below advertisement
The mom expressed her confusion at the note, not understanding why the neighbor couldn't have just expressed their inability to sleep in person and while she doesn't know who could've written it, she does have somewhat of an idea as to who it could be.
"We don't know who left the note. It is obviously unsigned. We have our suspicions but that's all," she wrote.
Article continues below advertisement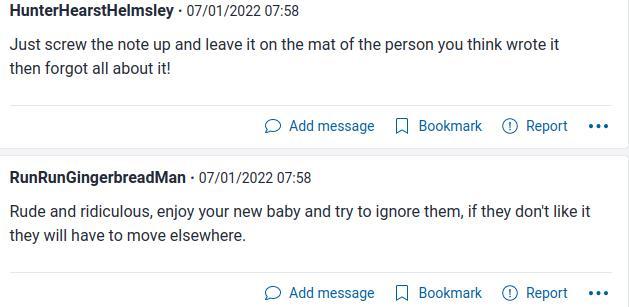 She continued, "The residents we've spoken to over the last few days have said how lovely [her new baby is] but [did not complain about] noise complaints. Our immediate neighbors and the lady directly below are nice people so I don't think it's them."
Article continues below advertisement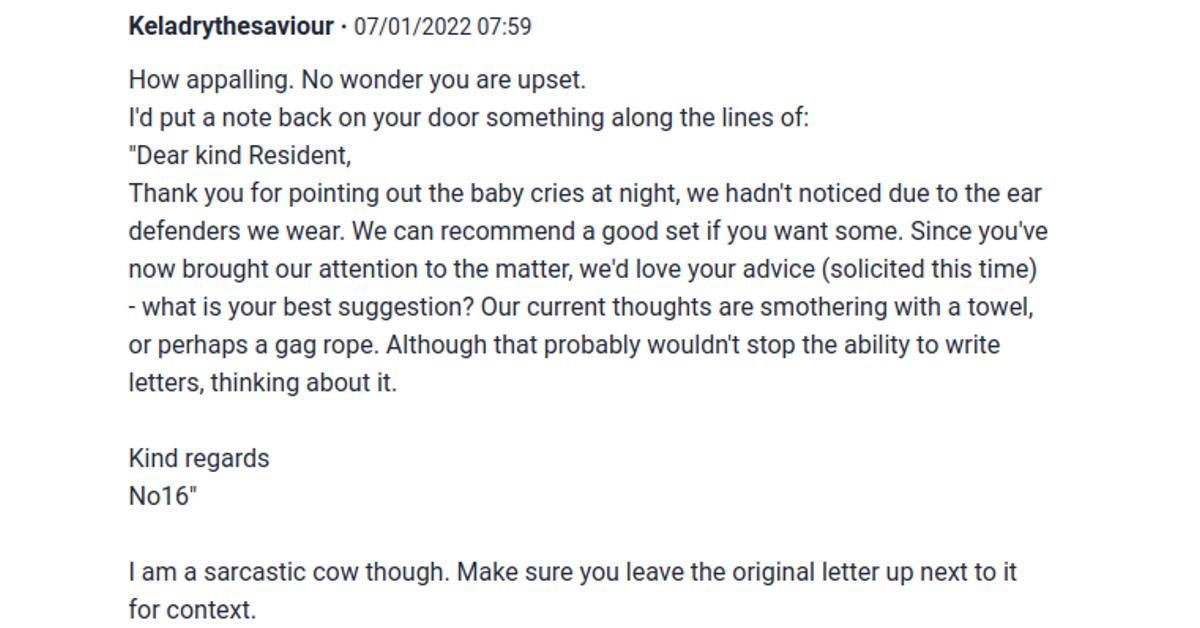 The message did tick her off, however: "For their own sake, they better hope I don't find out who it is. I'm furious. It's horrid," she wrote.
Several other users on the platform echoed her sentiments.
Article continues below advertisement
"They are a vile person," one commenter penned.
"Rude and ridiculous, enjoy your new baby and try to ignore them, if they don't like it they will have to move elsewhere," someone else added.
A third remarked, "Just screw the note up and leave it on the mat of the person you think wrote it then forget all about it!"